I'm back from my second trip to Israel :D You can find my first trip's blog here – http://www.tanya-n.com/?p=125
Flying out from Terminal 5, which is the new terminal at Heathrow Airport.  It's really spacious and a lot less crowded than some of the other terminals.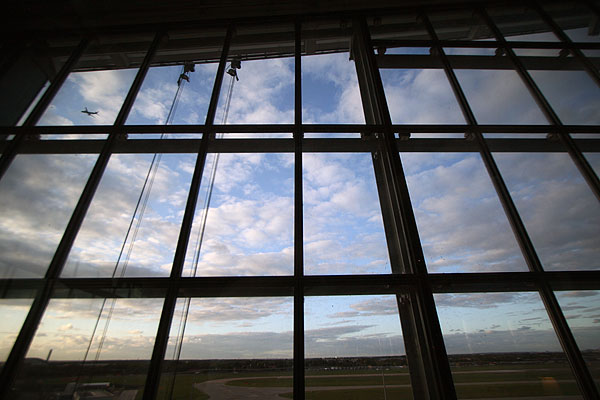 Full-view: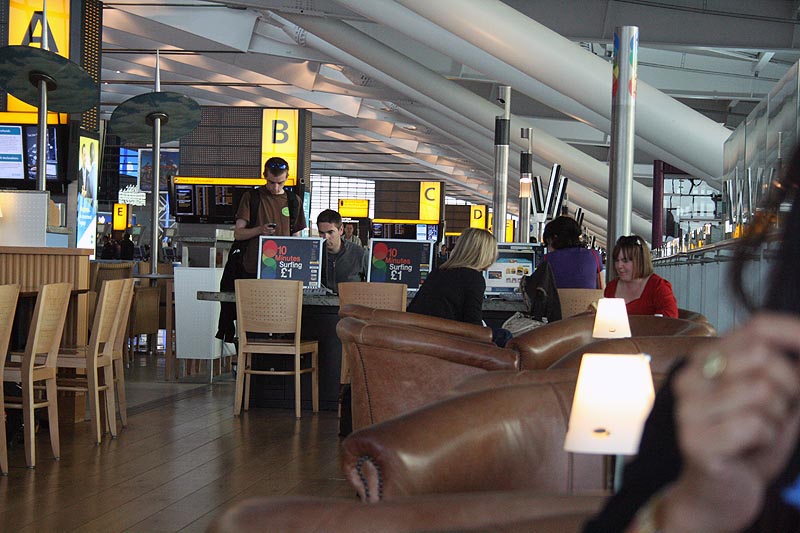 £1 for TEN minutes to use the Internet?! Airports are a huge rip off.
Waiting to board..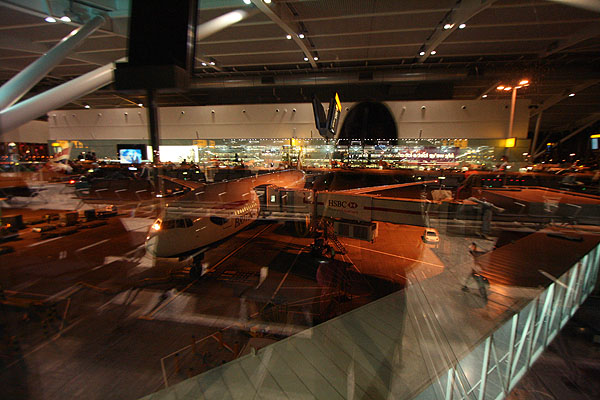 ..and we're in Israel! Bring on the great people, great food, great weather and all-around greatness.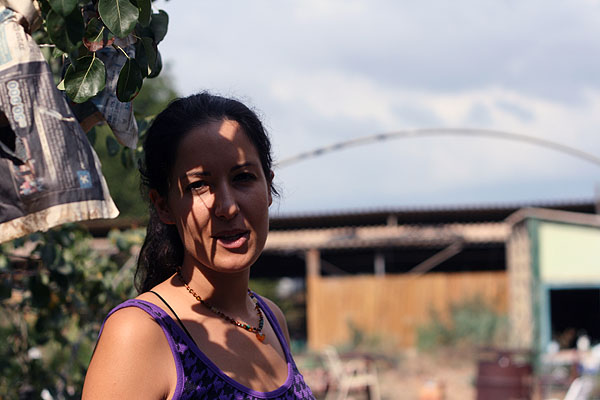 My lovely Israeli friend Rivka, or Ricki :P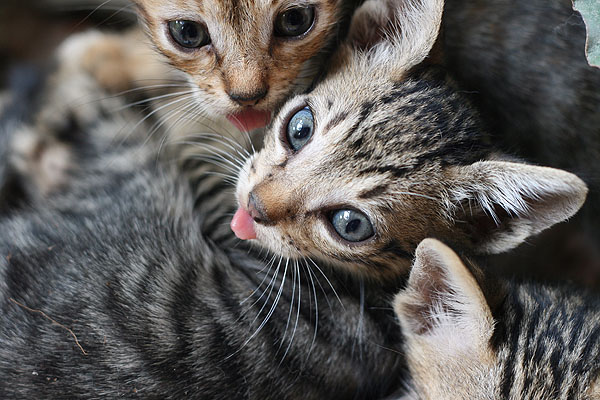 I'm not a fan of cats  – I'm convinced they hate me.  I think I might have only ever taken three or four cat pictures, but for some reason I found myself photographing Ricki's kittens lots – she has five of them and I have to admit they're pretty damn cute!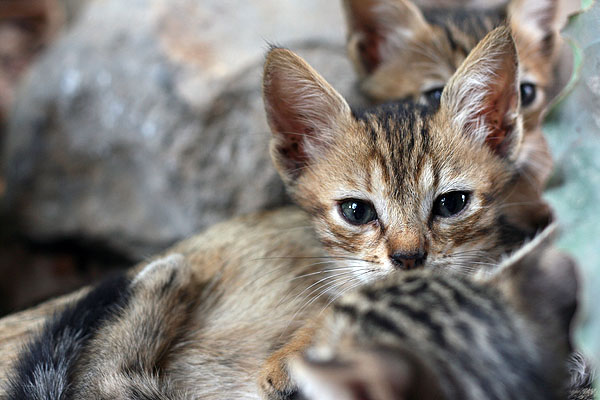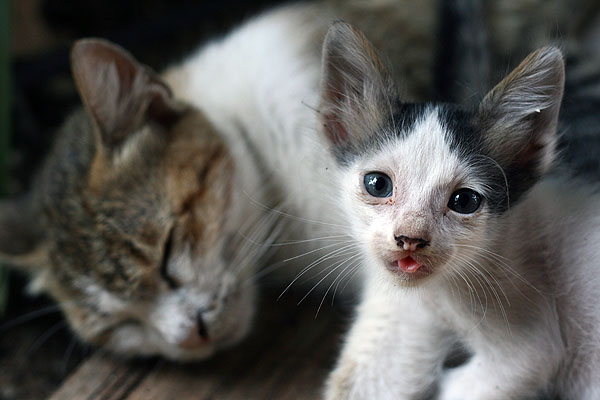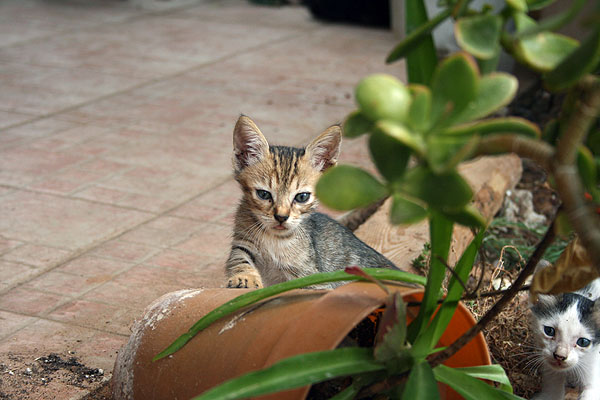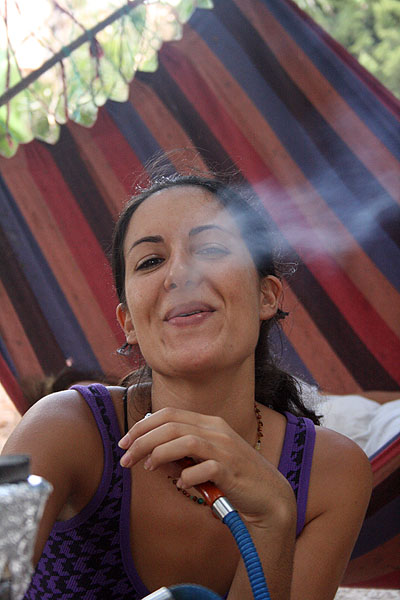 Mmmm: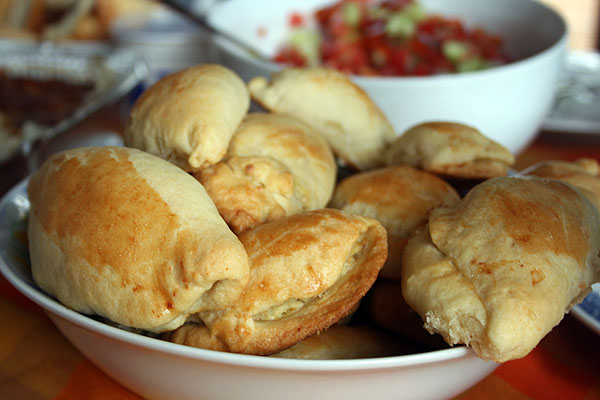 A Yemmen speciality –  cheese and spices in a pastry.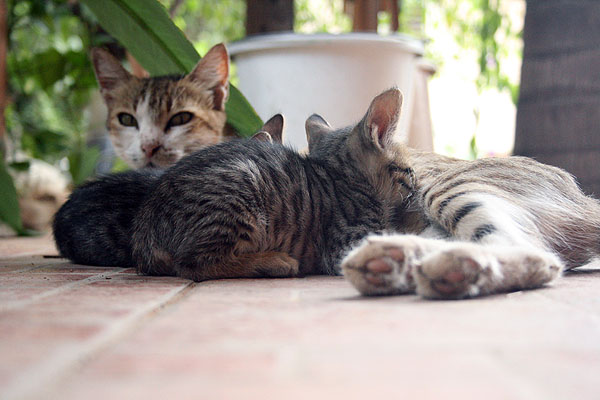 More cuteness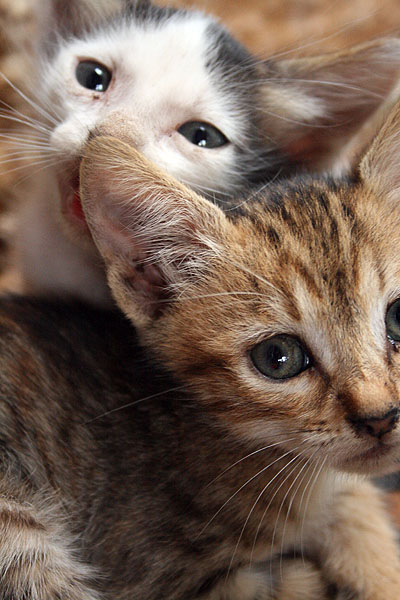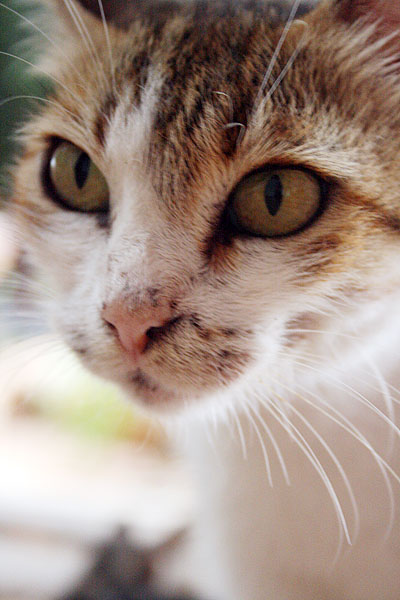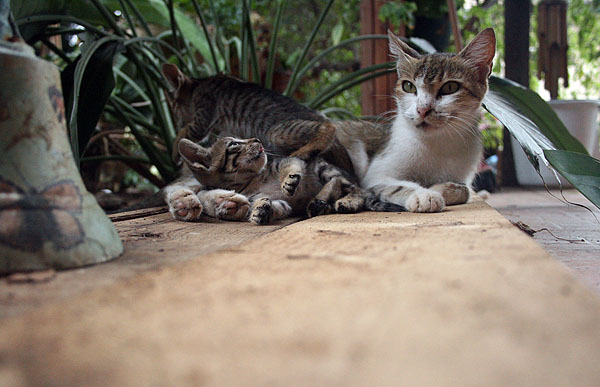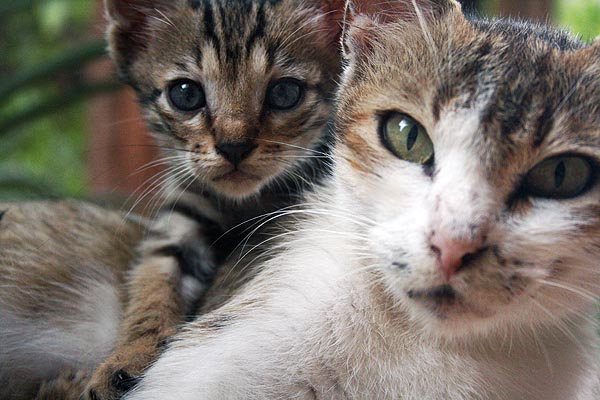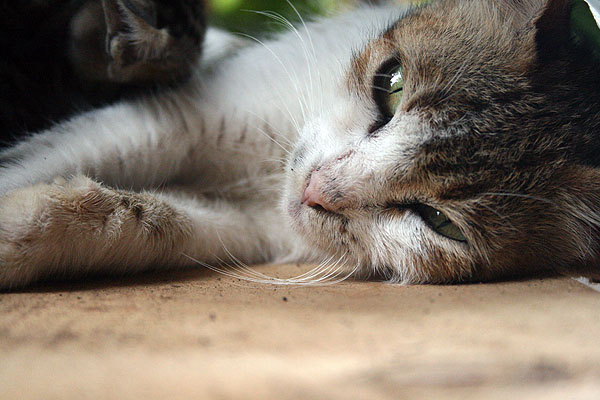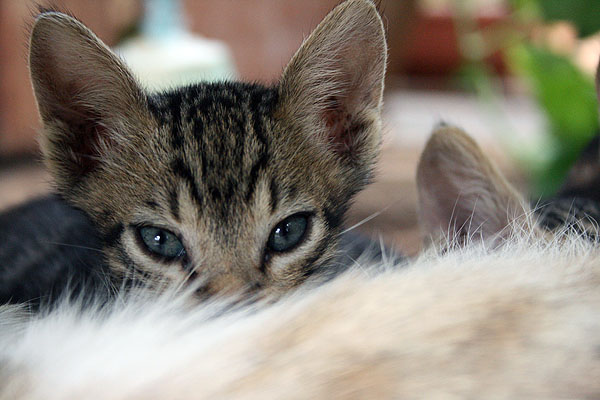 Maybe I'll quit photojournalism and street to take pictures of kittens!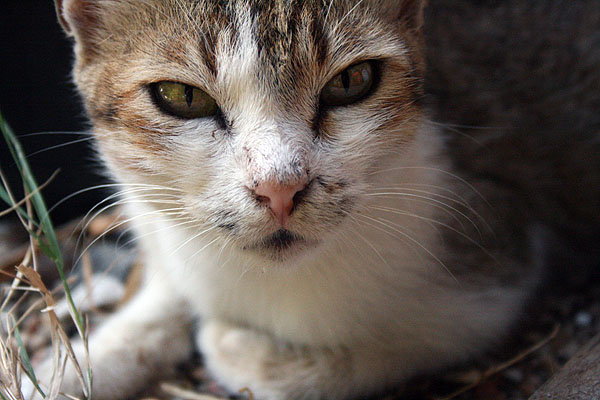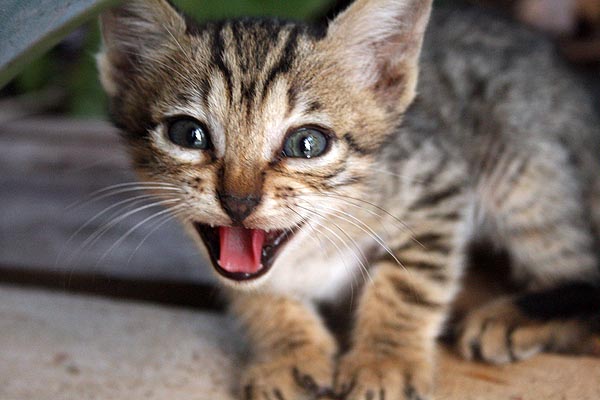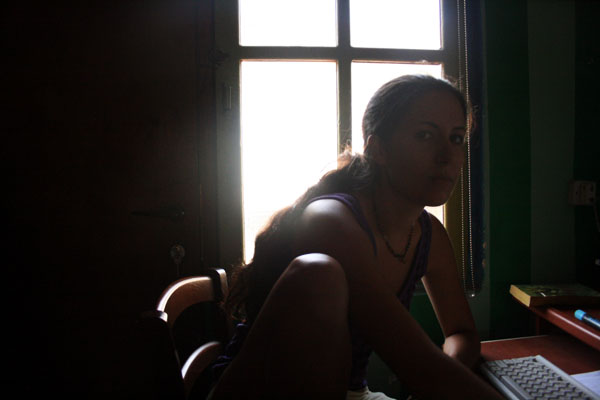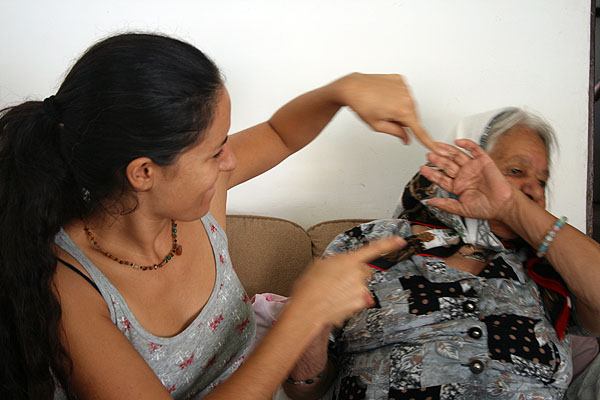 Ricki has an awesome family – they're so full of character and life, like her lovely granny :) I've never met a woman of this age with so much youthfulness!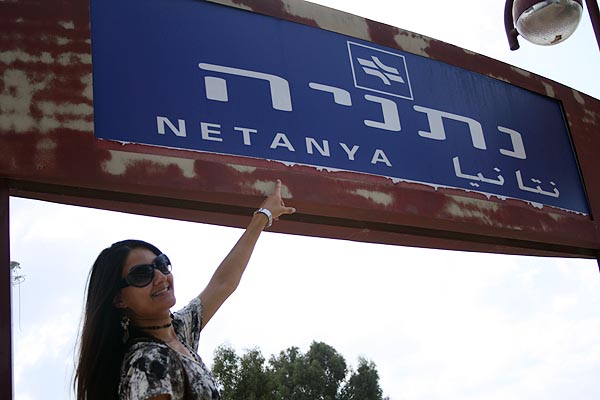 We headed to Jerusalem from Netanya.  I tell everyone that Netanya is named after me.  We took a train to Tel Aviv and then a bus/coach to Jerusalem.  Strangely, buses are faster in Israel than travelling by train so it's the preferred mode of transport.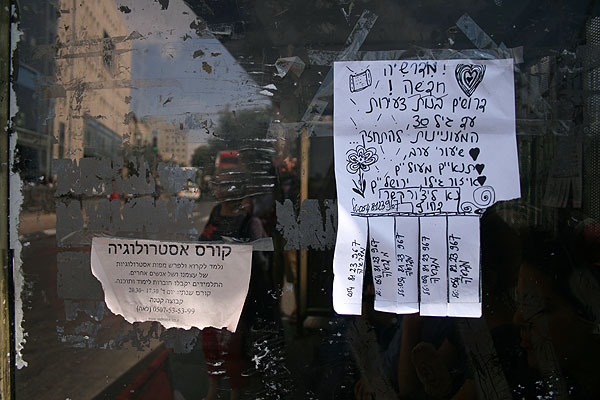 In Jerusalem!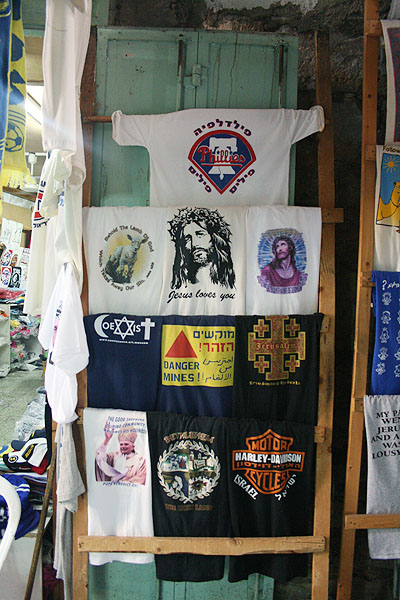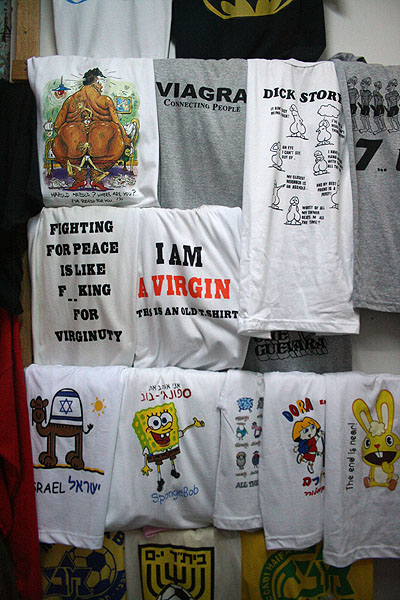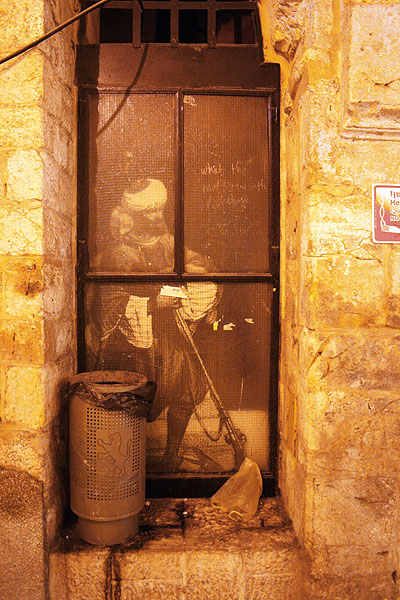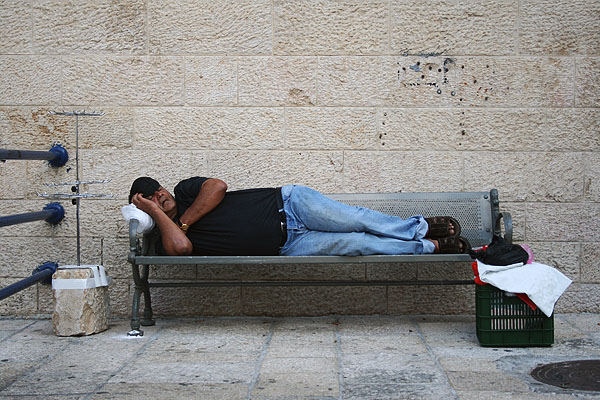 We went to the Western Wall which is located in the Old City of Jerusalem and which is also one of  the holiest places for Judaism.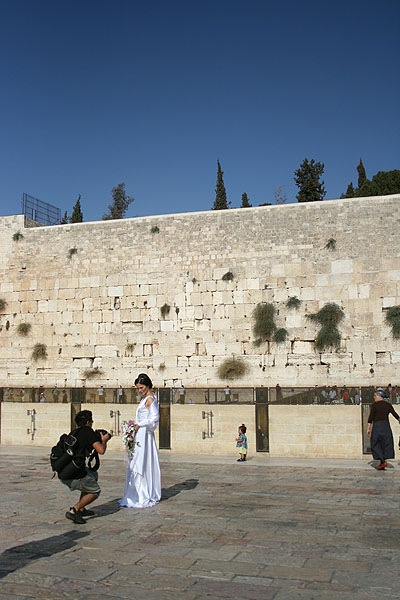 There was a wedding taking place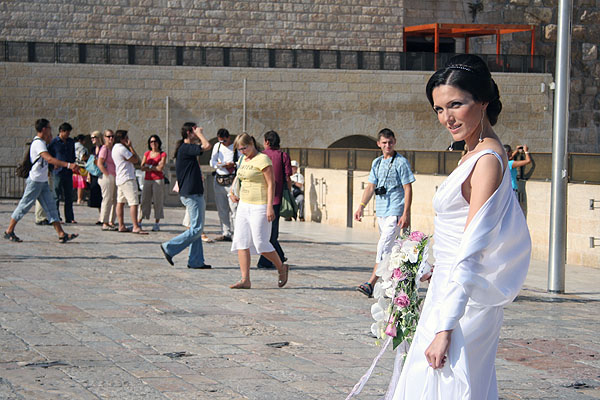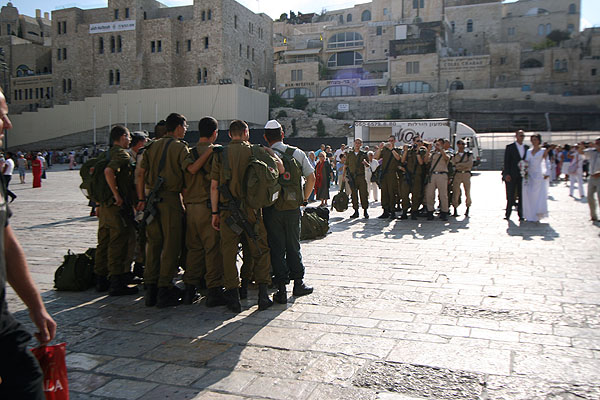 There were a lot of soldiers around taking pictures of each other, and the bride and groom asked to pose with them which I thought was cool: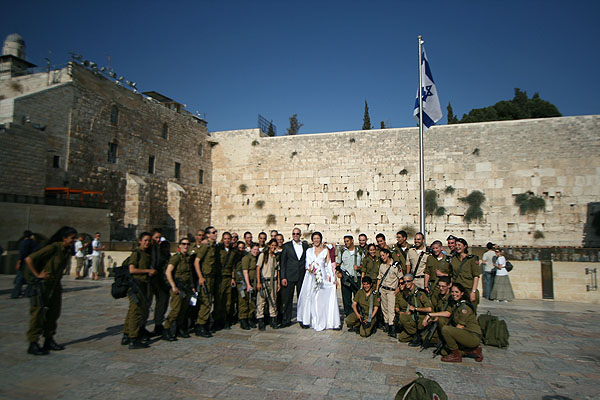 Army service is compulsory in Israel from the age of 18 to 20/21 for both girls and boys, so it's a common sight to see young Israelis walking around in uniform with guns.  The first time I saw this last year I was surprised but I soon got used to it.  I can't imagine the youth of Britain walking around with guns.. but here it's simply part of the culture and part of growing up.  From what I see it also contributes to the solidarity and loyalty of society.
I love the shadows at the bottom of this: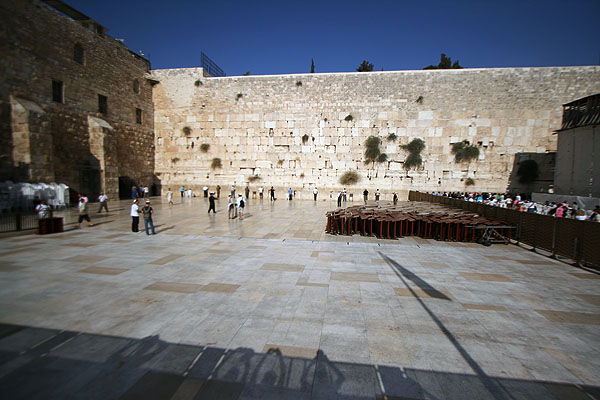 Men and women pray at the Wall in separate areas so women stood over the edge to take pictures of the men's side.
The women's area: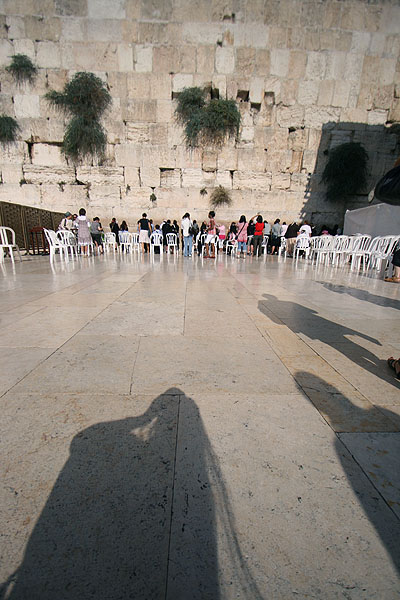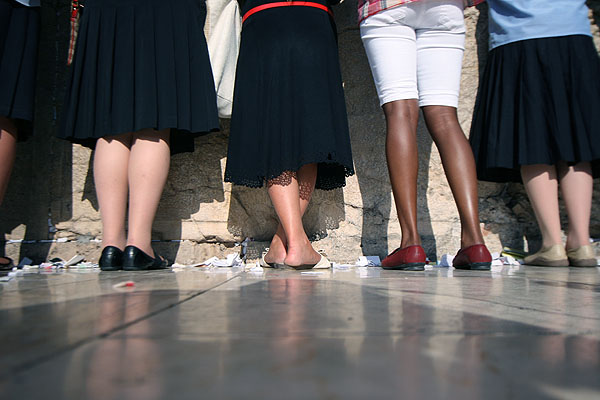 The tradition is to face the wall and pray, and to speak into the wall or to write messages to insert into the stones of the wall.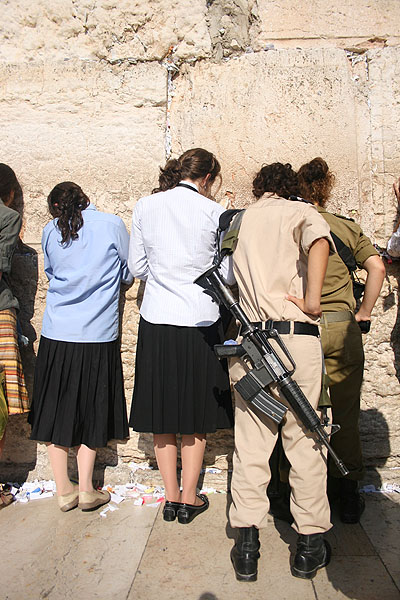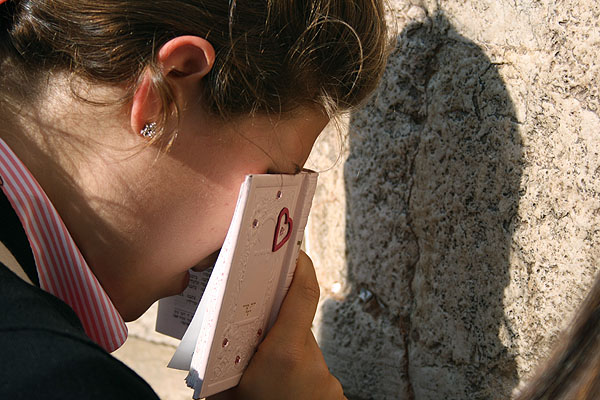 Literally every single nook and cranny of the wall had small pieces of paper stuffed into them: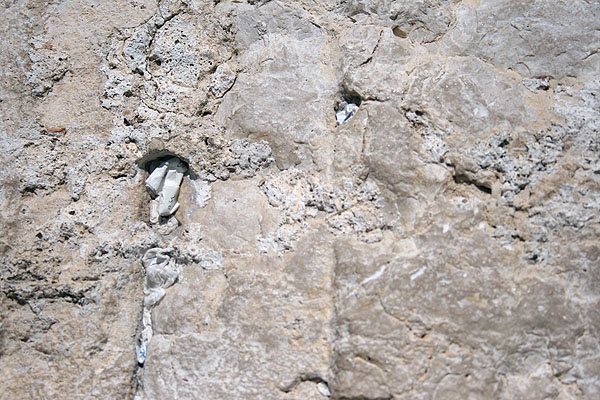 There's now a Twitter service that allows you to send a message which someone will deliver to the wall personally.  Ah, technology, eh.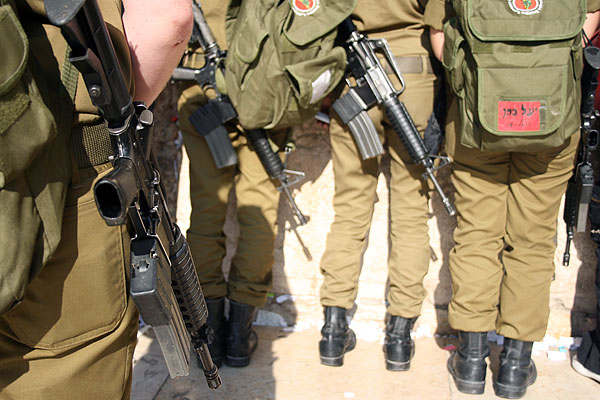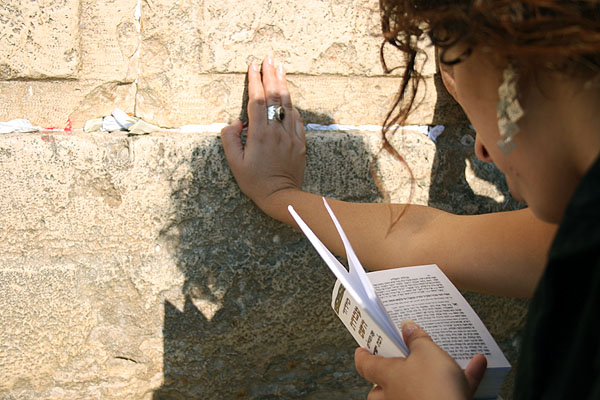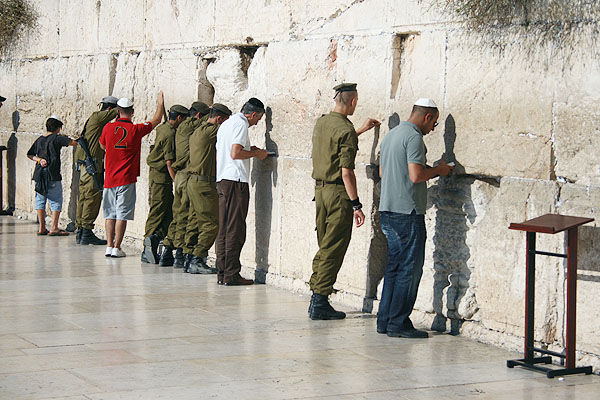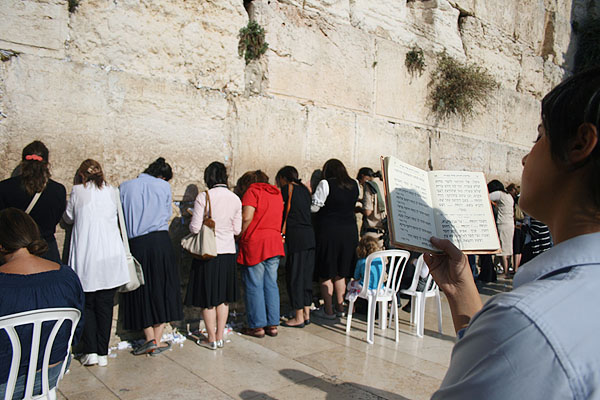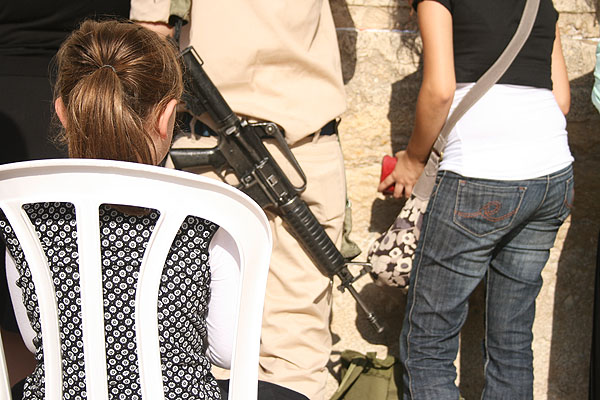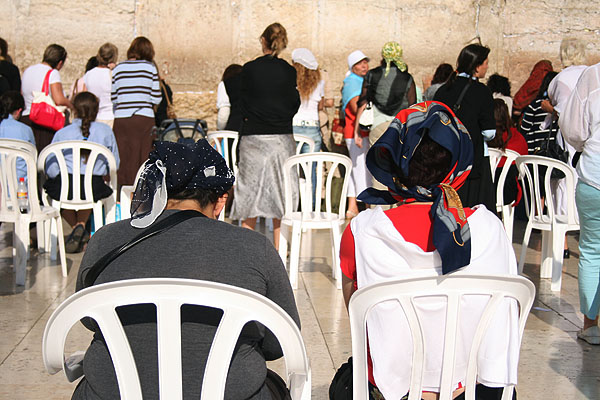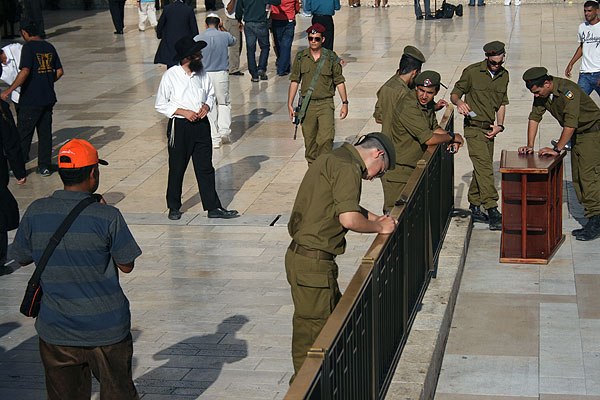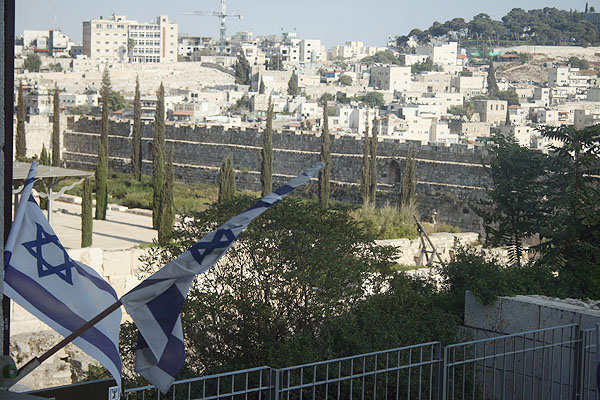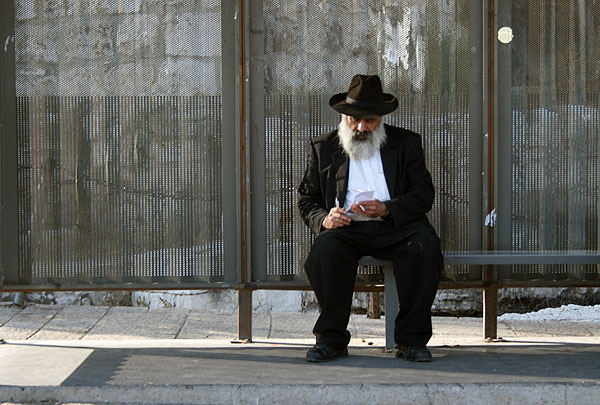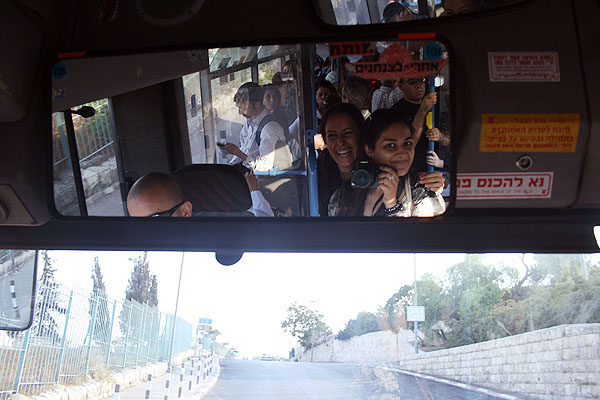 I tried to get the driver in the frame but I think I was too short :/ We had a conversation with him and he was really friendly. I like the sign in Hebrew next to the mirror which says not to talk to the driver while he's driving.
We went to Pinati, a fantastic place for hummus in down town Jerusalem.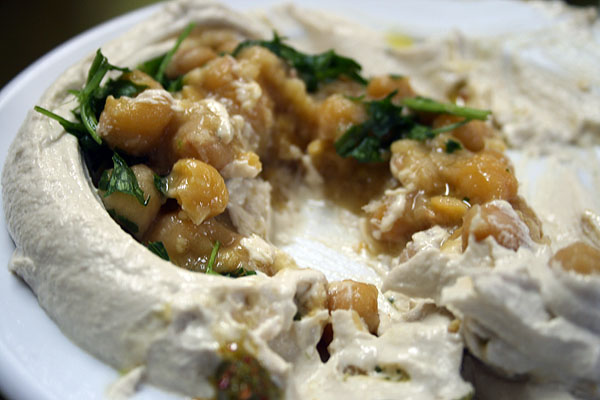 This stuff was amazing – definitely the best hummus I've ever had, and the owner was really welcoming: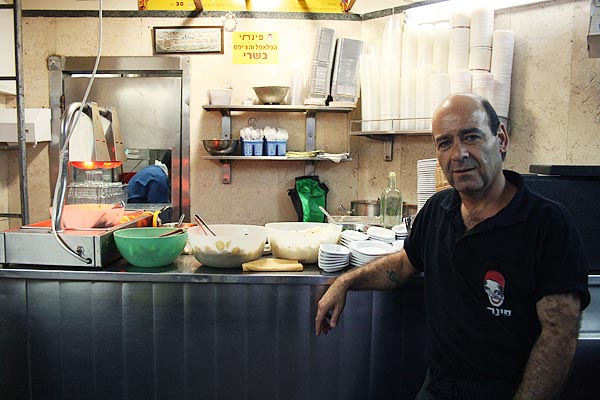 Walking around town..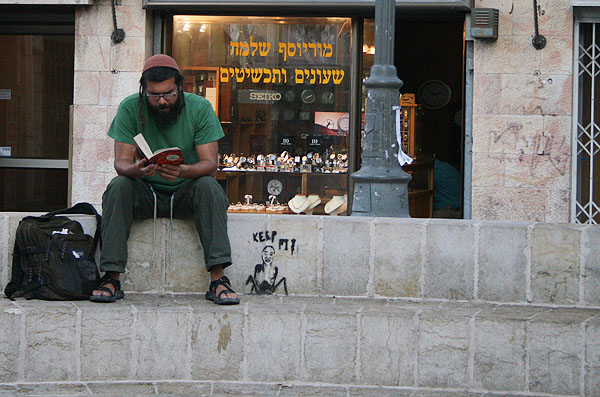 Random cat: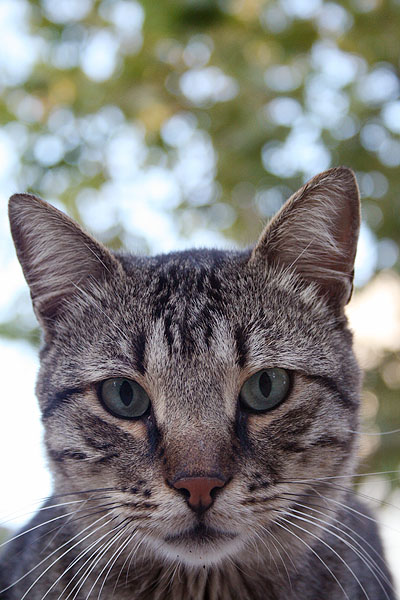 Israeli cats definitely love posing : )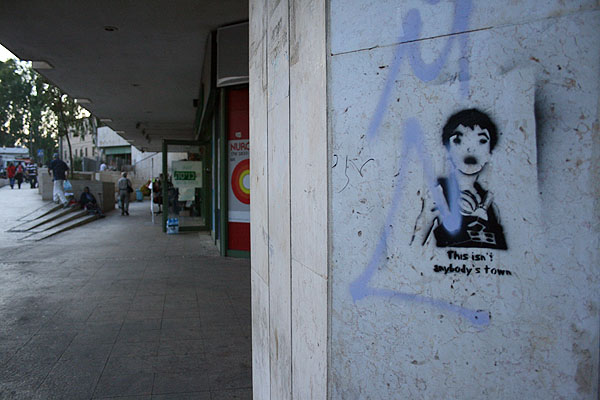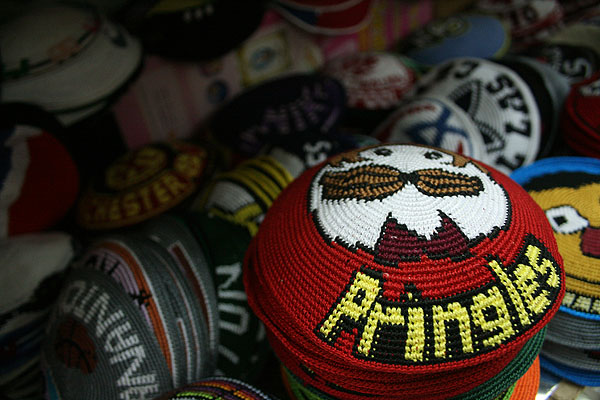 Why anyone would want to wear a Pringles kippah is beyond me, but I guess it's unique! I think it's more as a souvenir rather than to actually wear..
We walked around the Jewish market and came across this place selling Halwa: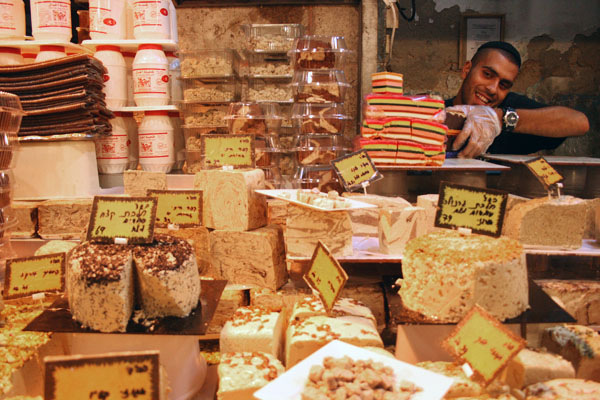 Halwa is a kind of Middle-Eastern sweet and this stall had some really unusual and tasty flavours such as cinnamon and pistachio Halwa.  The guy was on the phone and Ricki told him jokingly that people would walk away as he's on the phone and not paying attention to the customers.  He replied saying he's talking to his wife and she'd leave him if he didn't give her attention.  It was a cute moment.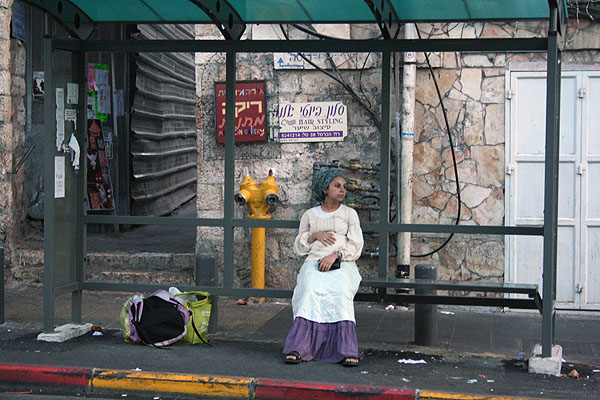 There's so much to explore in Jerusalem.  You can literally walk around for hours and immerse yourself in the surroundings.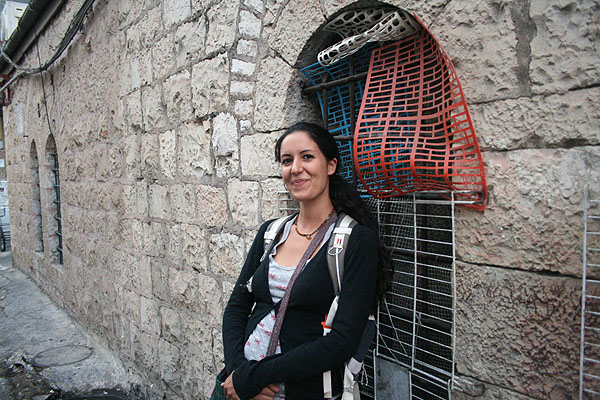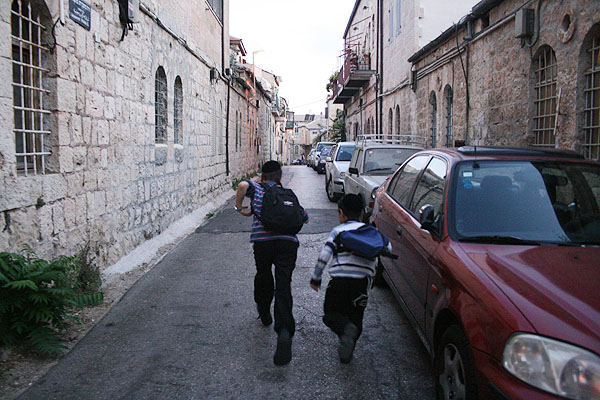 This residential street was particularly interesting.  As we walked through we found people praying in one building (below), kids playing in the street (above) and a house from which we could hear a guy playing the piano beautifully, and singing.  We stood outside listening until the end of the song, and then applauded him.  He shouted thanks to us, and started playing another tune.  It was a nice moment..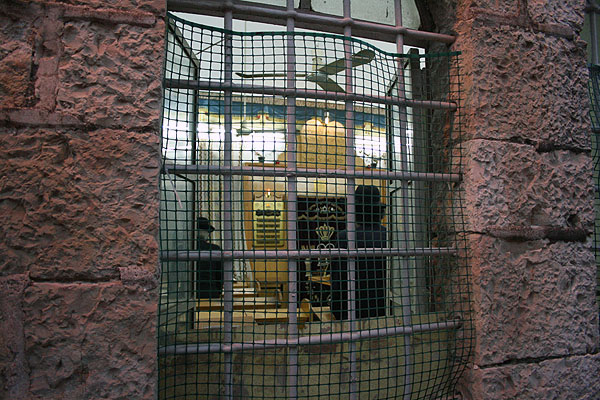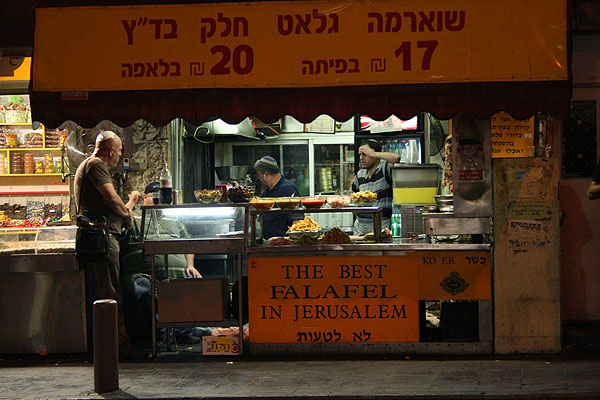 I didn't try the falafel here but it could not have been as good as the one I had in Nazareth last year – that was simply divine!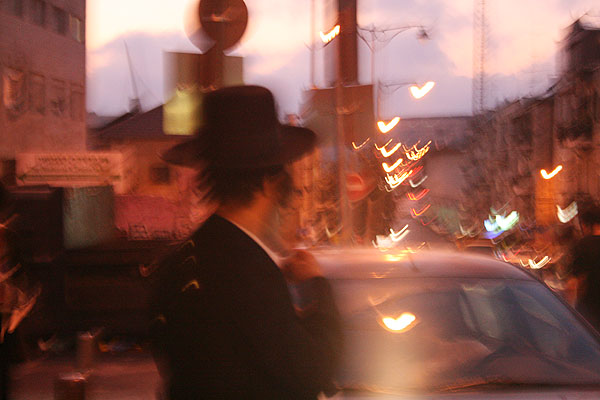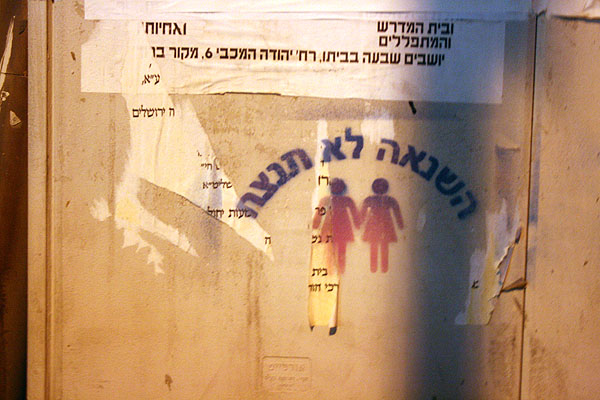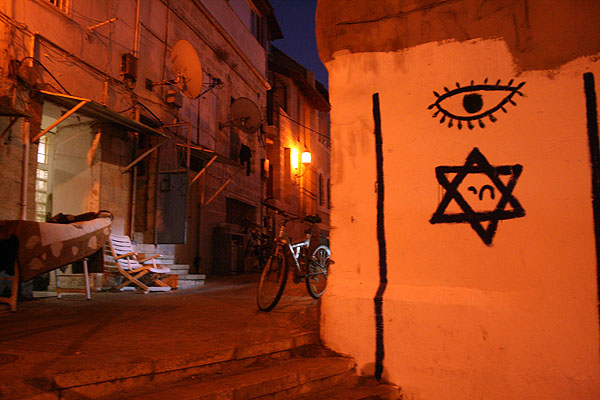 Back in the Old City: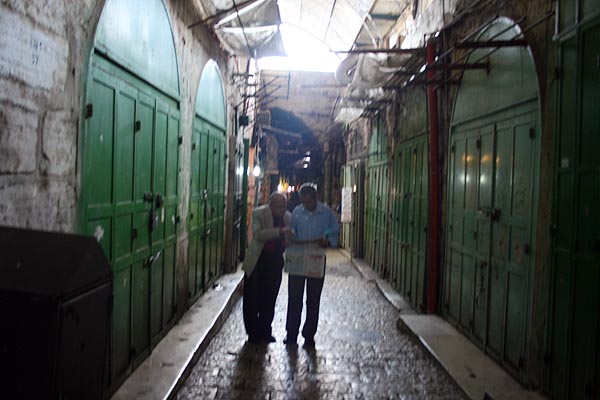 As it's Ramadan, and the Old City has a large Muslim population, many of the Arab-run markets closed earlier than usual (around 6:30pm in order to break the fast at 7:15pm)
This man's little clock shop was one of the few shops open, and he asked to be photographed: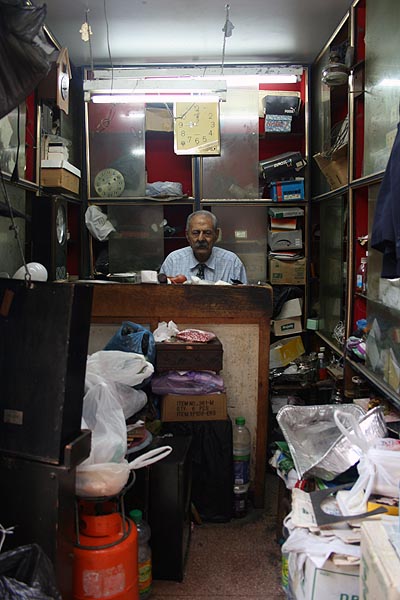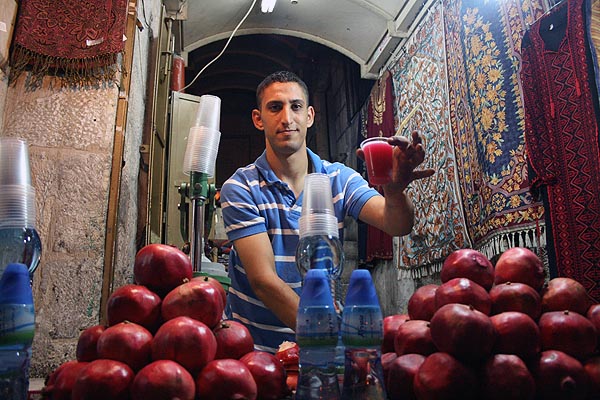 Pomegranates can be found on most street corners – they're a pretty important fruit in Judaism and Christianity, and you can find sculptures of pomegranates around the country.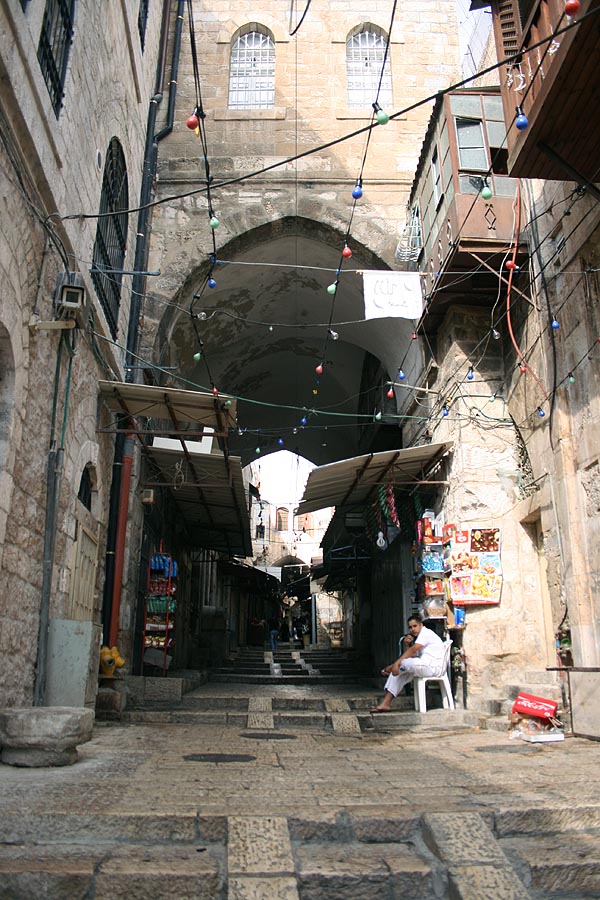 I was staying only a few minute's walk from the Western Wall so the next morning I went back there.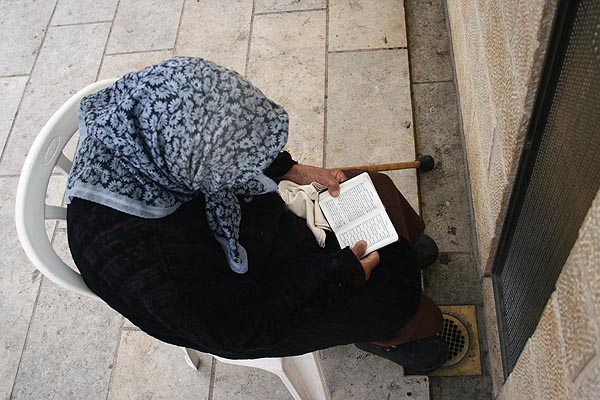 There was a lot of activity this time – it turns out Bar Mitzvahs were taking place!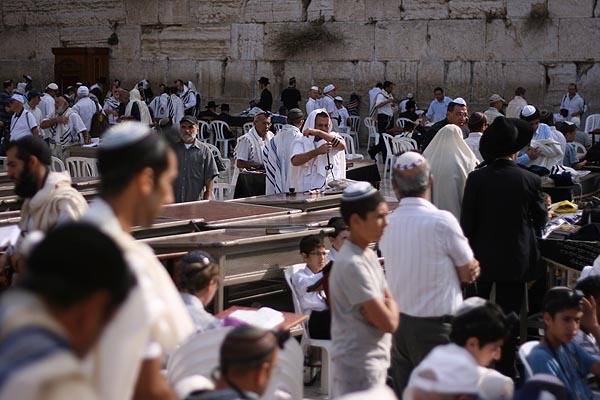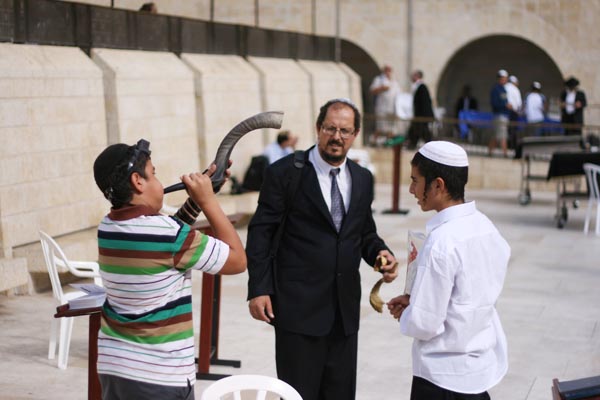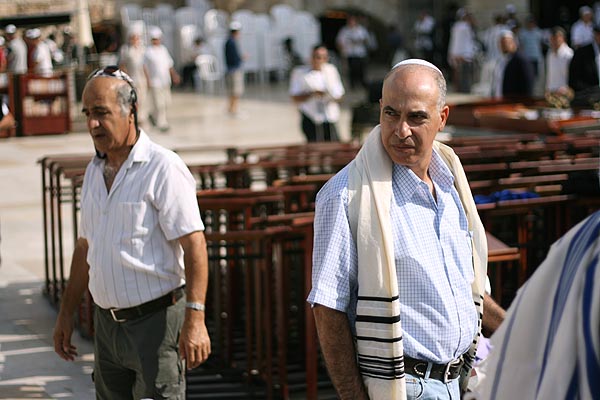 I had to climb on a chair like many other women to see what was happening on the men's side.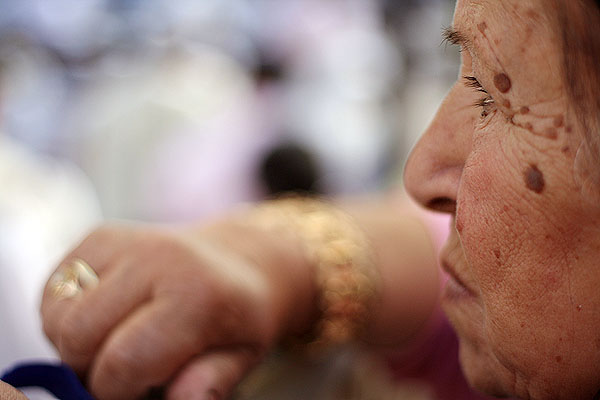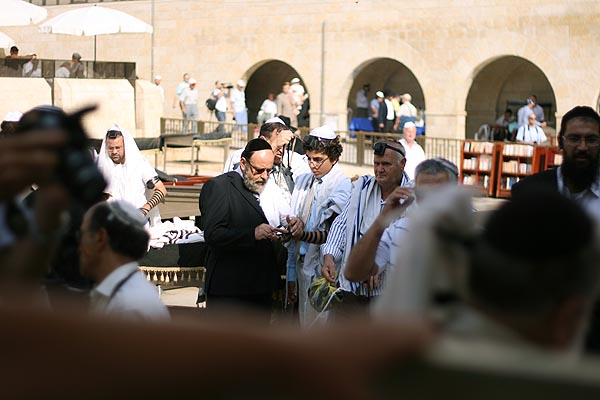 A Bar Mitzvah is a Jewish ceremony that takes place when a boy turns 13 to symbolise his coming of age.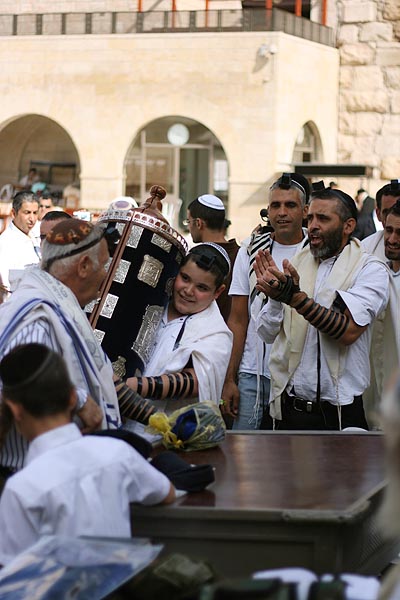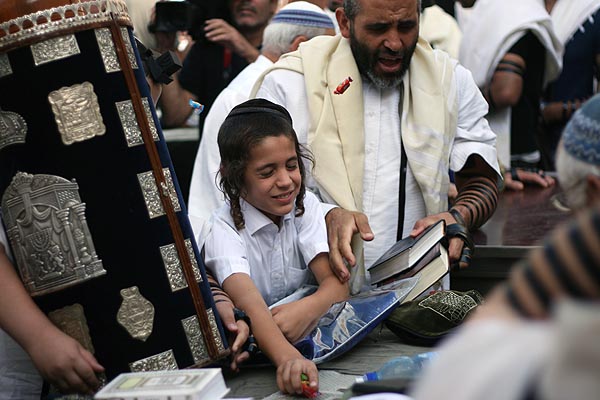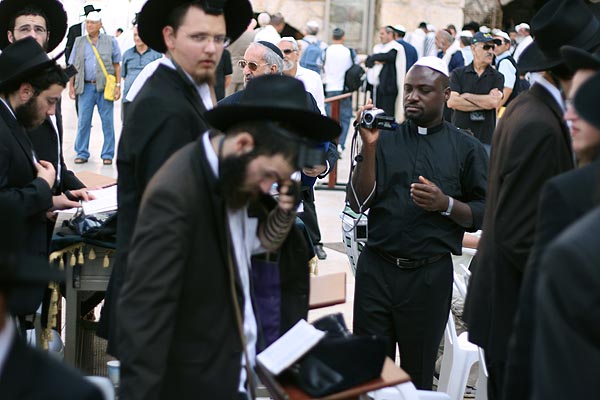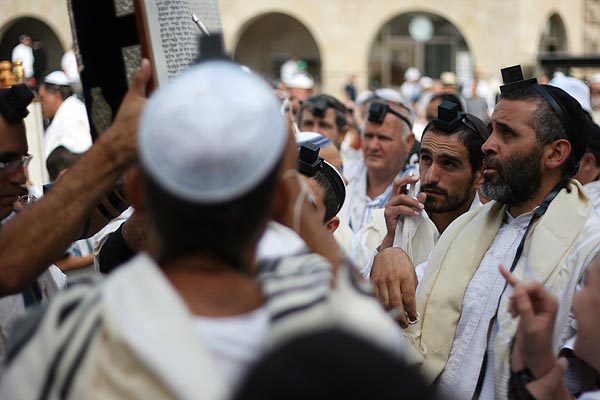 I was using the 50mm lens and a photographer on the other side of the fence on the men's side asked if I wanted a picture of myself.  I thought 'why not' and gave him my camera and he took the below: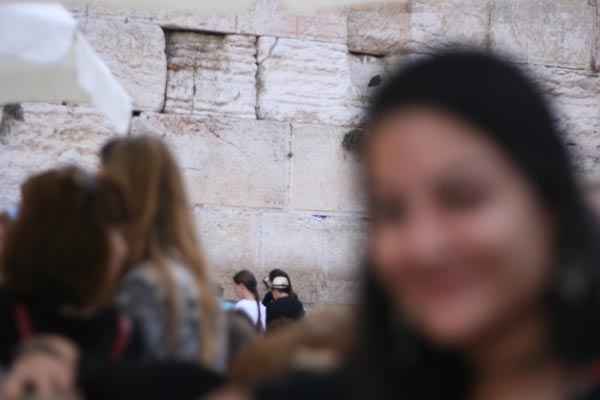 Perfectly out of focus :D He also complained that the lens was too narrow. Ahhh.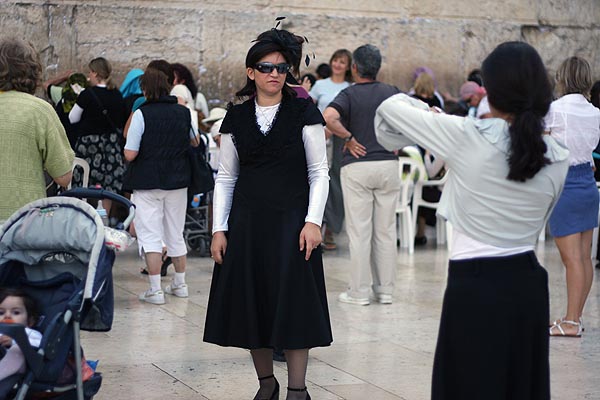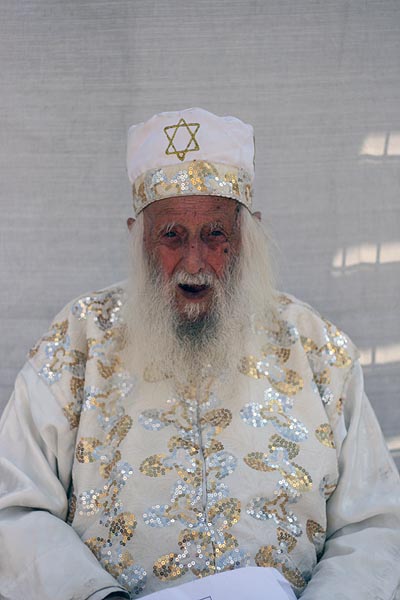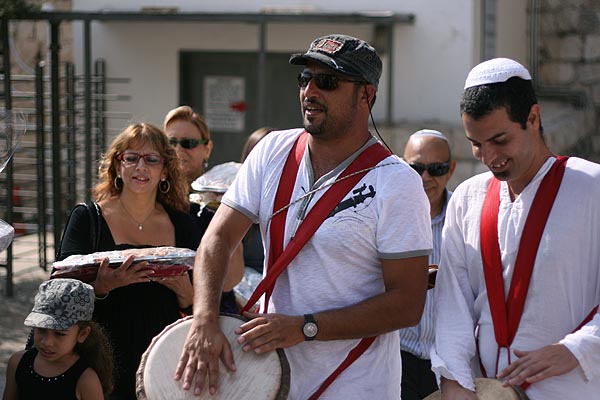 I wanted to visit the Dome of the Rock, which is the famous gold-topped mosque – an icon of Jerusalem and the second holiest place for Muslims (after Mecca and Medina).  It's also home to the Foundation Stone, known as the holiest place in Judaism but ironically Jews will not usually be found there.  You can read more about the mosque's significance on Wikipedia – http://en.wikipedia.org/wiki/Dome_of_the_rock
Anyway, the directions to get there were a bit confusing despite the mosque being located on the other side of the wall, and I had to ask a security man for help, who was happy to be photographed: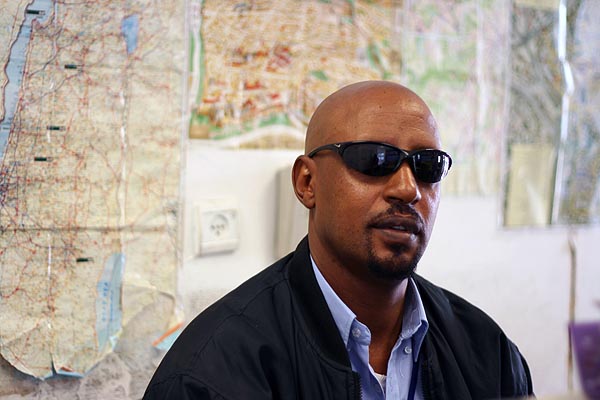 Finally made it.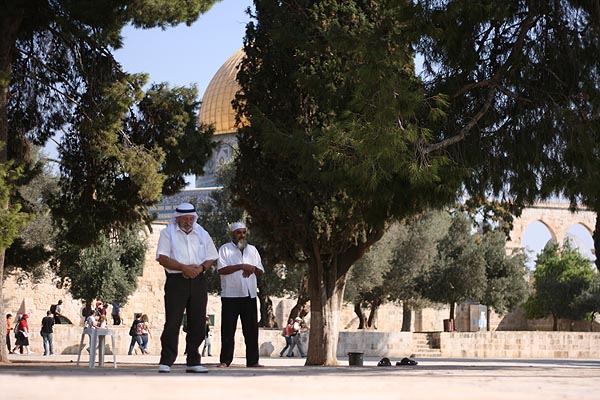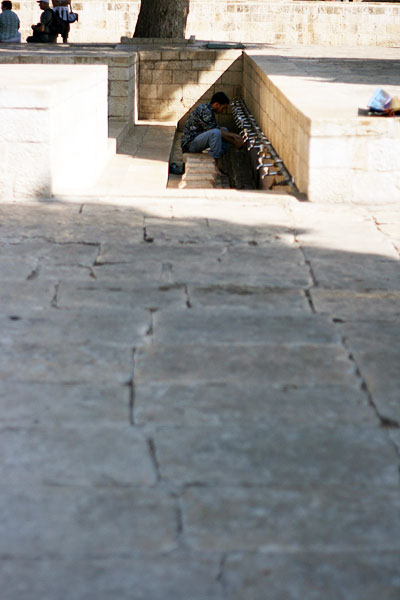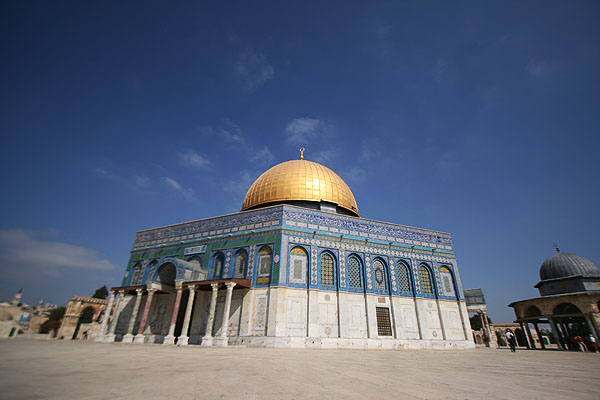 It's a pretty stunning sight – the wide angle lens and the deep blue sky helps :P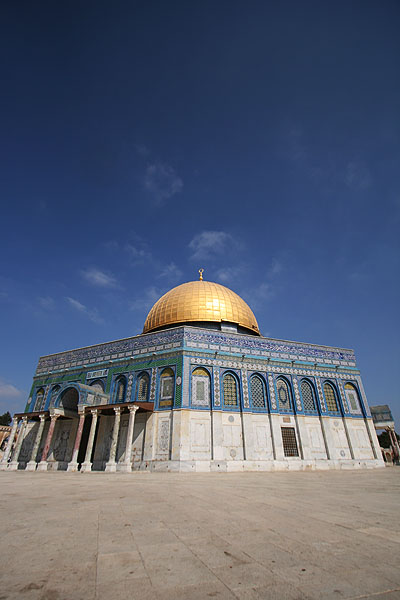 Entry inside the mosque itself is completely forbidden for non-Muslims (pictures of the interior are rare) and in fact even the areas just outside were only open for tourists between 8am and 11am.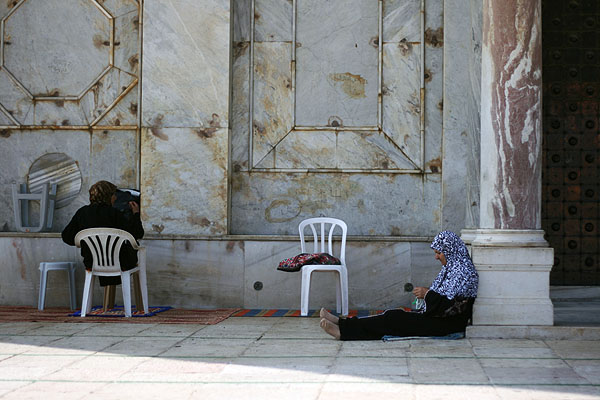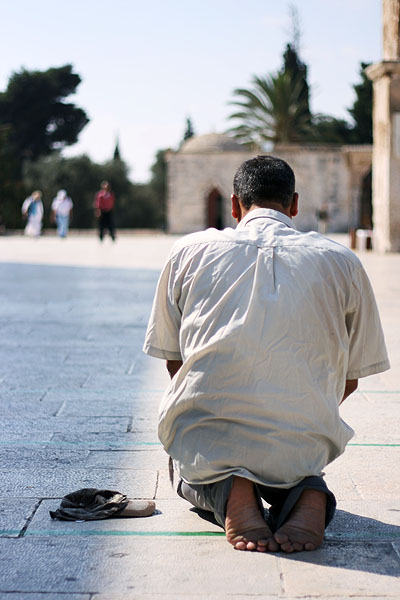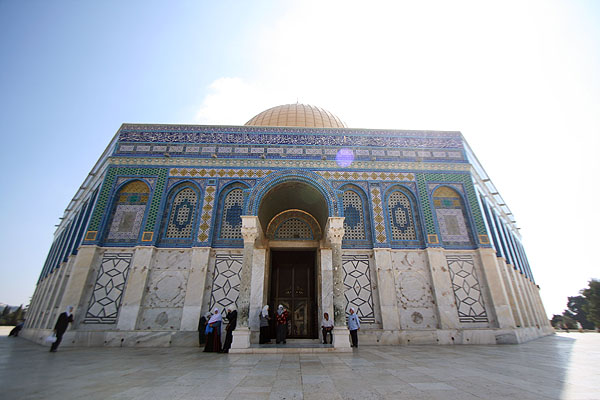 I wanted to photograph the mosque by night as it's meant to look stunning, but every single alley leading to it was blocked by border policemen who would simply not allow me to even walk ONE metre beyond the barriers they'd put up to get one shot.. it seemed strange.  I didn't really understand why this restriction was imposed.  The Muslim Arabs themselves who saw me with the camera seemed happy for me to photograph them, and some even joked that they'd take a picture for me (not that I'd have given the camera to a random person!).  Yet the policemen would not even let me have a peek at it – they'd actually put up the barriers in such a position so that it was not even possible to look at the mosque.
Anyway, I gave up on the idea of getting a night shot after trying a few entrances.  It wasn't a huge deal but just would have been a nice bonus.  There must have been a valid reason for the restriction I guess.
After leaving the mosque when I visited during the day, I went down one of the many alleys and ended up in the Cotton Merchant's Market.  The exit was manned by two officers/soldiers who told me that I couldn't go back to the mosque from this alley – it was purely for exiting only.  So many alleys.. so confusing.. the Old City is like a maze and even though its possible to walk through the entire area in a short space of time, it's so easy to get lost in the maze of narrow cobbled streets.
Anyway, the soldiers were really playful and were asking me about my origins, and the guy on the right did a Bollywood song and dance which was great!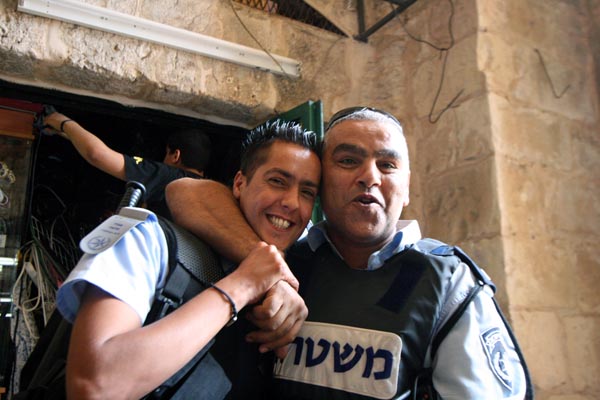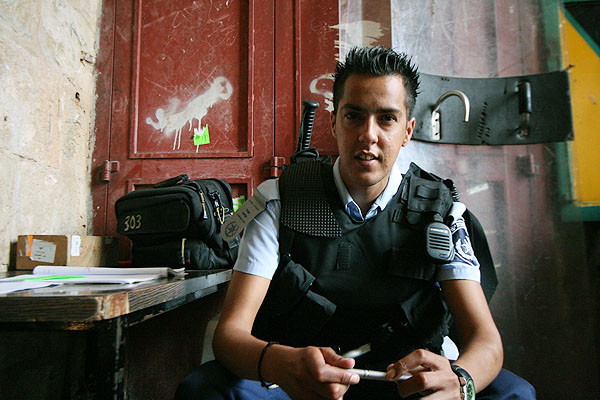 They even let me play with their truncheon.. :o
This was the view of the Cotton Merchant's Market: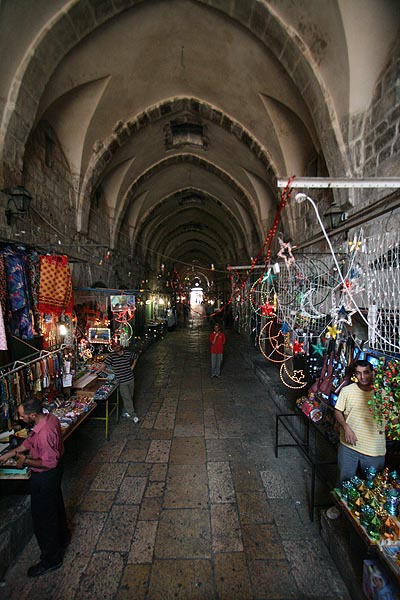 Just to point out, this area is predominantly Muslim, and apart from the soldiers, you won't find any Jews walking around this part of the city.  Even though it seems perfectly safe to me, being a tourist, there are areas where both Muslims and Jews would not feel comfortable or welcome at all.  It's sometimes easy to forget that tension in Jerusalem can be high – it's one of the oldest cities in the world and its historical and religious significance is unlike any other sole city I have visited.  Jerusalem remains one of the core issues in the Israeli-Palestinian conflict and the distinction and difference from one area of the city to another are very apparent.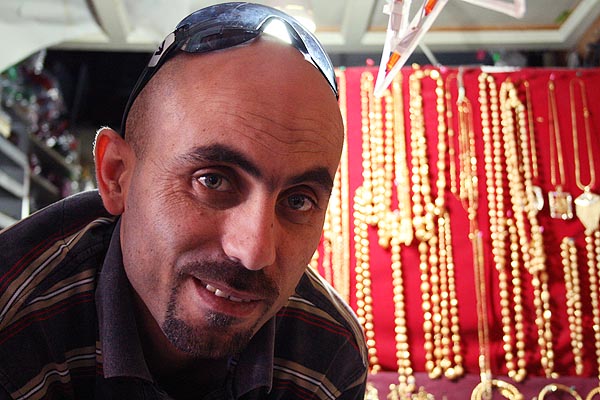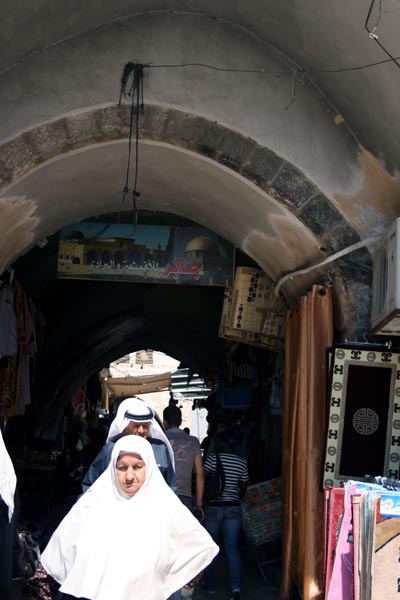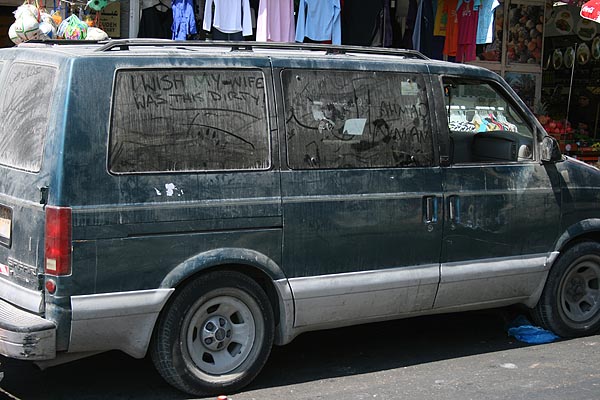 I'll stop now as I think I have RSI from editing pictures for hours. More Jerusalem, Hebron, the Dead Sea, Tel Aviv, and lots more to come soon!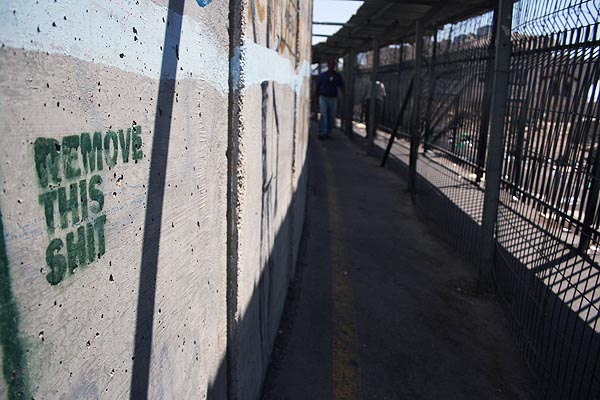 Thanks as always for reading : )