I'm back from a fantastic week in Israel. I didn't expect it to be so diverse, both in terms of its people, as well as the landscape. Not only does it have beautiful secluded beaches as well as mountains, lakes and rivers, but the cultural and historical significance of much of the country is quite extraordinary!
So, where did I go?

View Israel 2008 in a larger map
Interestingly enough, Israel isn't covered by Google Maps so no place names or roads are shown – you'll have to click on each point to see what it is :P
I stayed and travelled with the lovely Rivka, or Ricki as we call her, who lives in a village close to Netanya, on the west coast. She took me to some of the beaches there

We went to the I <3 Banana beach first – 10/10 for the name alone!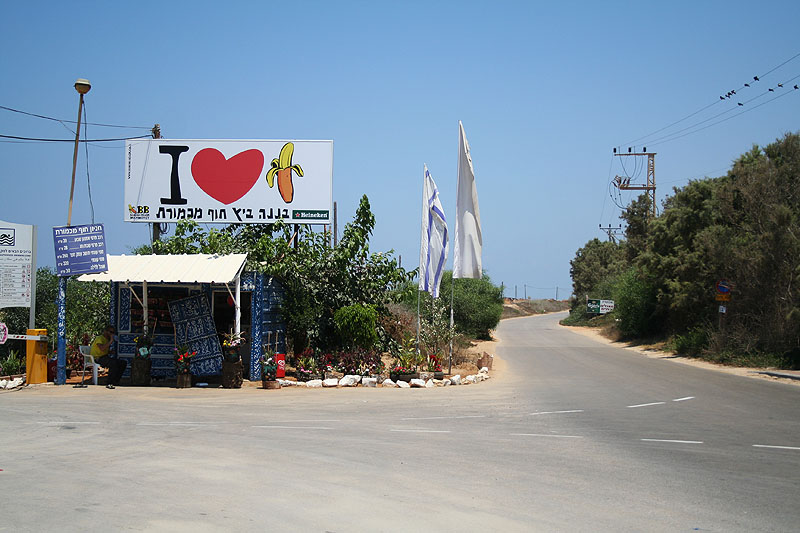 Breakfast on the beach!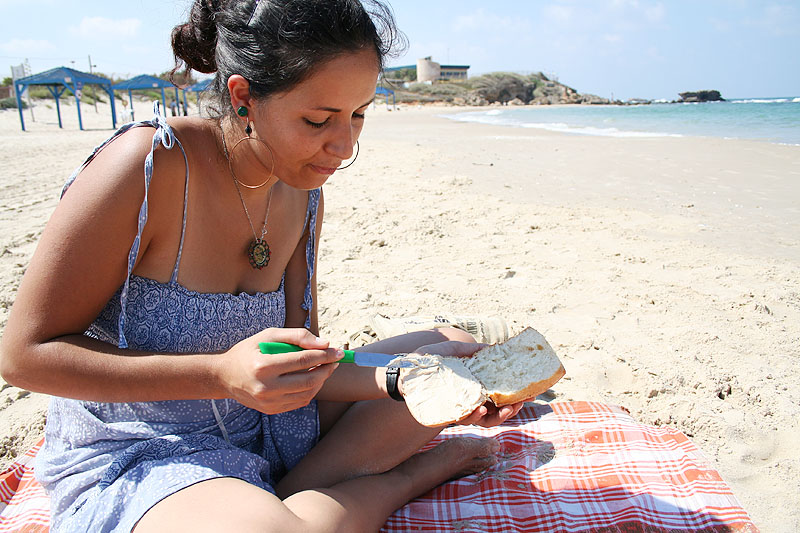 She made some kind of aubergine and houmus sandwich – incredibly yum stuff, like most of the food in Israel.
The area was so secluded and unpolluted – it was pleasantly surprising..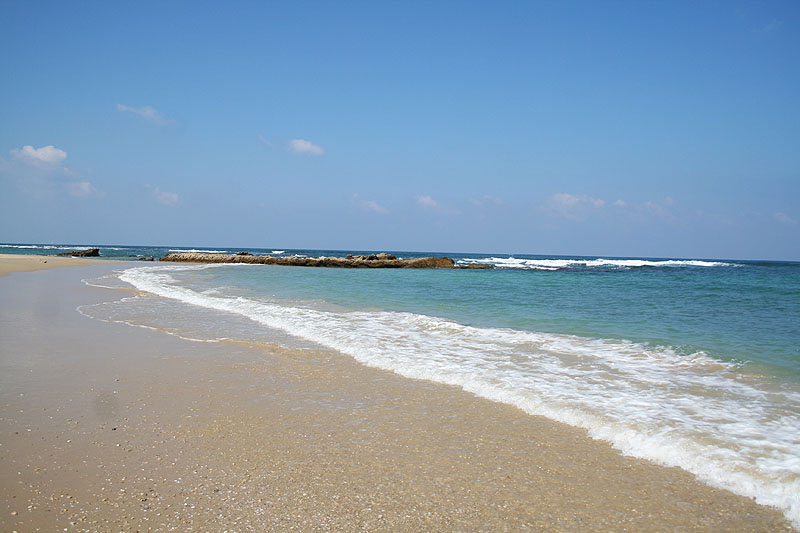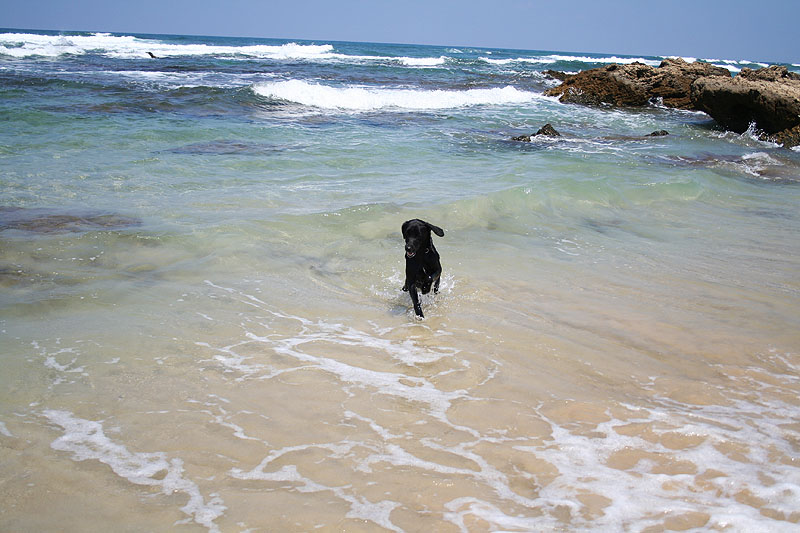 Me!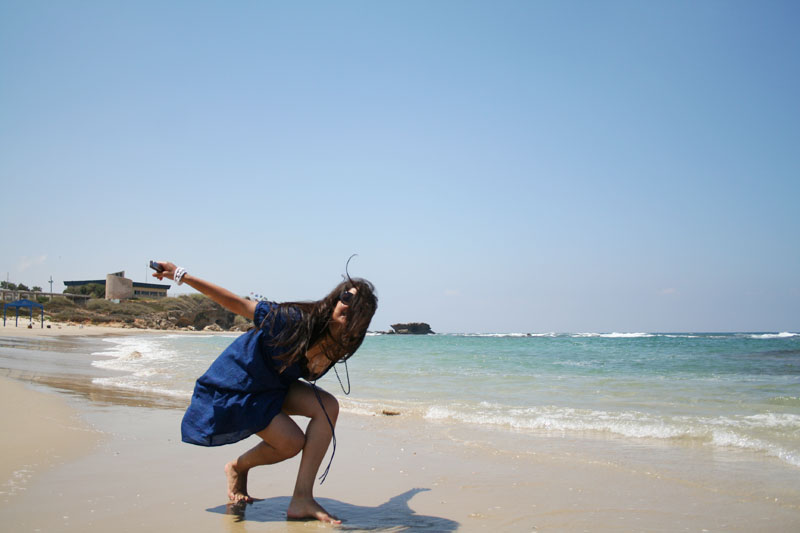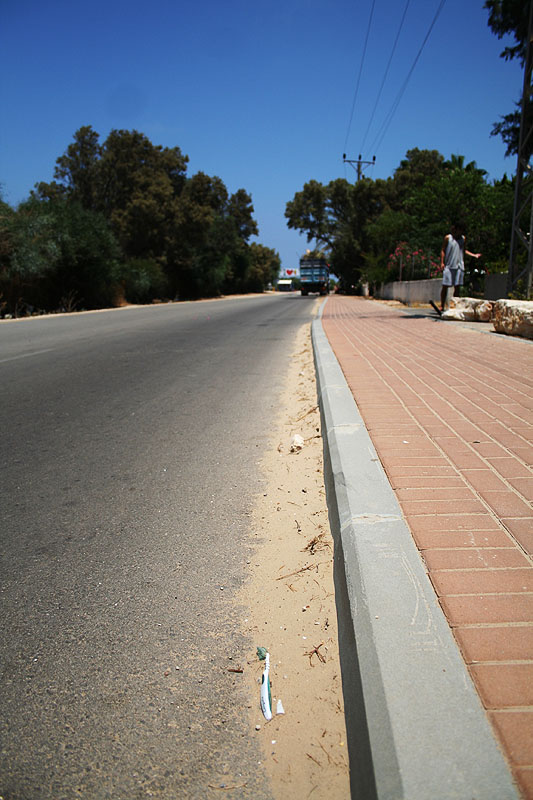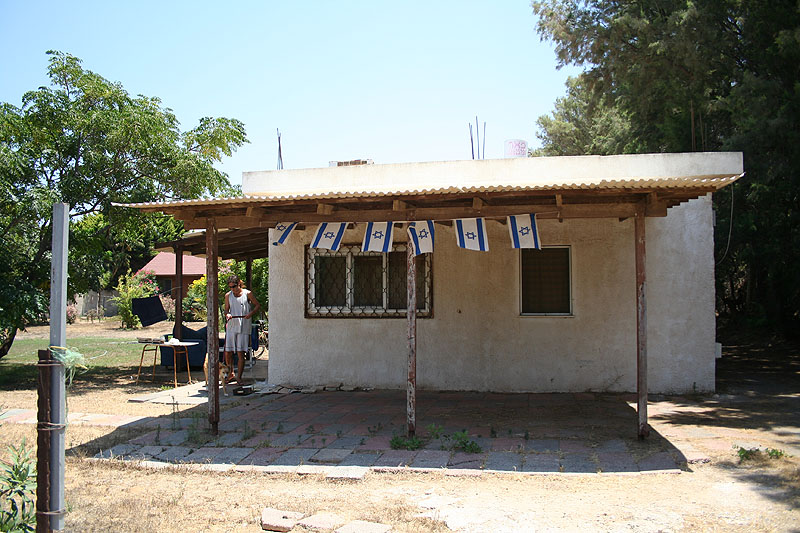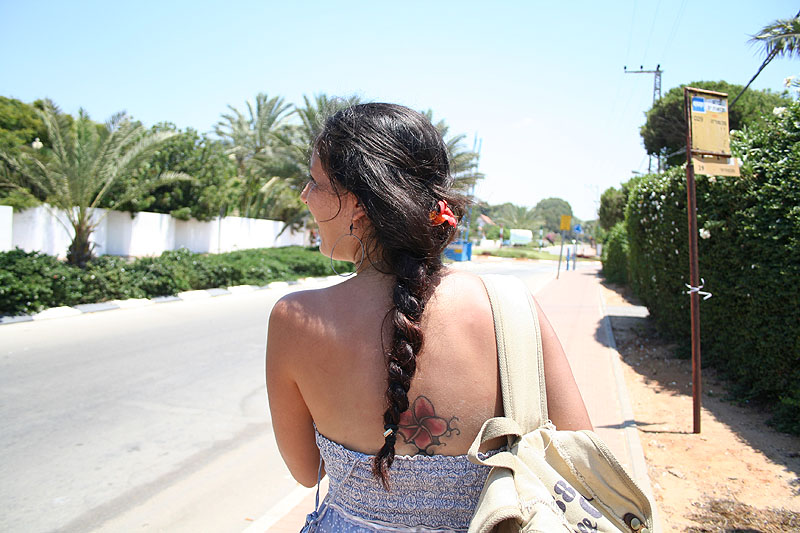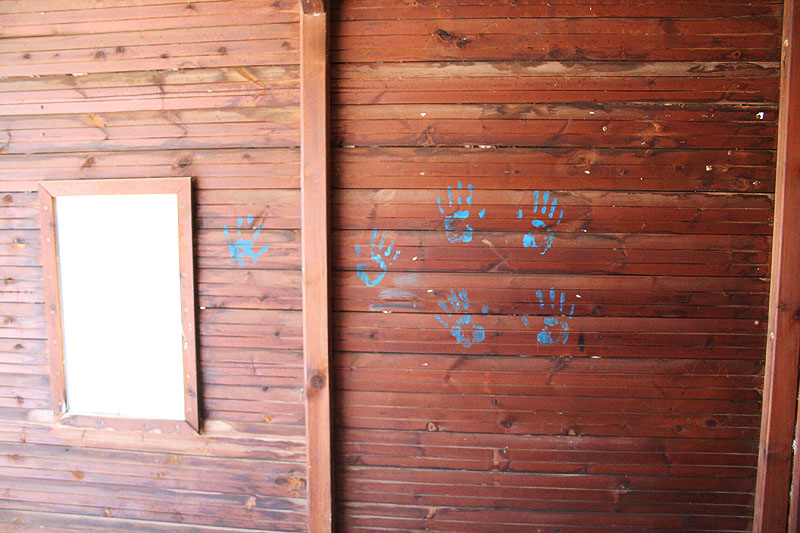 We visited Caesarea in the district of Haifa, famous for it's aqueduct overlooking the Mediterranean Sea. During the Roman times, the aqueduct was used to bring drinking water to the city.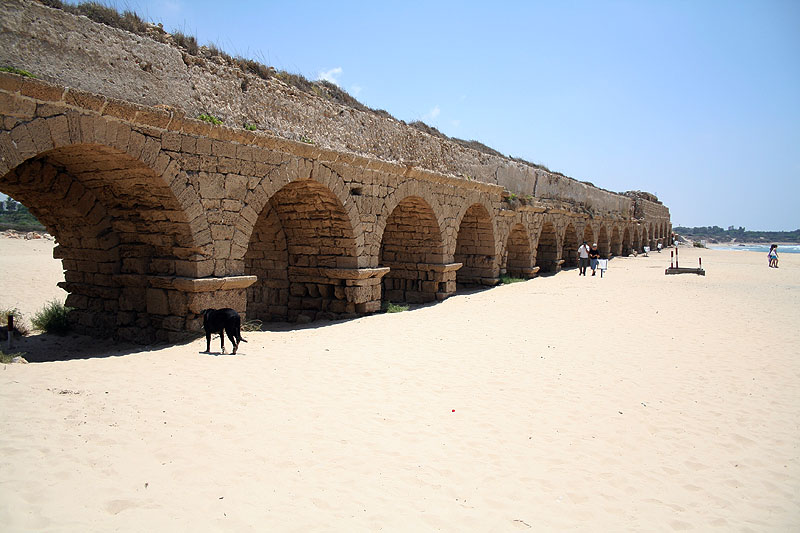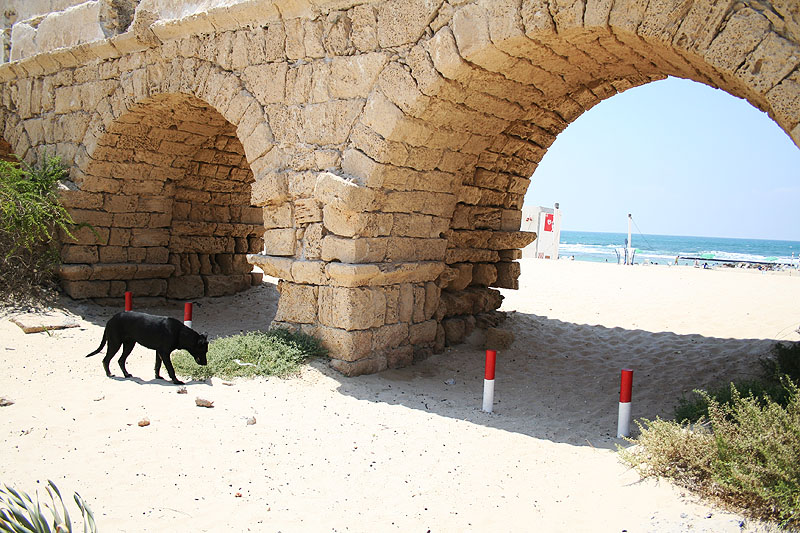 The dog followed us around the whole area and wanted to go home with us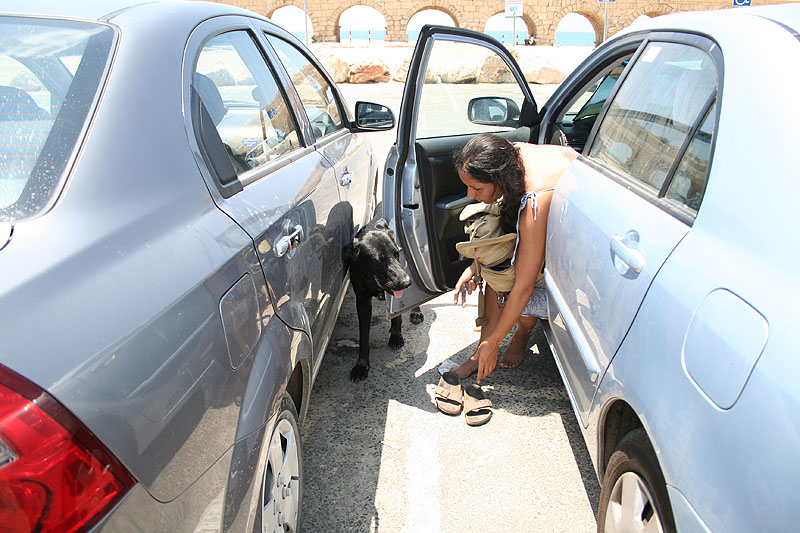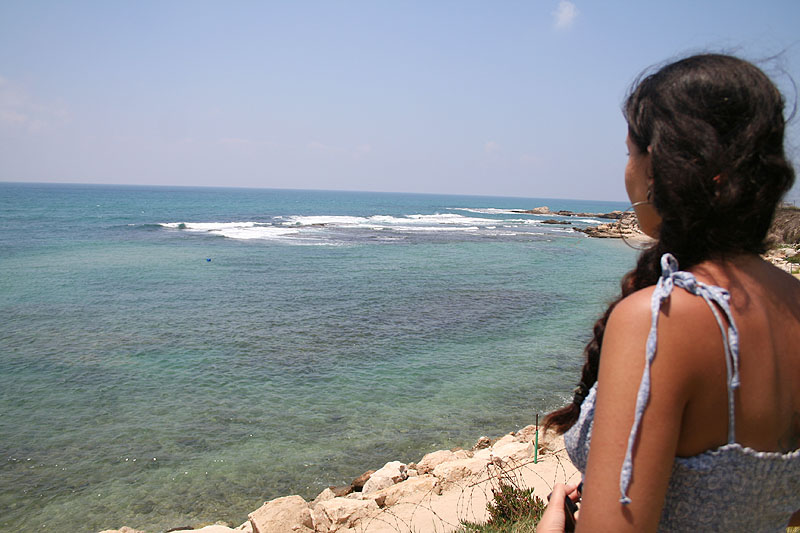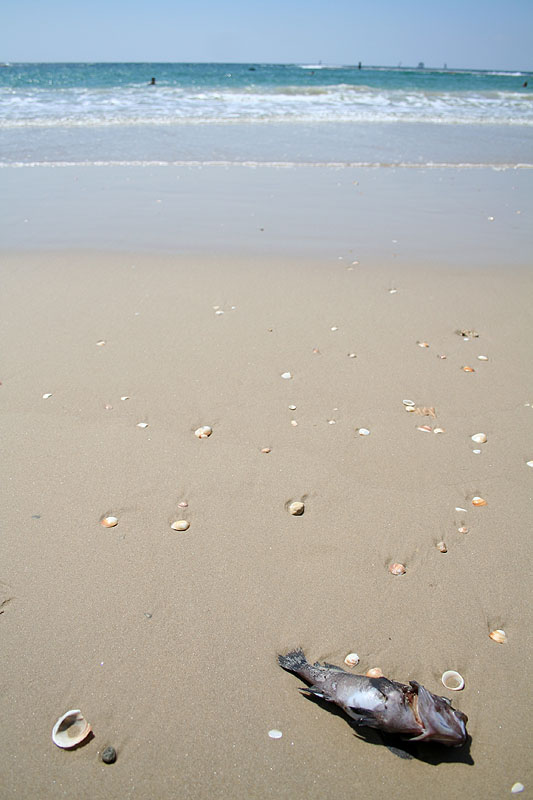 I've never seen a jellyfish before, let alone a mutilated one! I really would not want to come across one of those in the sea..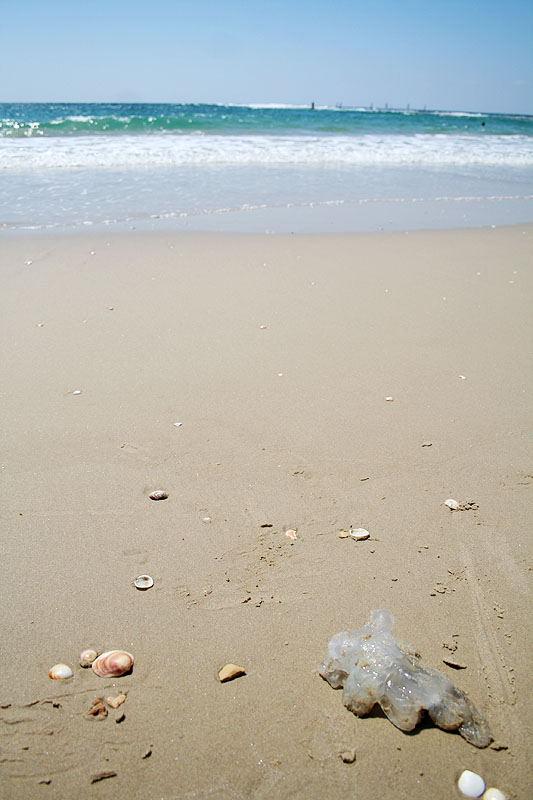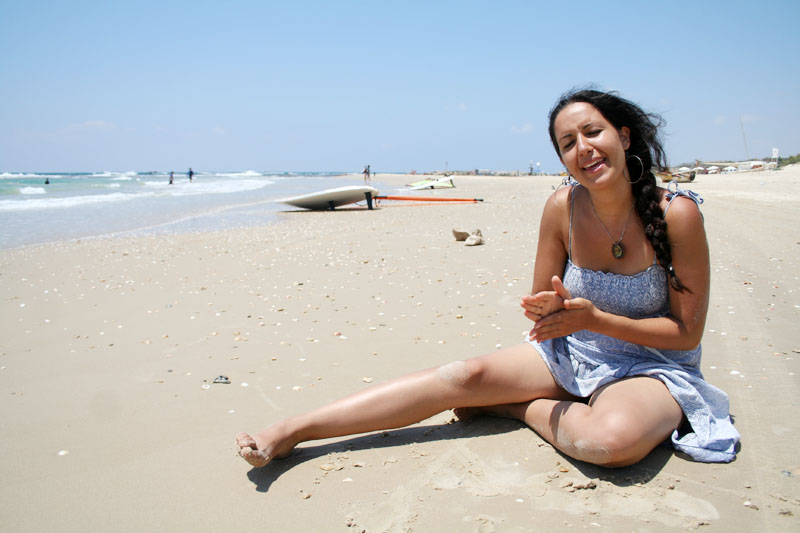 My name in Hebrew: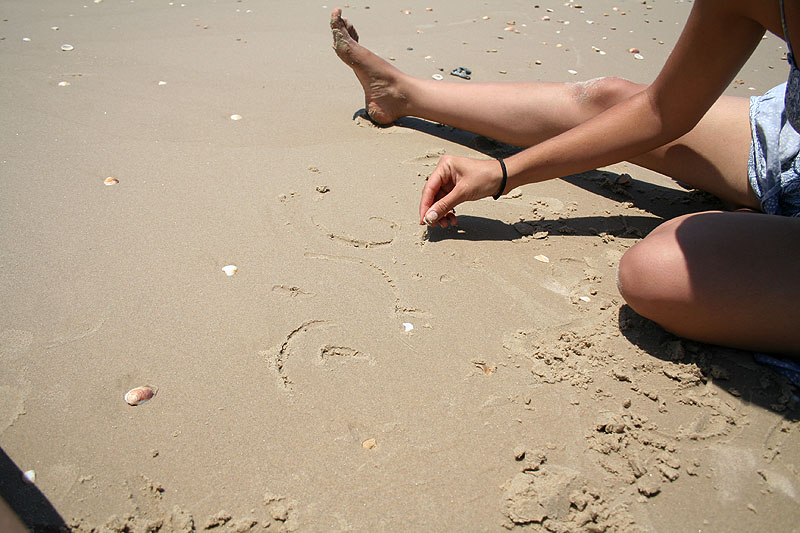 I didn't know this before but written Hebrew is actually different from Hebrew that's typed out just to make things confusing! It's a lovely-sounding language in my opinion, as is Arabic which is widely spoken in Israel, particularly in Arab cities, and in the occupied territories.
We went to a kibbutz called Neve Ur for a couple of days, located in the northern Jordan Valley, on the River Jordan, south of the Sea of Galillee. The original concept of kibbutzim is dying out, which is a shame, because I could sense a real community spirit here. Everyone knows everyone, and doors can be kept unlocked at all times – something I'm definitely not used to. I have to be honest, I was quite paranoid about this at first. Keeping doors unlocked here in London, especially overnight is unthinkable.
We stayed with Ricki's friend, Sharon, who painted this wall!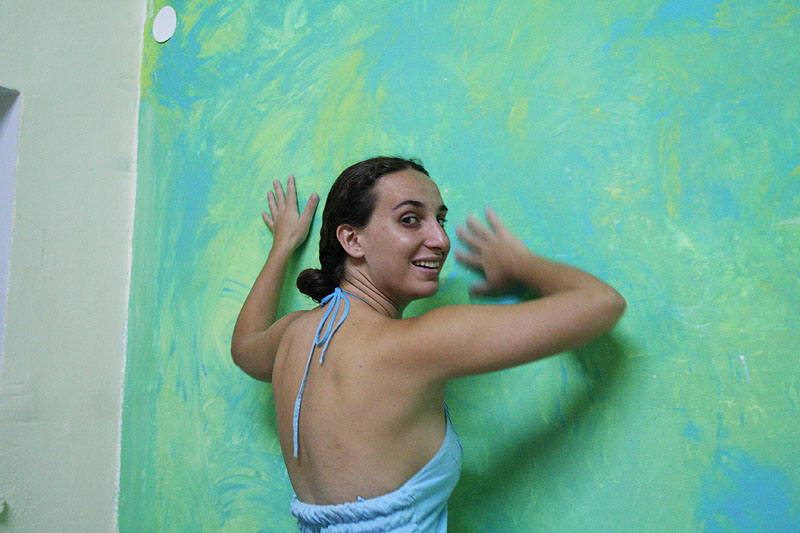 Not only that, but she and others built the homes they're living in – right from the foundations.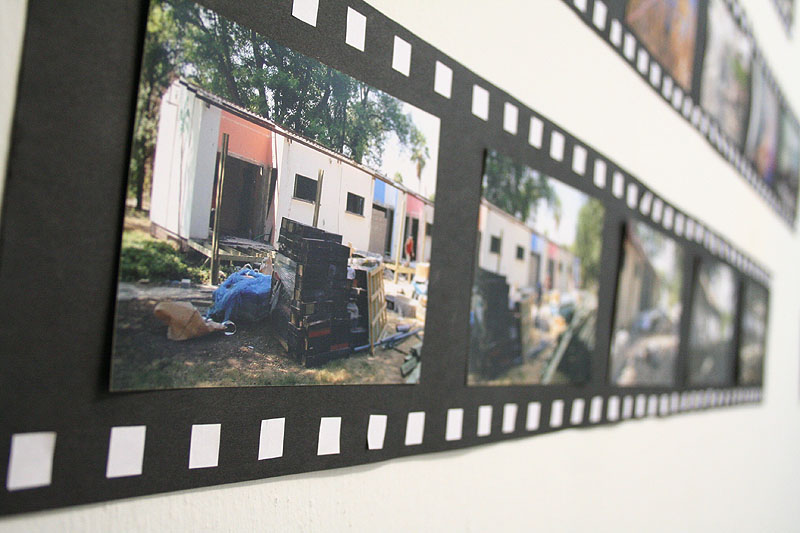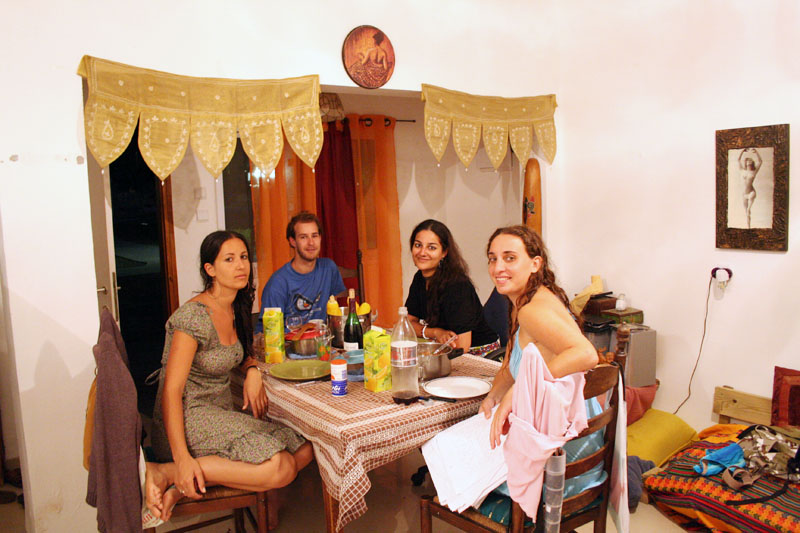 Often people in these communities work alongside each other doing quite strenuous work, mostly outdoors, such as fruit-picking and farming. In addition to this voluntary work, they have time to study and do other things, such as playing guitar outside during summer nights drinking Goldstar and Arak! Lovely.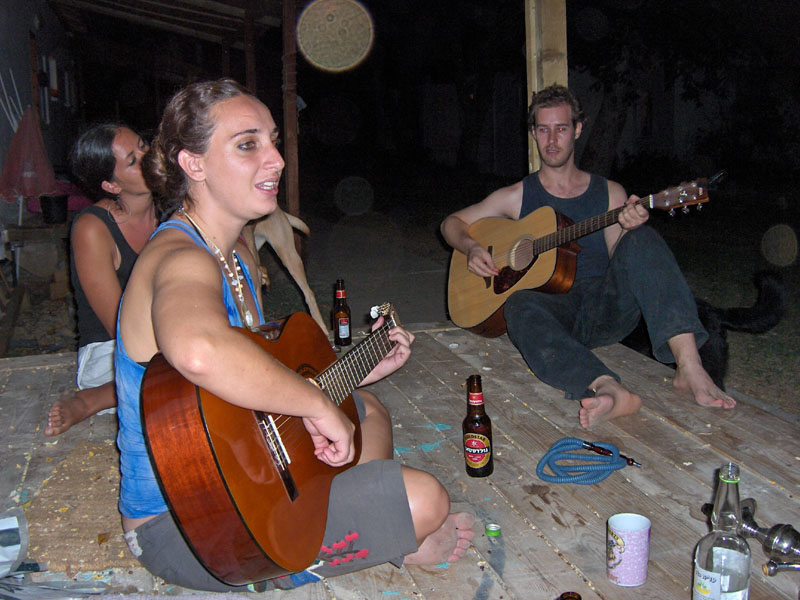 The pace of life is completely different here compared to in cities, and people always seem to have time for one another.
In summer, the days are extremely hot and dry. We went swimming in a stream which was brilliant – if only I had a waterproof camera to capture the beauty of that area.
Right on the border of Jordan, just over the other side of the fence: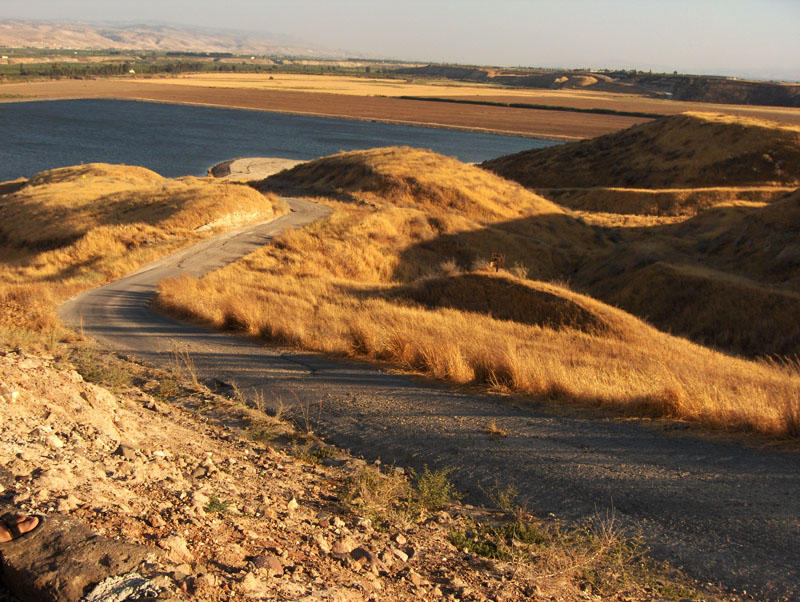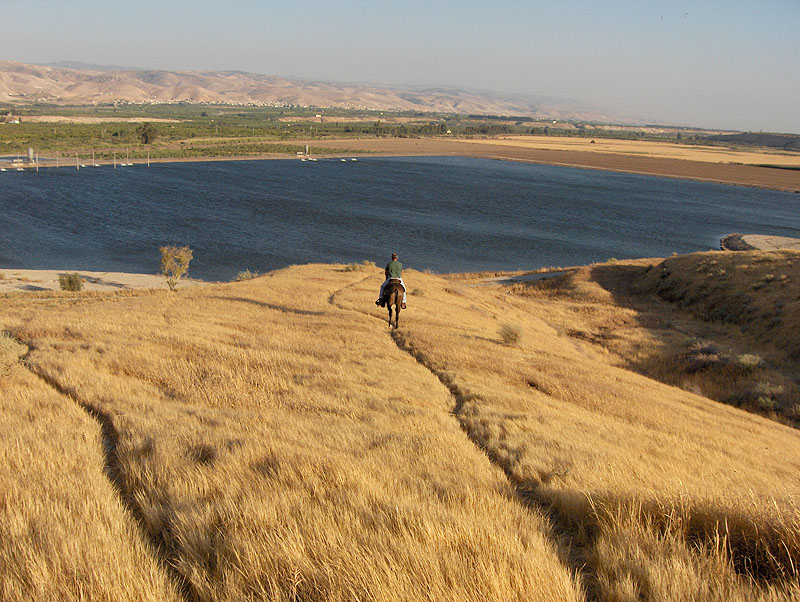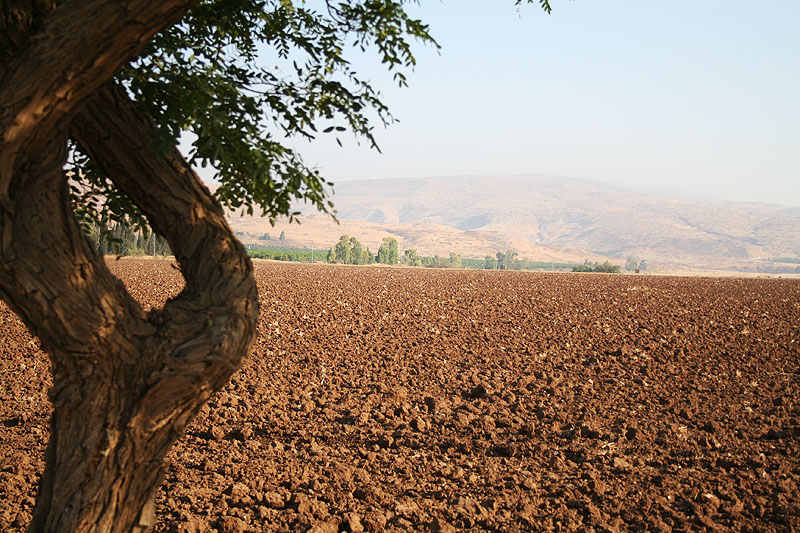 Next stop – Nazareth.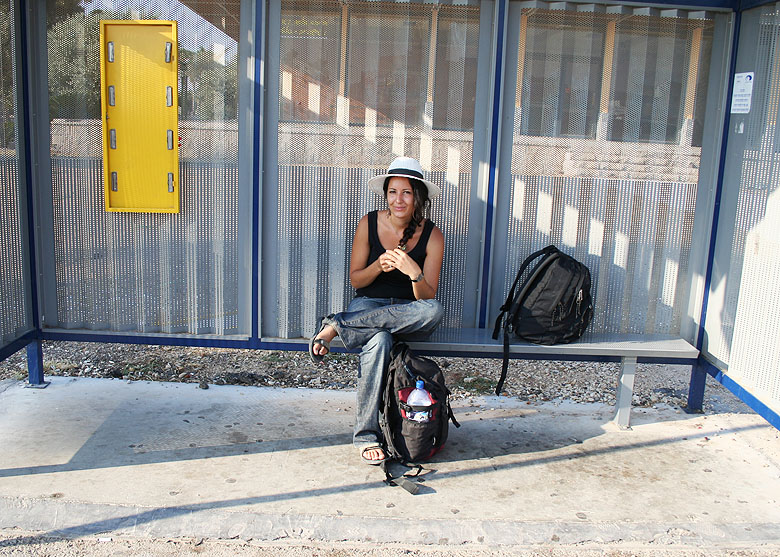 Nazareth is the largest Arab city in Israel and also famous among Christians as being the childhood home of Jesus.
The Church of Annunciation: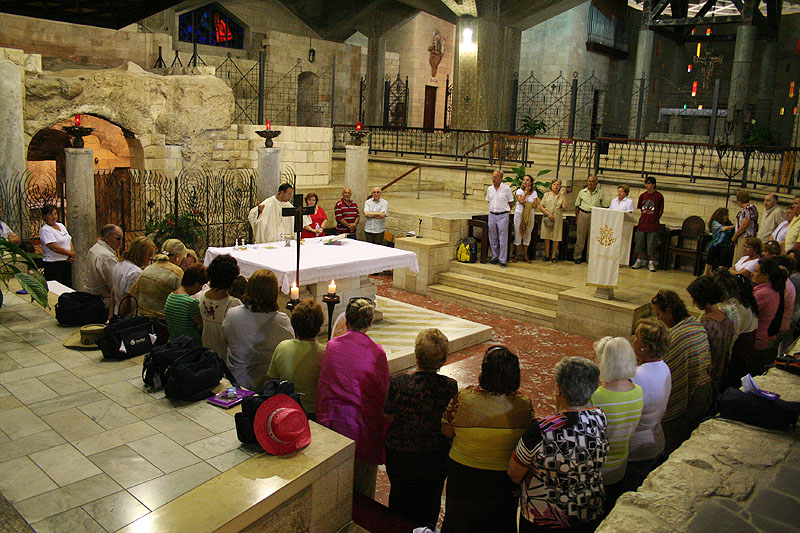 The church was built on the site where Mary was supposedly visited by Angel Gabriel and told that she had been chosen to be the mother of Jesus.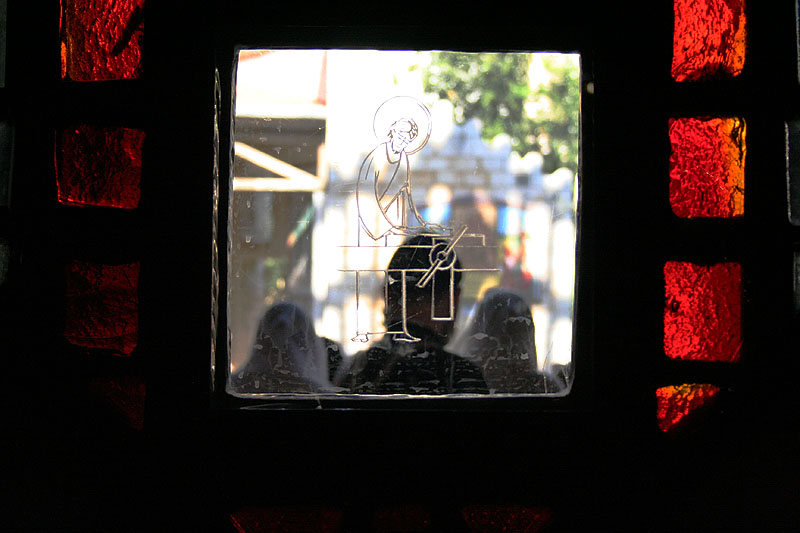 Although I'm not really religious, there's a certain ambiance that only holy places such as these have..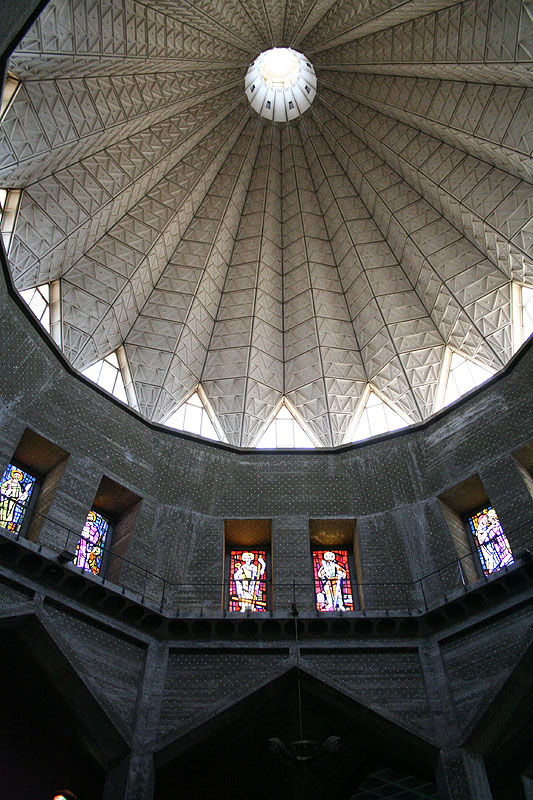 Nazareth is a quirky town with narrow, winding, cobbled streets, although disappointingly, there is a KFC nearby. This kind of Americanisation really is off-putting and sad. Still, Nazareth retains a biblical and mysterious feel.
The people here are talkative and appeared to be hospitable. I spotted what looked like a gun in this man's market stall, and we asked about it. He picked it up and pulled the trigger. Thankfully, it turned out to be a lighter! You can just about see the flame if you look closely: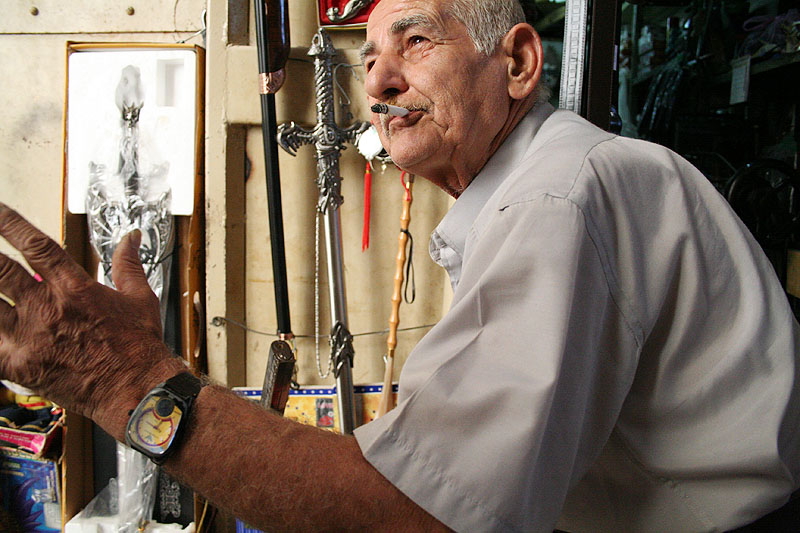 We walked into a coffee shop in the Old Market where this kind man showed us around at the back.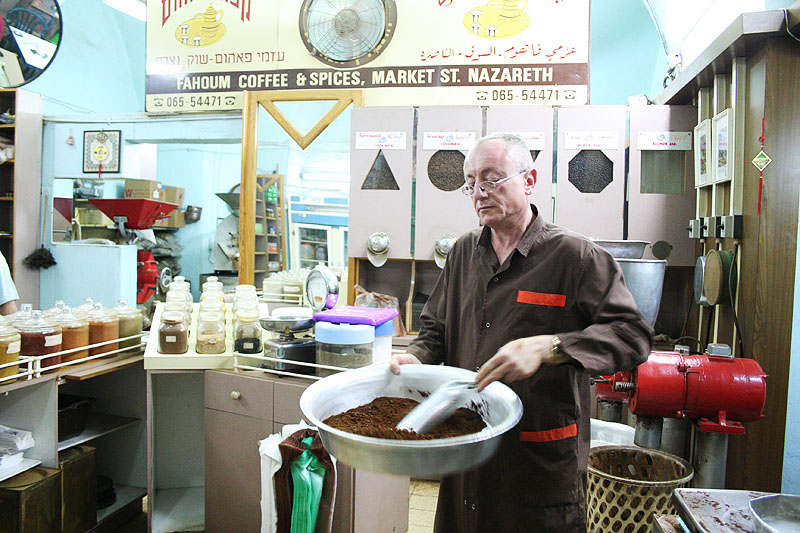 He gave us some Arabic coffee. I don't normally drink coffee but this was quite delicious!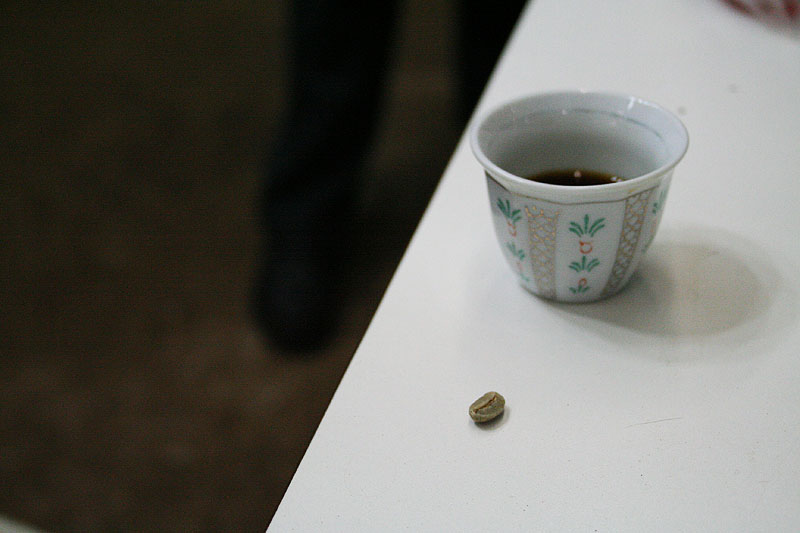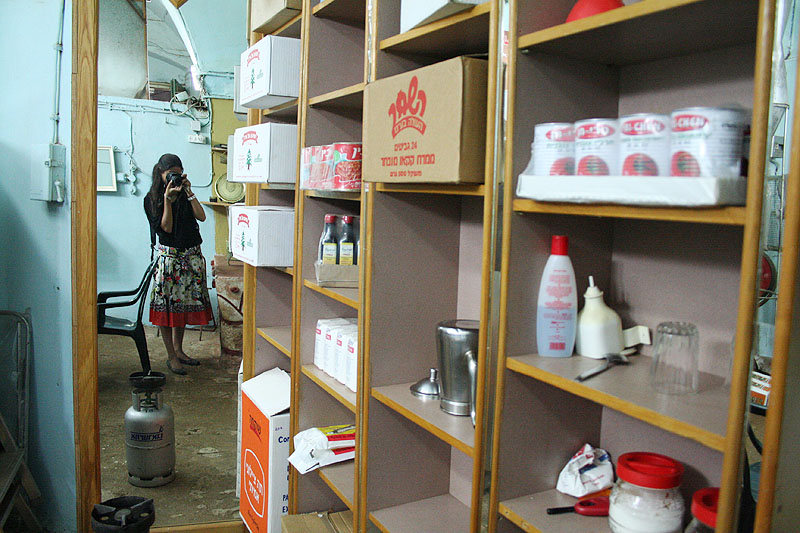 He was making custom-made ground coffee with whatever spices we wanted. I couldn't resist buying some.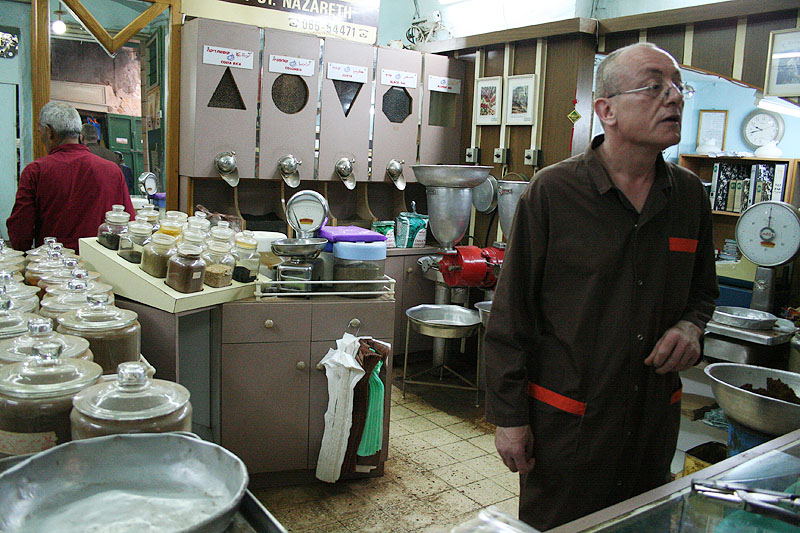 We walked past this Christian man called Michael, who was keen to know where we were from. Ricki took this picture of him talking to me. He was born in Nazareth to Greek parents and has 12 children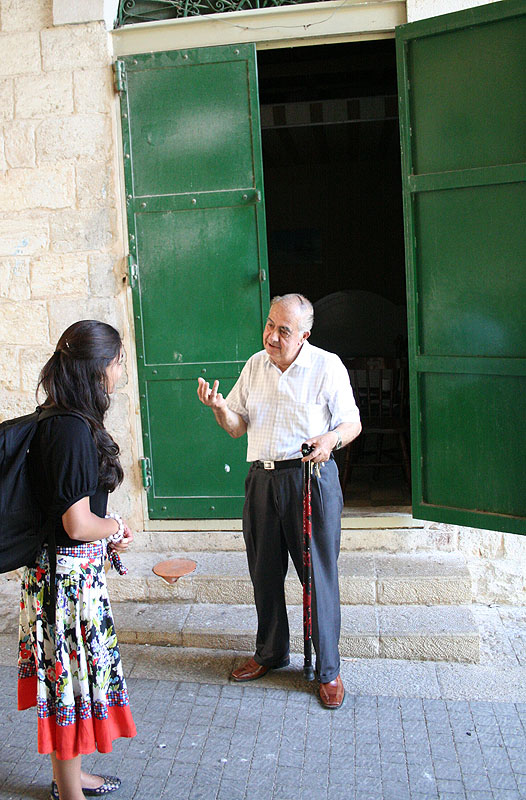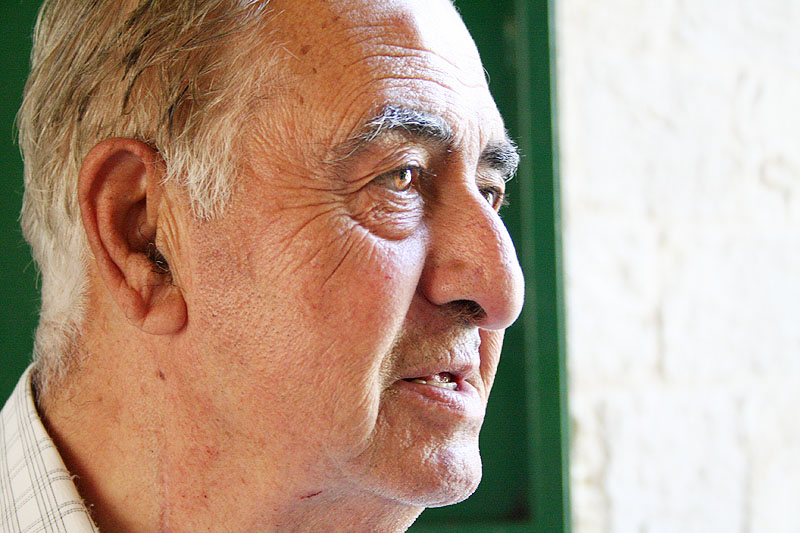 We also walked past a Christian school which was closed, but this nun was happy for us to look around.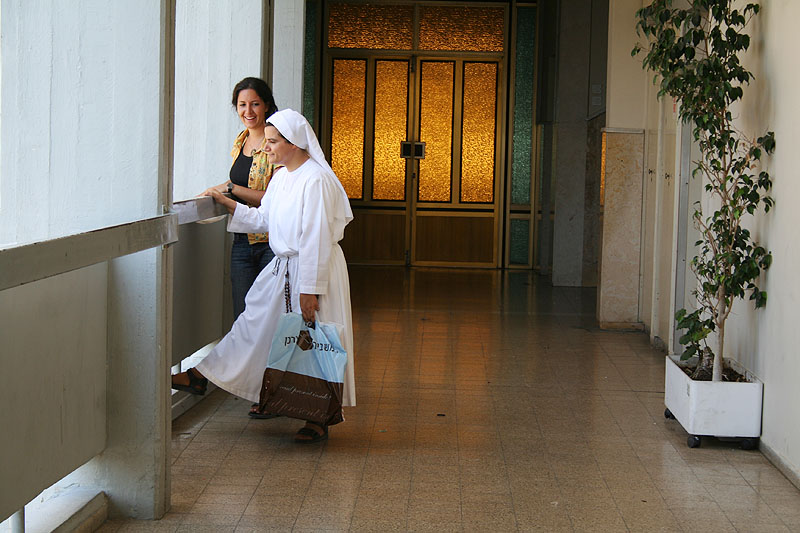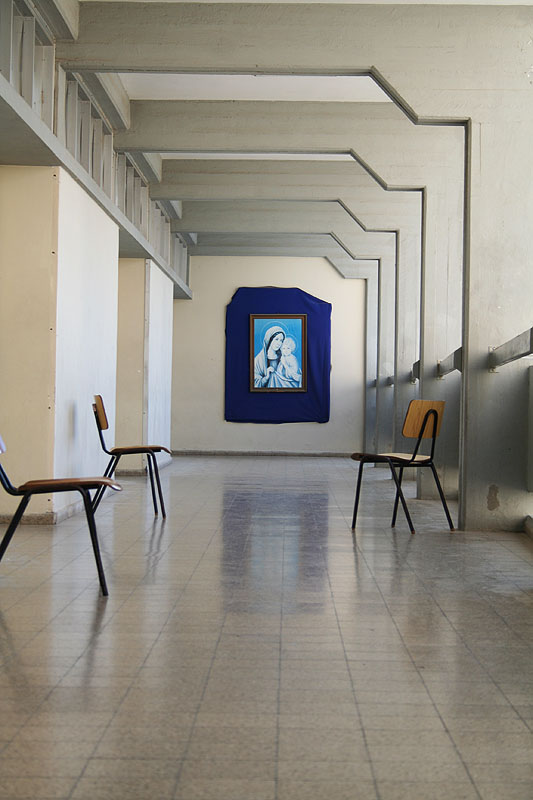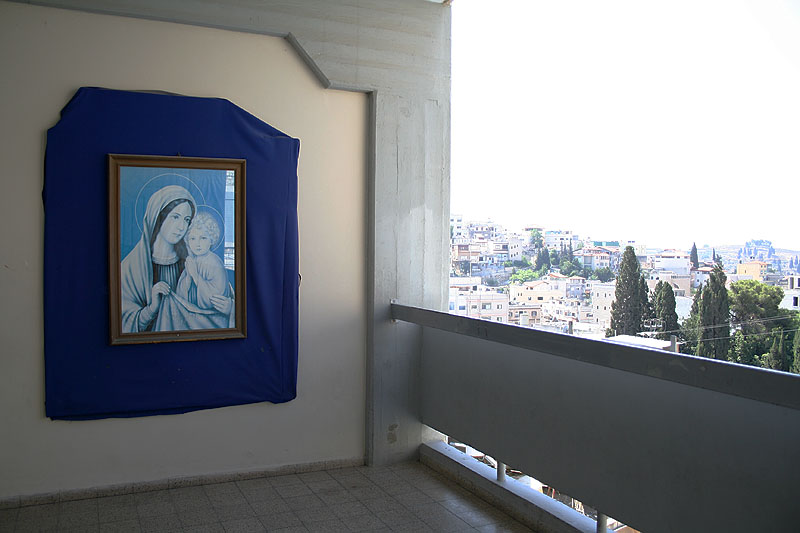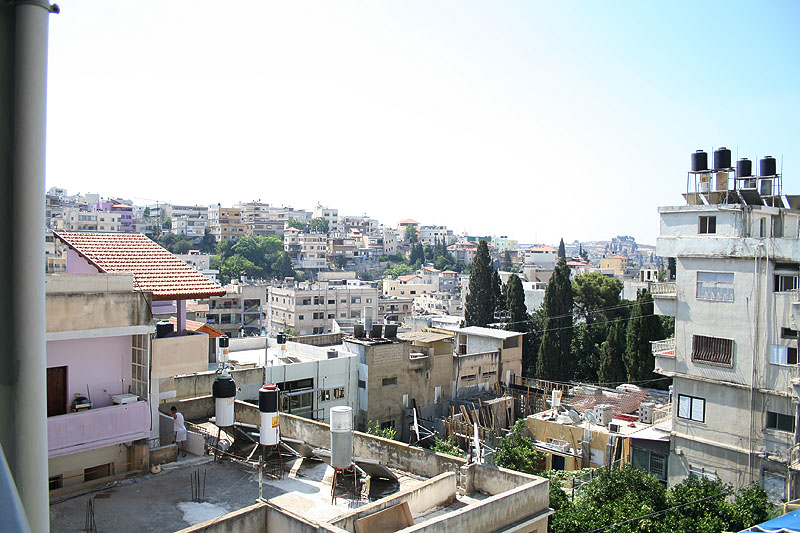 A lady was throwing out clothes and pictures from her window, and shouting – I have no idea why. Apparently she was just a loony, we were told.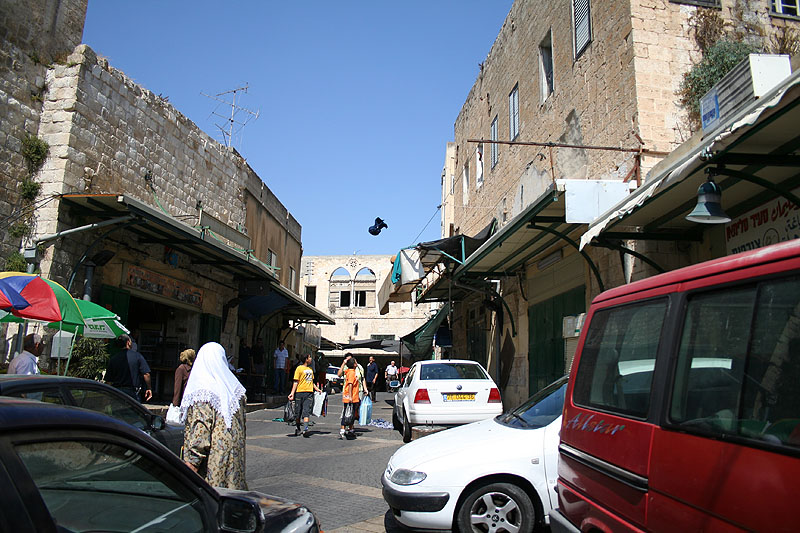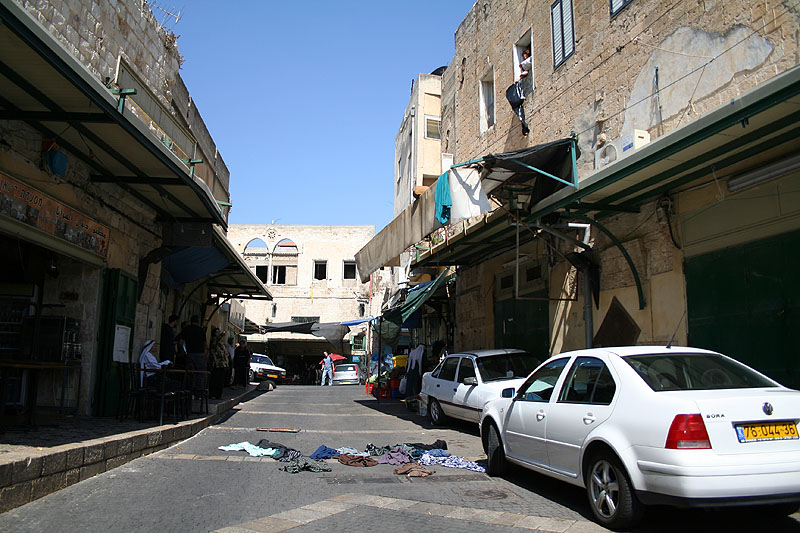 After I took those pictures, I was asked by a young Arab man why I took them. He seemed quite defensive and offended, claiming that I'd give Nazareth a bad impression by showing them to people back in the UK. I assured him that that wasn't the case – I just take pictures of whatever's happening around me, irrespective of anything else. While talking to him, we were approached by a Palestinian man who said "you British are the same as Americans". When I asked what he meant, he explained that we in the West don't care about Palestinians, and he told me about how his cousin was shot when he was just 13. A sad story really, and I can understand his anger and sadness. However, Britain is home to one of the largest Palestinian communities. Thousands of people always come out to demonstrate whenever protests are held in their support. I told him this.. but I don't think I managed to persuade him.
Hmm..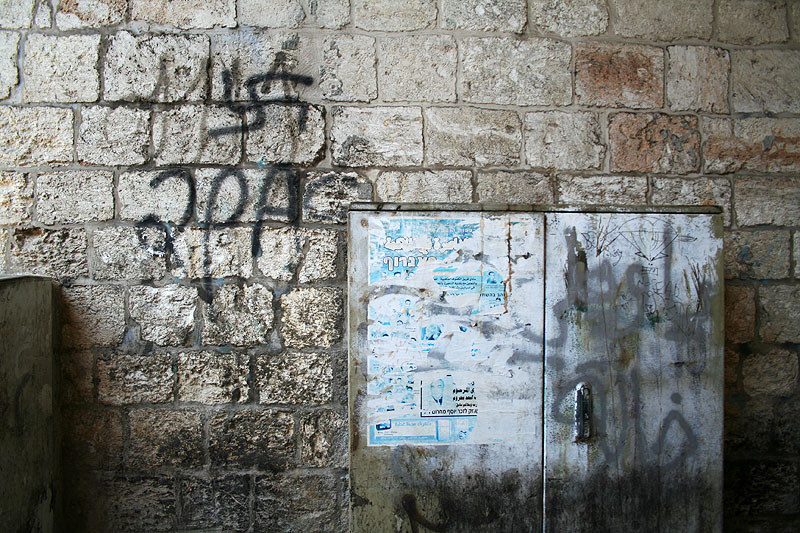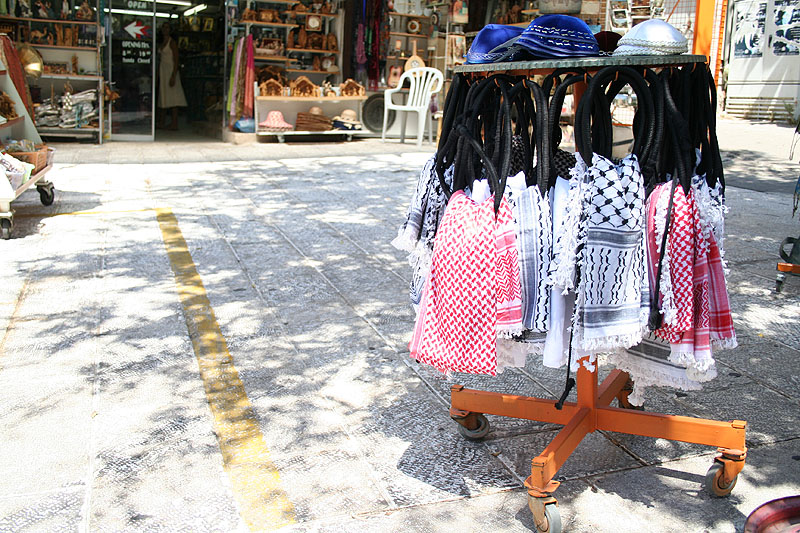 It's interesting to see the Jewish Kippah being sold alongside the Arab Keffiyeh, which has become a Palestinian national symbol.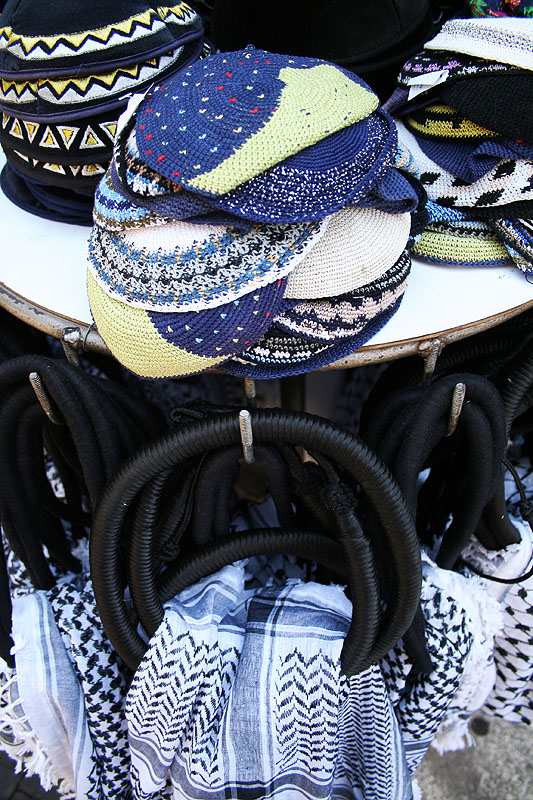 It makes me wonder about high street shops here in the UK that sell the keffiyeh as a fashion item. I've seen mainstream stores like Topshop selling these, and they've become highly popular among young men and women. I wonder if they know exactly what this symbolises. Most likely they're ignorantly wearing it because it's "cool", not because they're actually showing solidarity with Palestinians. Maybe I'll randomly ask people I see wearing them whether they know what it symbolises!
Quite possibly the best Falafel I've ever had. That is something I will not forget Nazareth for!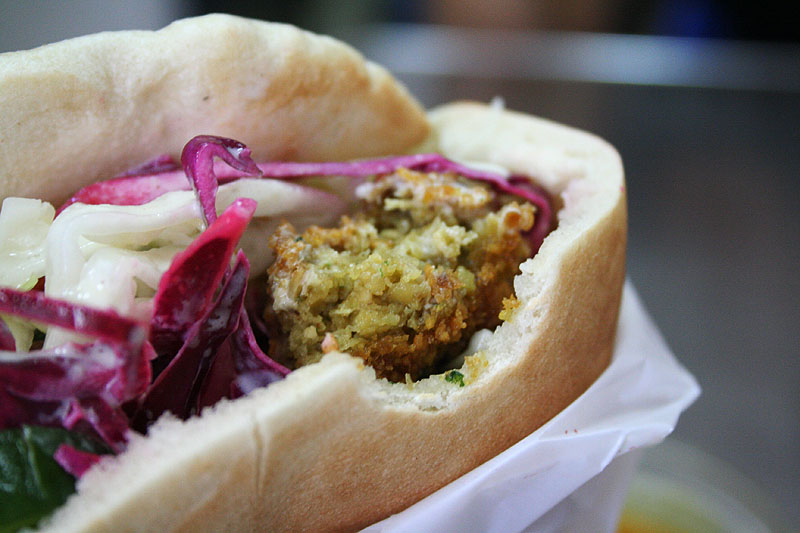 There are plenty of other religious sites in this city including the White Mosque, but the women's section was closed when we were there. I enjoyed walking around Nazareth – the religious significance of this city is apparent and apart from the odd pilgrimage groups, the area was void of tourists, which is a shame on the one hand, but it makes for a nicer experience

Next – Tel Aviv!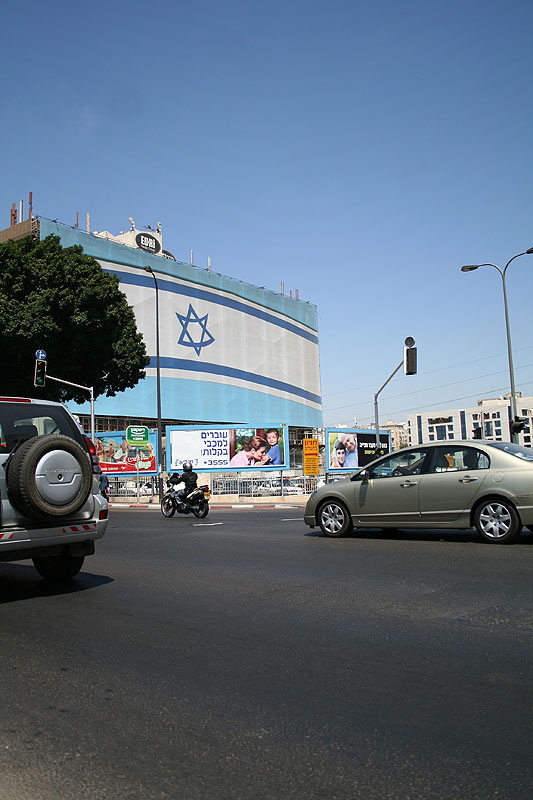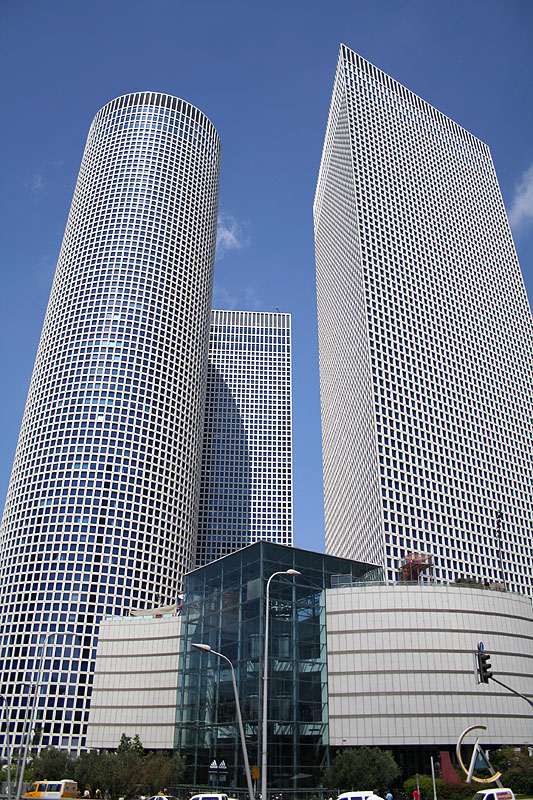 We didn't spend much time here, but from what I could gather, it's very similar to London in terms of being a bustling city with lots of people, traffic, and Western-style shops. There is actually an old city here which I've heard is beautiful, but we stuck to the centre of town.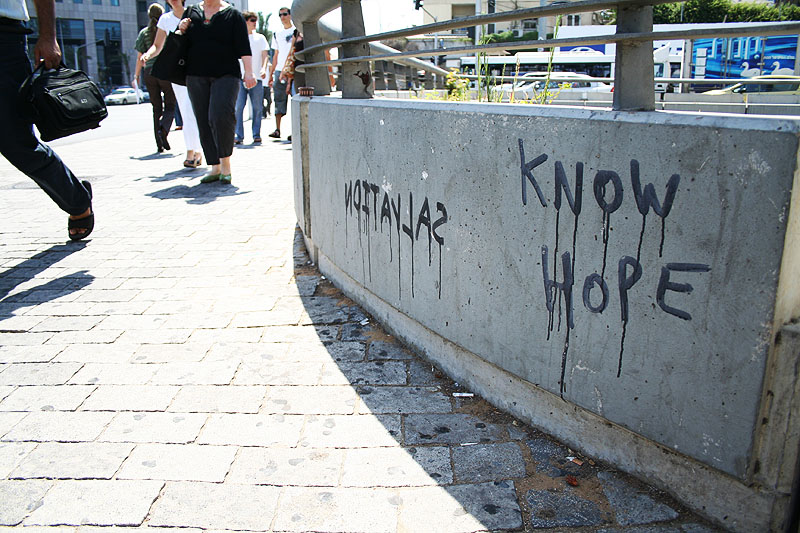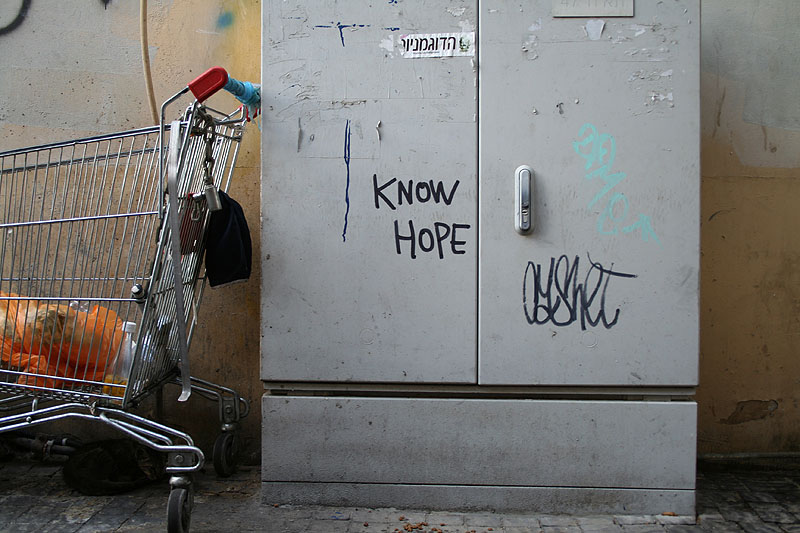 This is an advert for first movie putting a comedic slant on suicide bombers in Israel: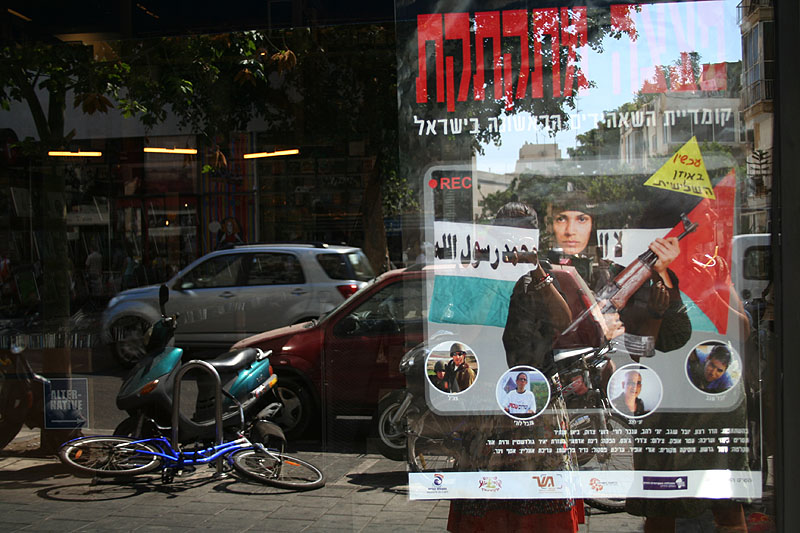 Ricki read this poem out to me: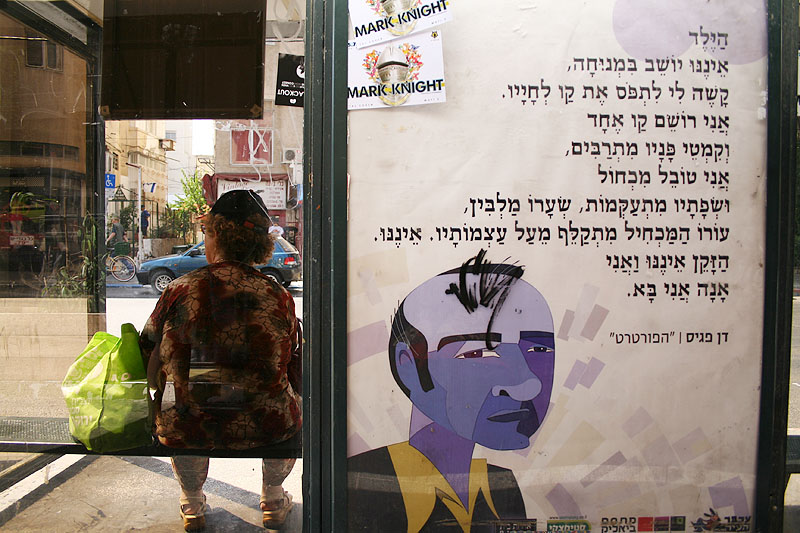 It was quite poignant from what I remember – I'll have to get a translation from her.
Very Banksy-ish: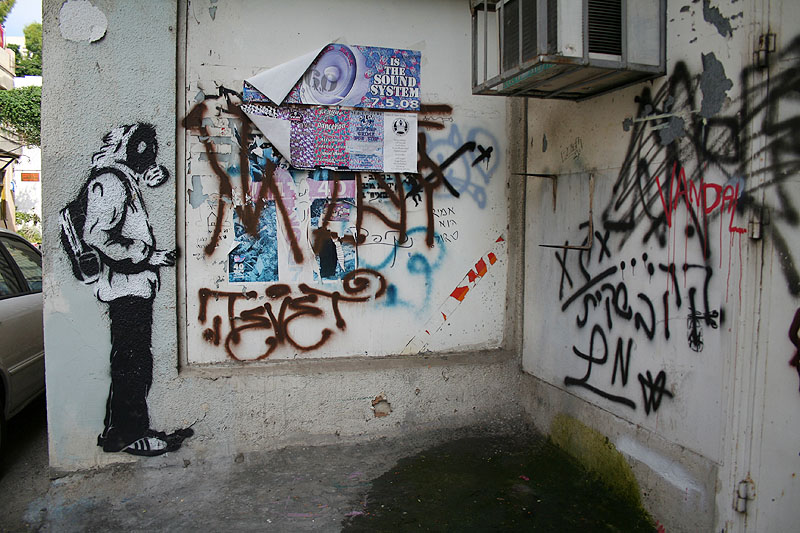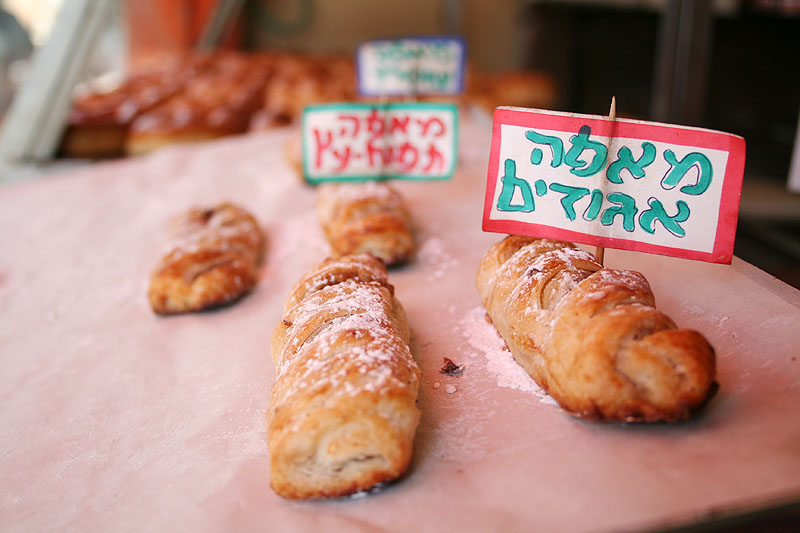 This is Malawach before: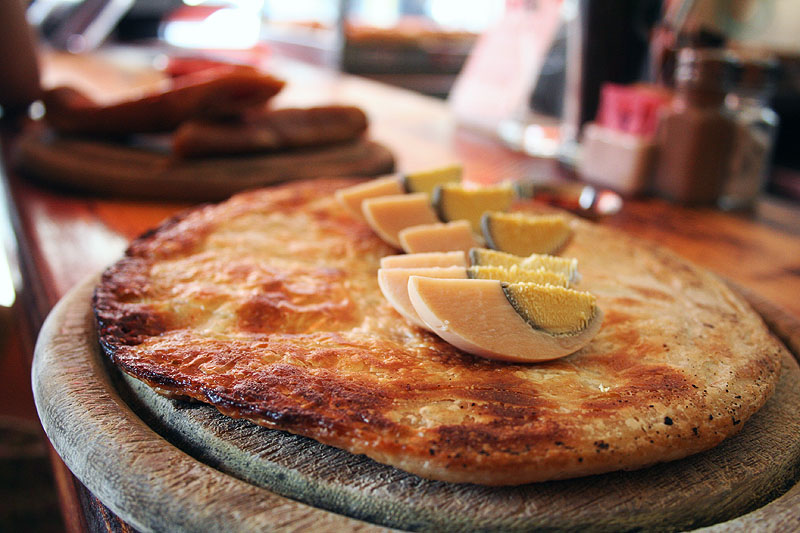 ..and after!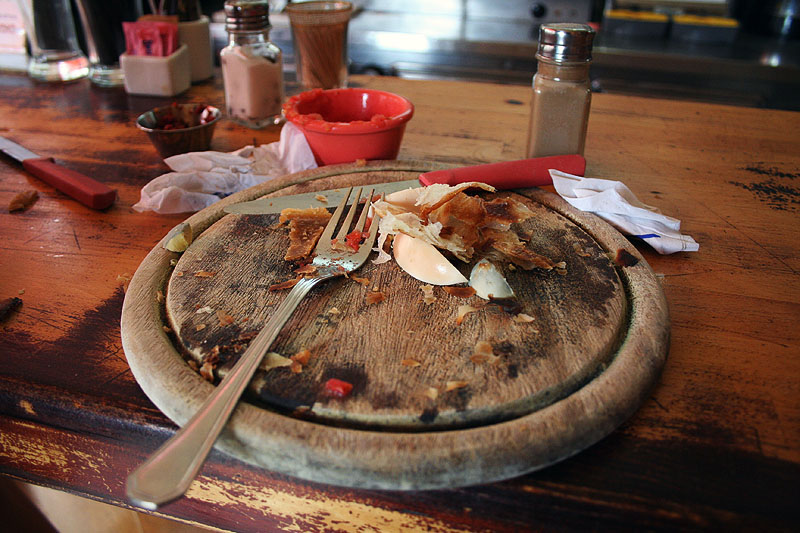 It's eaten with a type of tomato and garlic sauce. Mmm.
Something that became apparent to me pretty much as soon as I got out of the airport was the abundance of soldiers and guns..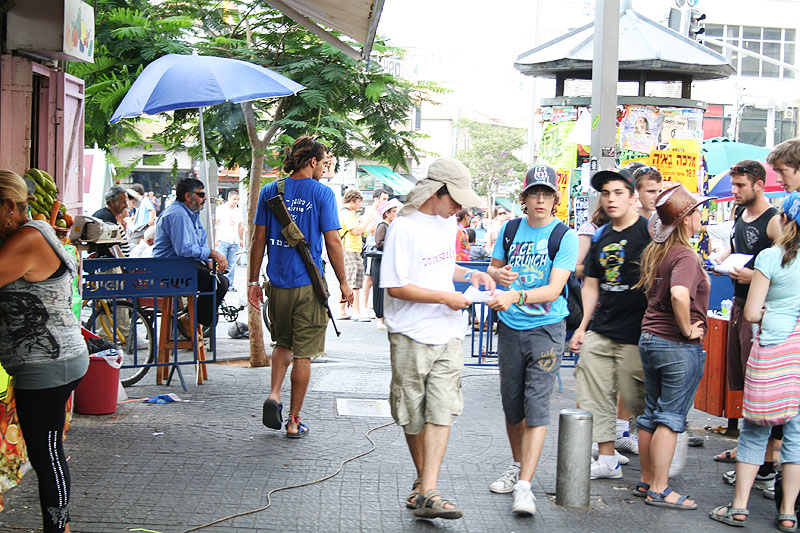 At first it was quite a surreal sight, but it actually became quite normal after a while. You almost become desensitised to it, and admittedly it made me feel quite safe..
Tel Aviv is HOT! It's also humid which makes it even more unbearable.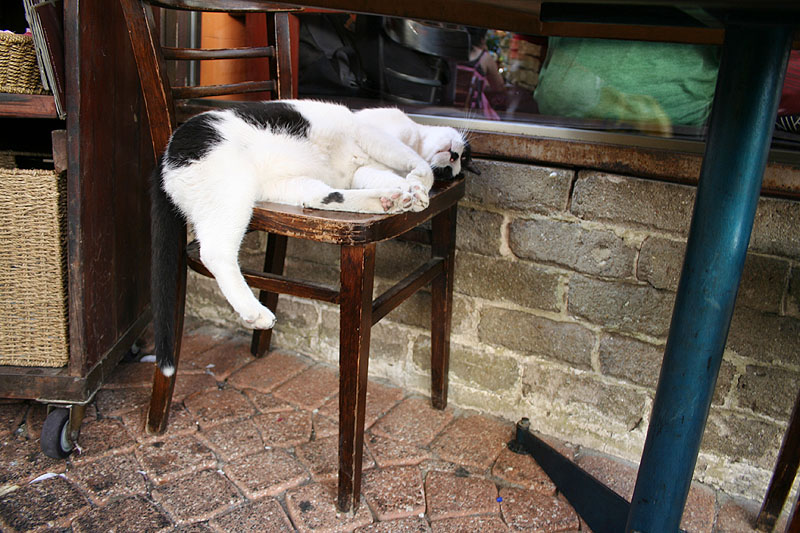 "Don't want, don't need":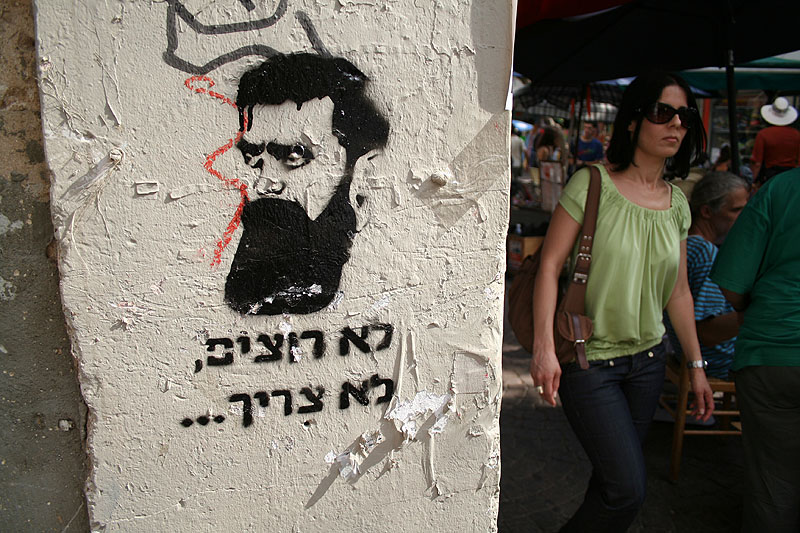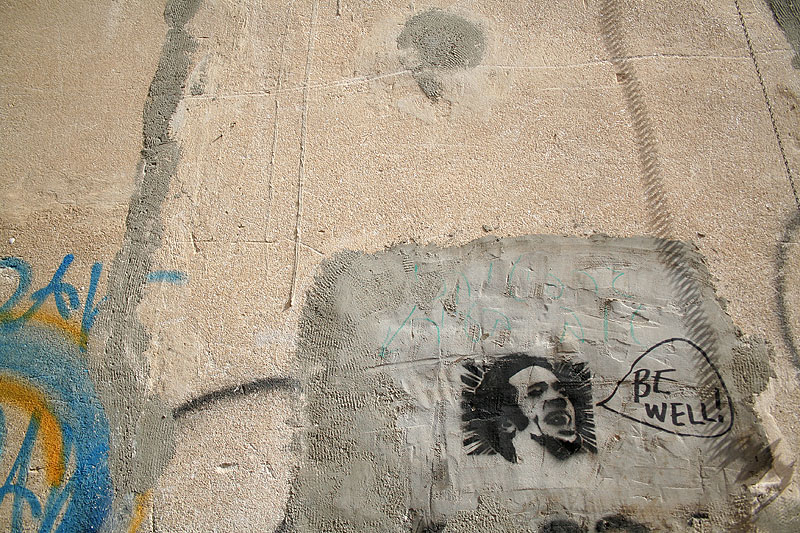 Playing draughts while drinking Goldstar seems to be a popular pastime. Goldstar is a popular Israeli beer, and is certified as kosher. I'm not a fan of beer, but this stuff is pretty good!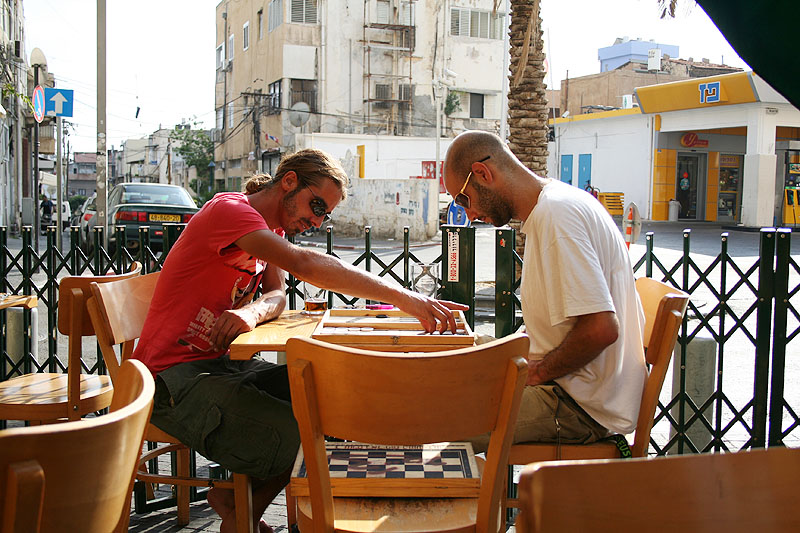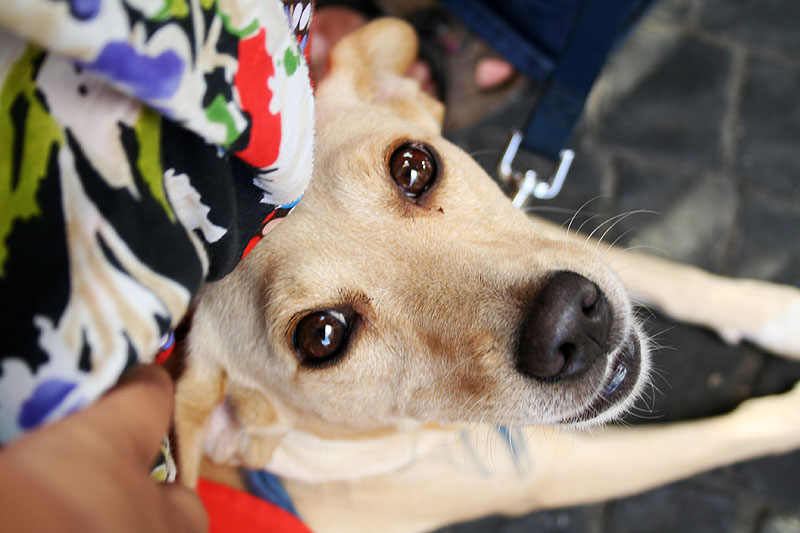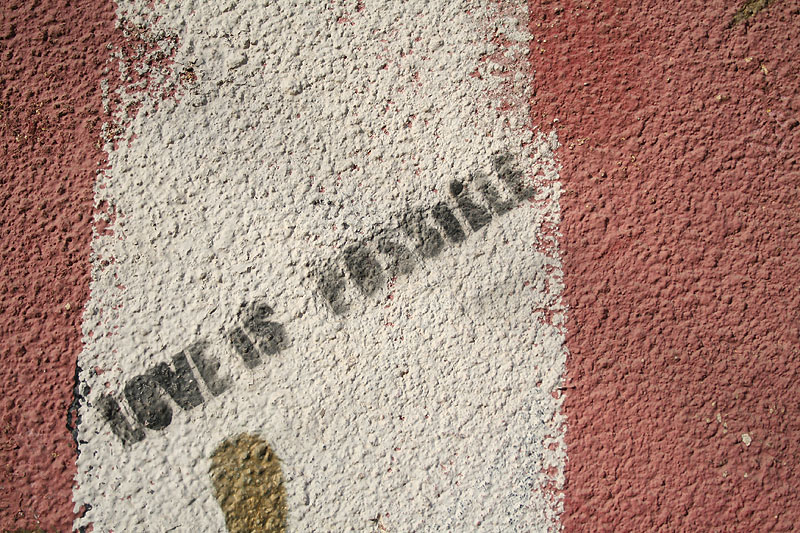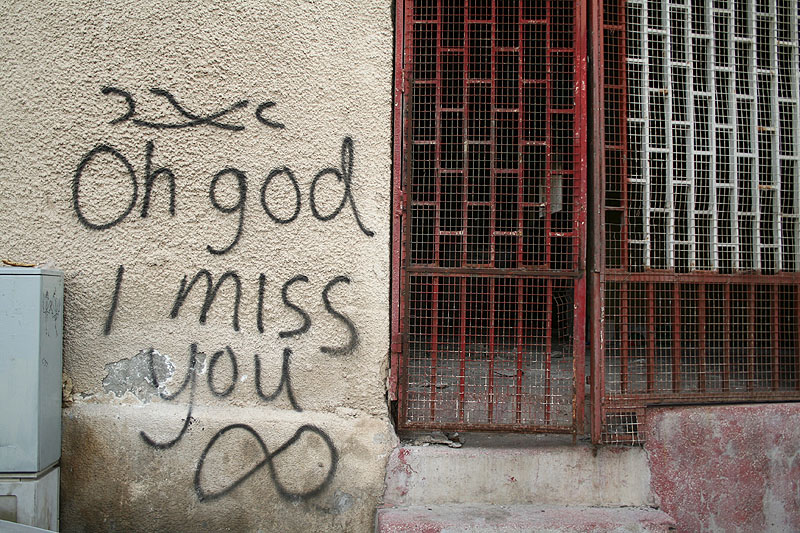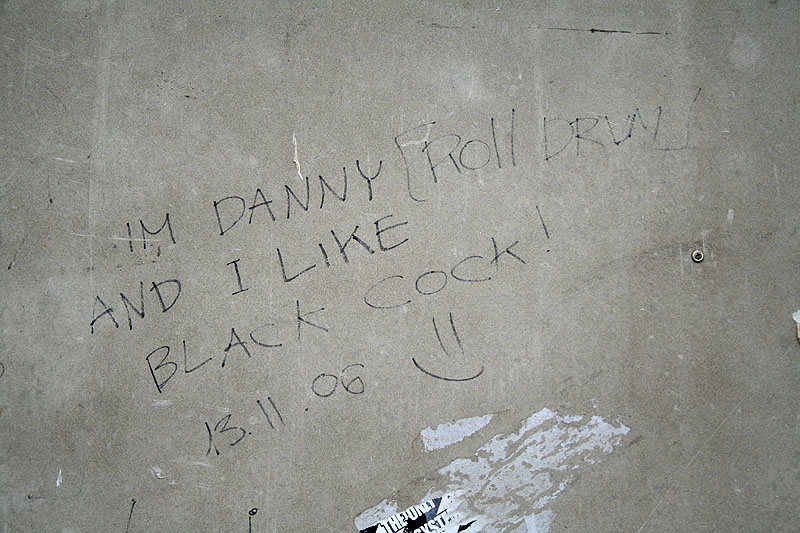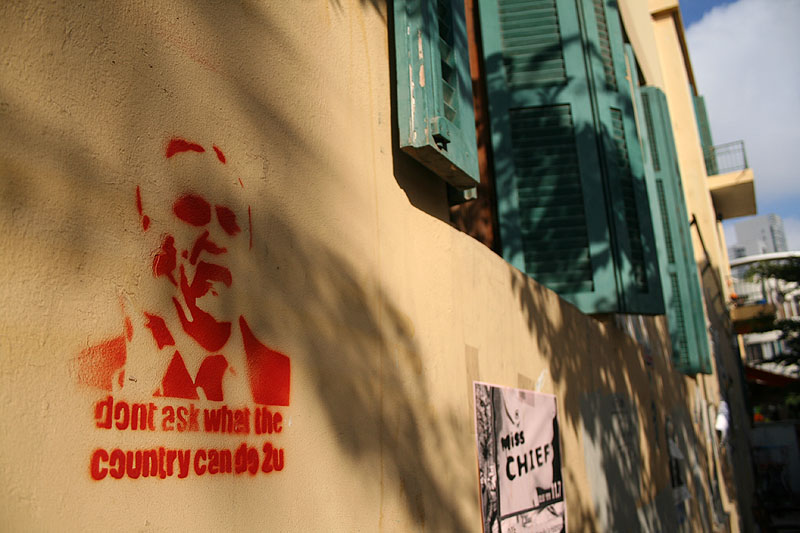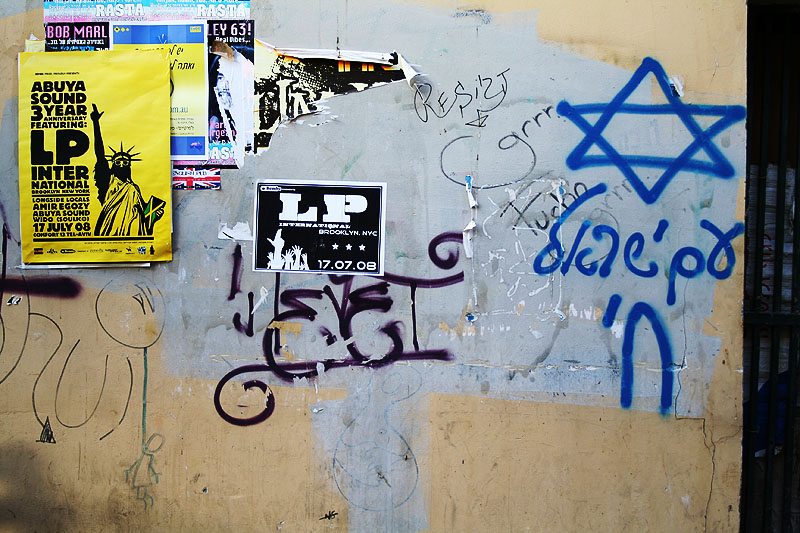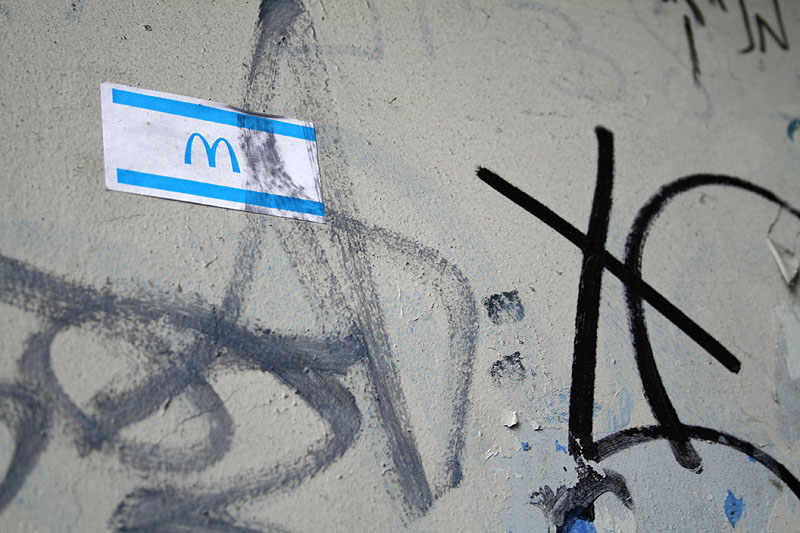 Tel Aviv is well known for it's Bauhaus architecture: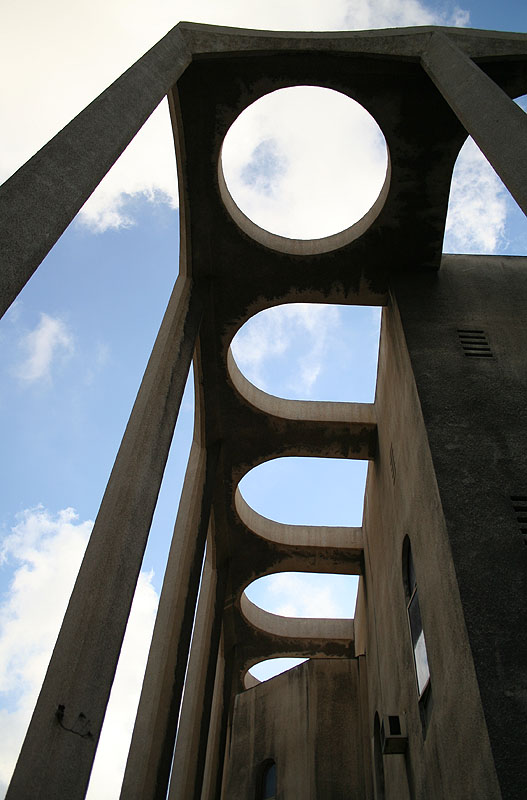 It was nice to get back on the air-conditioned train, which felt like heaven after being in the sweltering heat. Although Israel is a tiny country, the climate seems to vary quite a bit from place to place.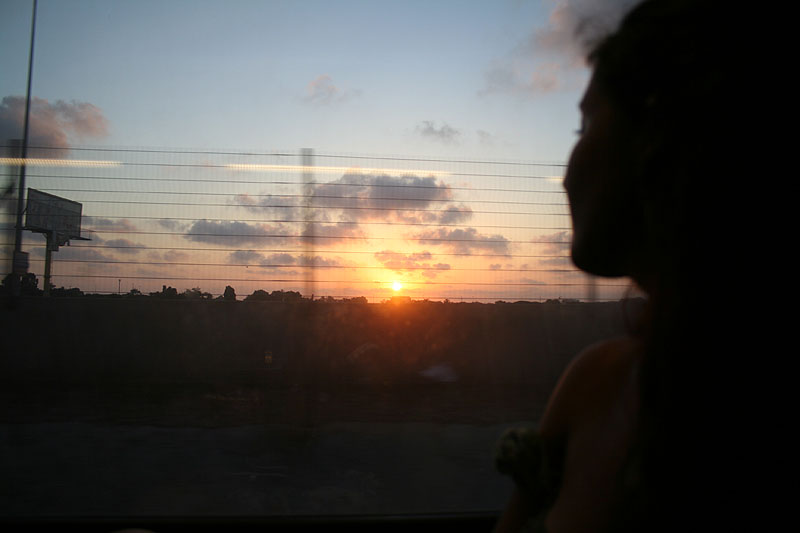 The next day we headed to Jerusalem, the capital of Israel, and by far the most diverse place I visited. The climate here is much cooler (it even snows in winter), though still hot by British standards!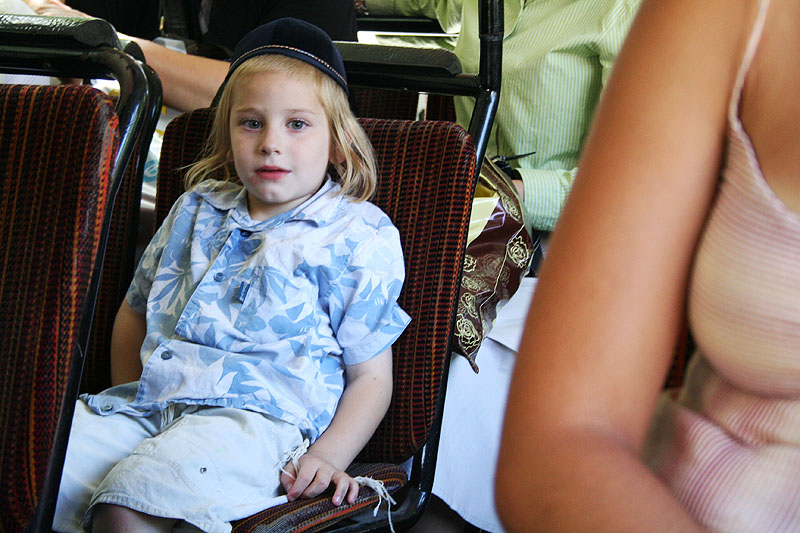 The Western, or Wailing Wall: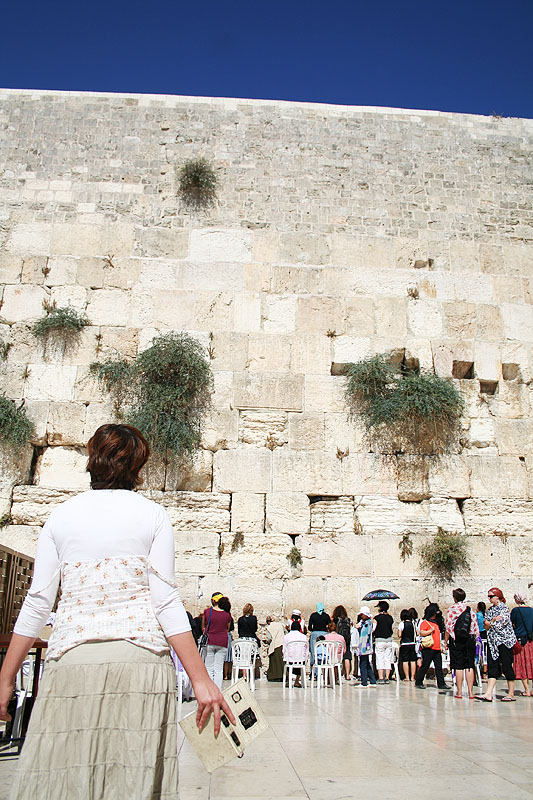 This is considered the holiest place in Judaism.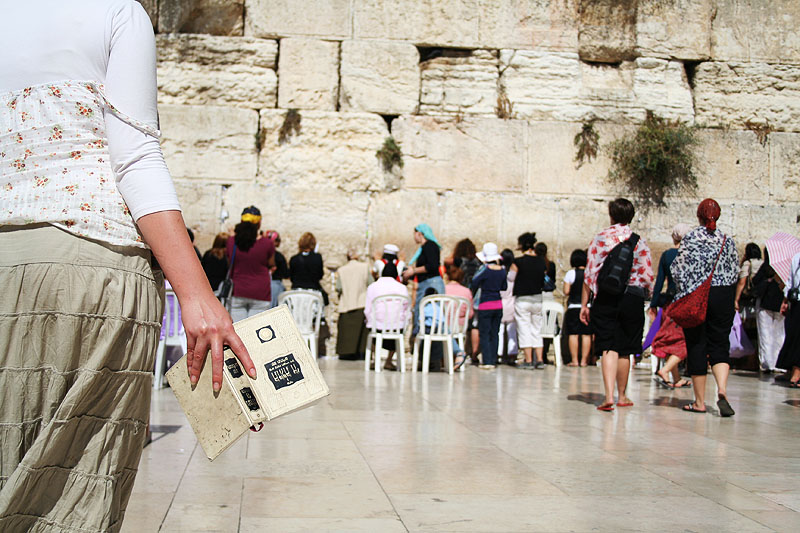 It's become a tradition to slip written prayers into the cracks of the wall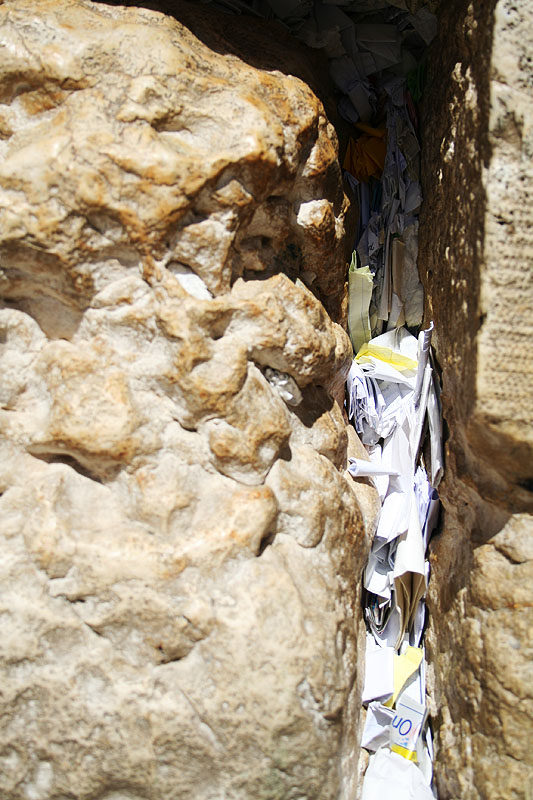 Many of them end up on the floor..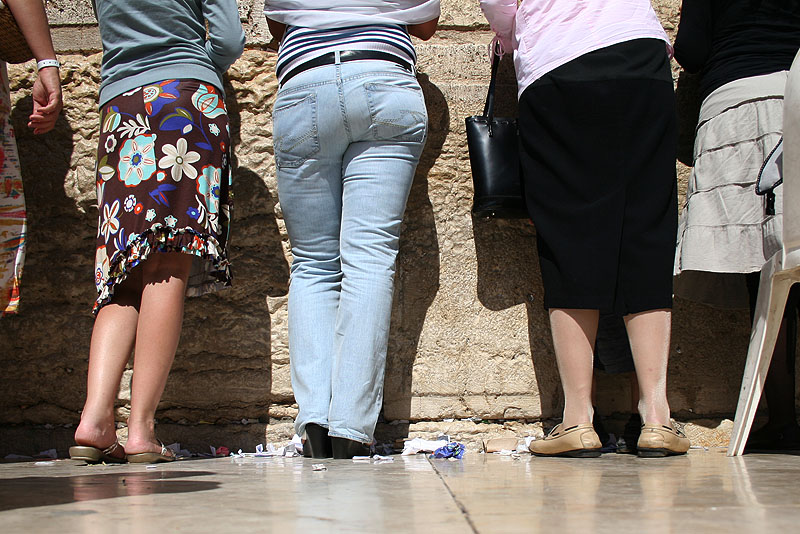 Women and men are separated with the men on the other side of the fence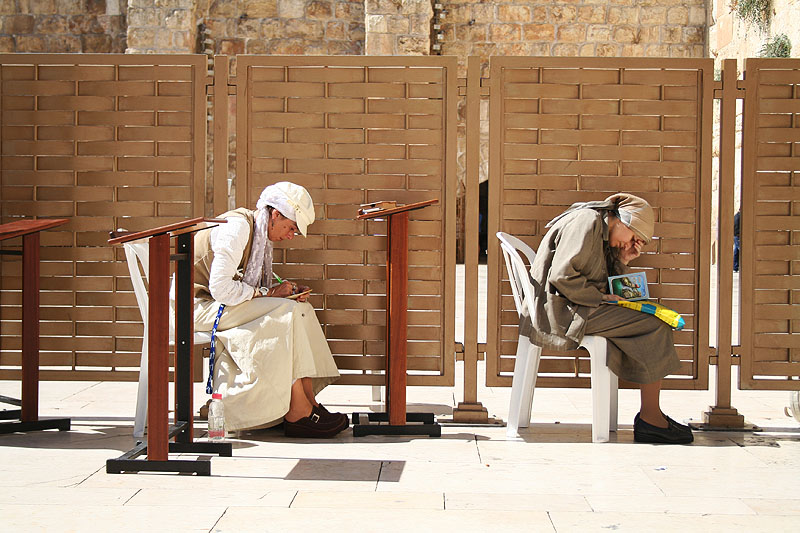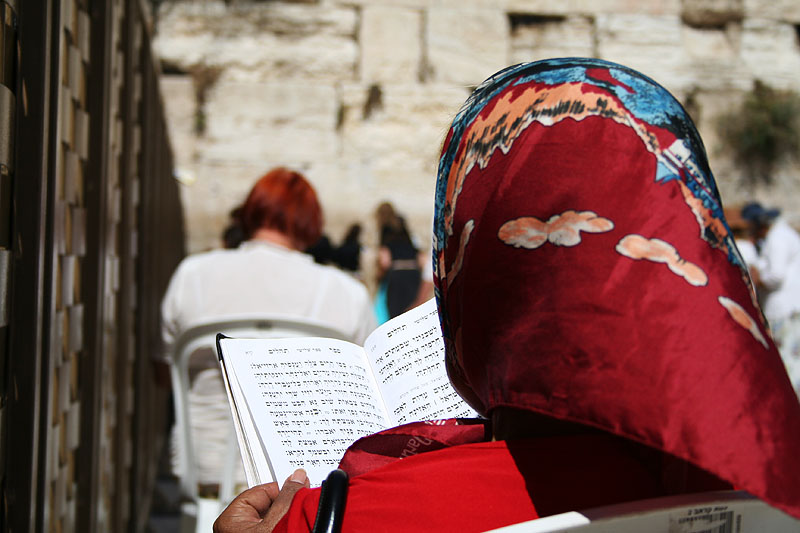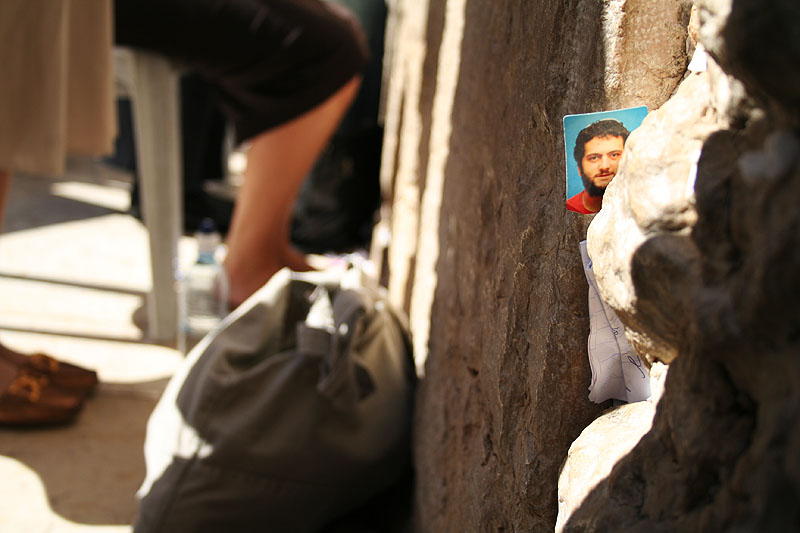 I saw a few people holding up phones to the wall – presumably someone on the other end was saying a prayer..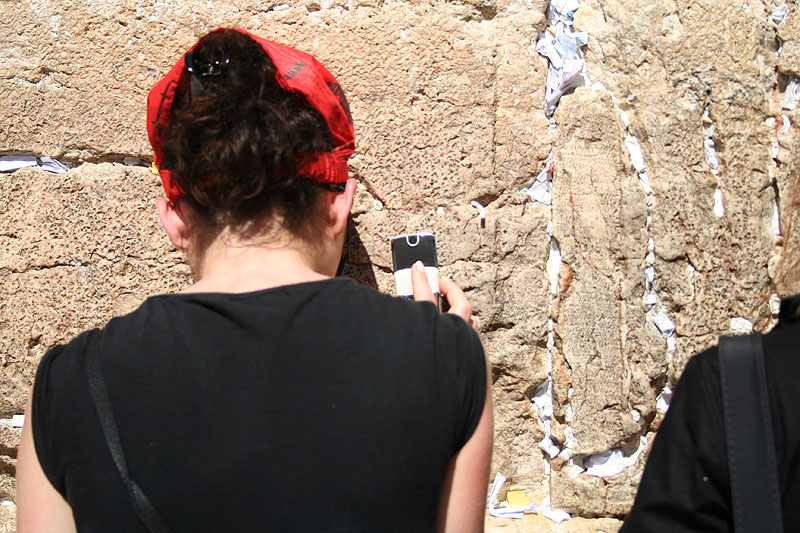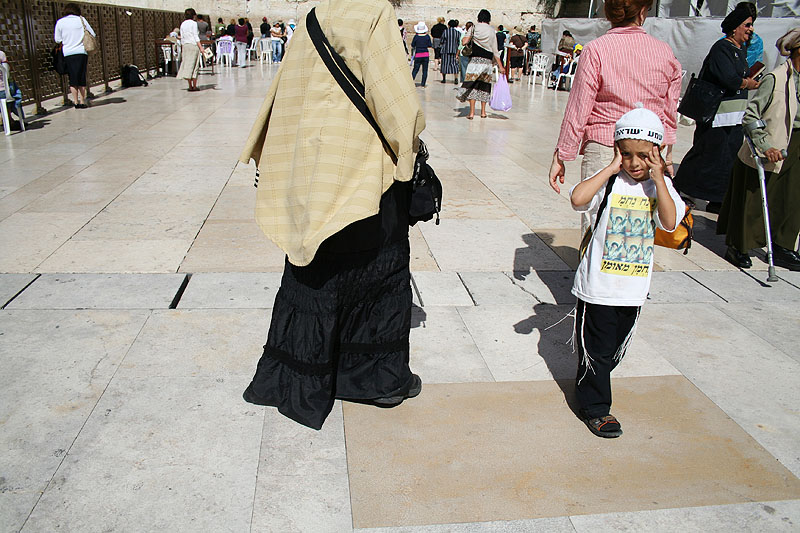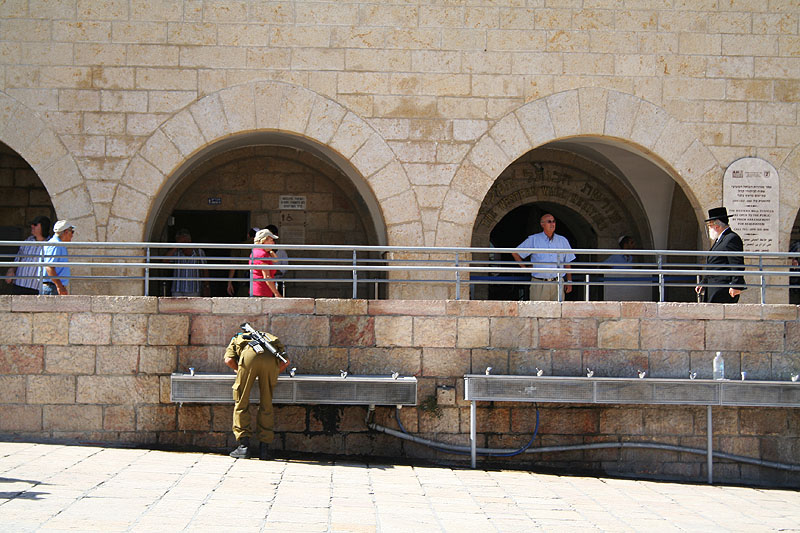 There's a high level of security around Jerusalem. There are soldiers almost everywhere, although I noticed less of them in the Arab quarter.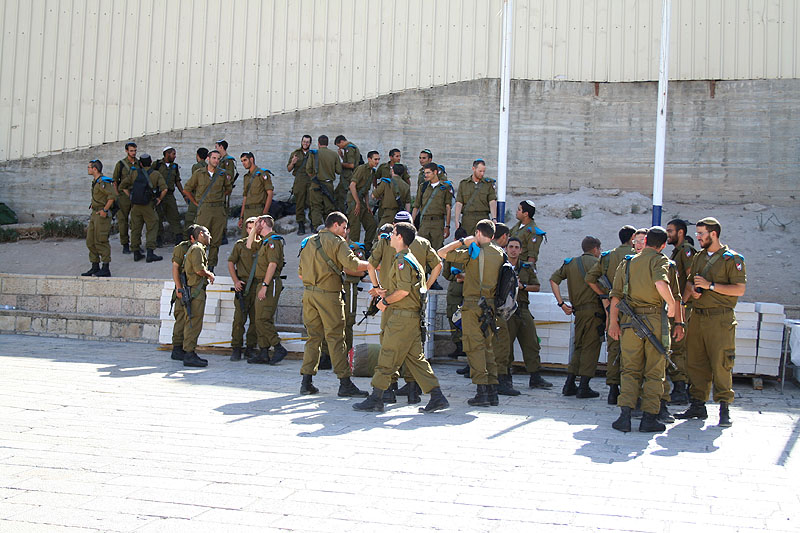 His T-shirt says "Together We Stand", and he asked Ricki to take a picture of them.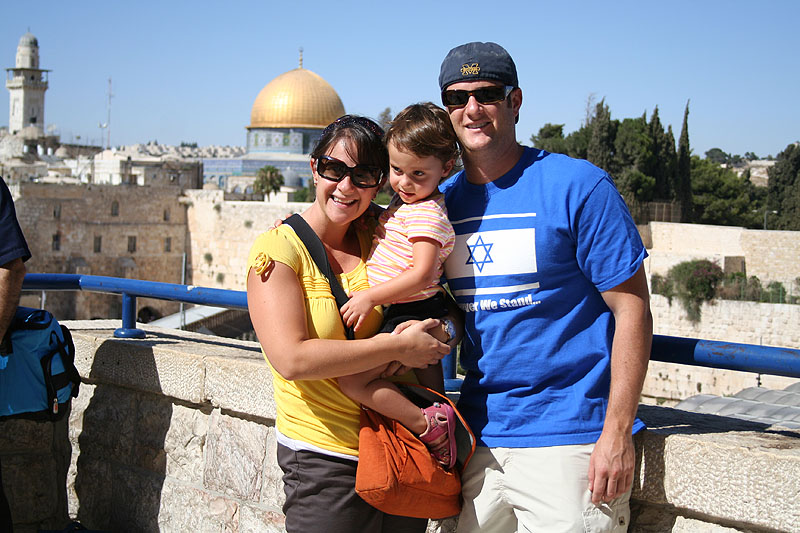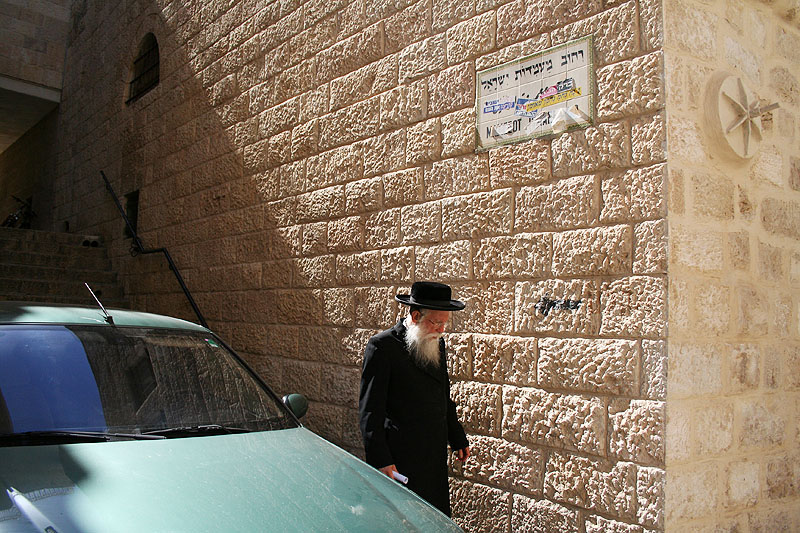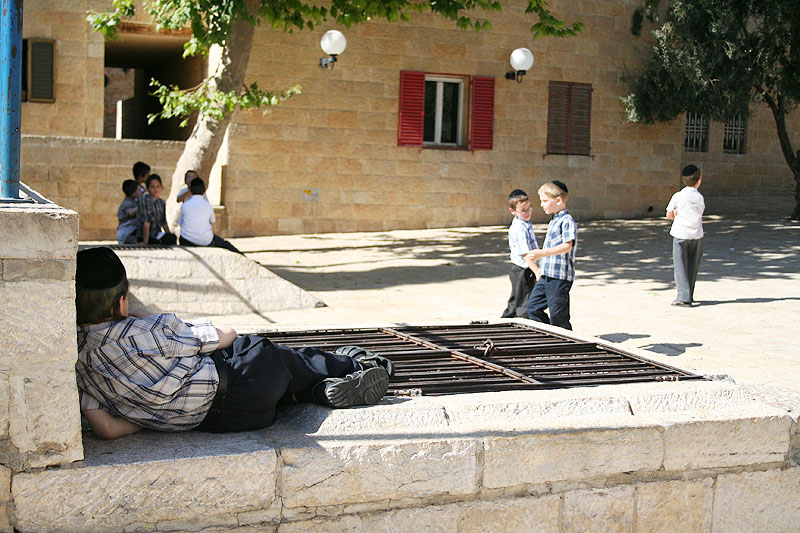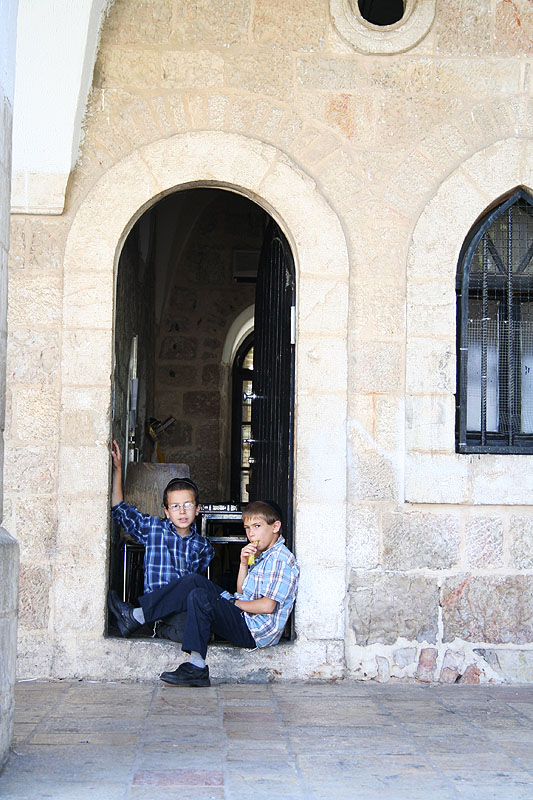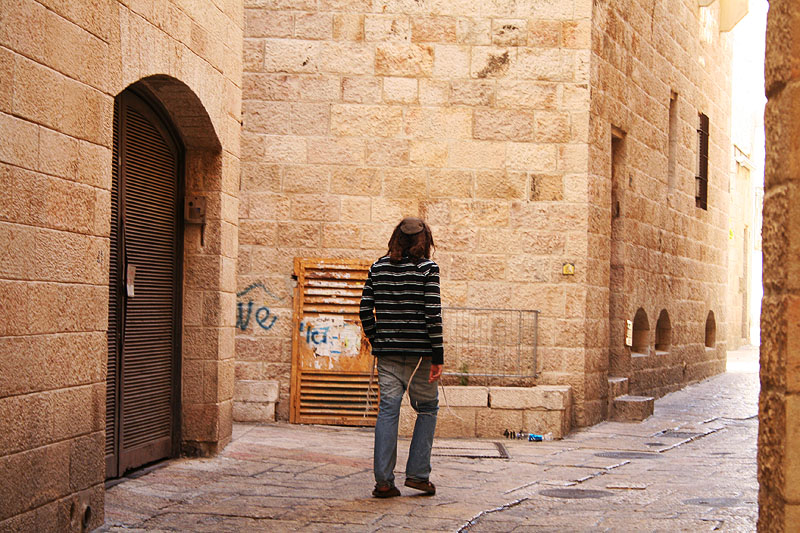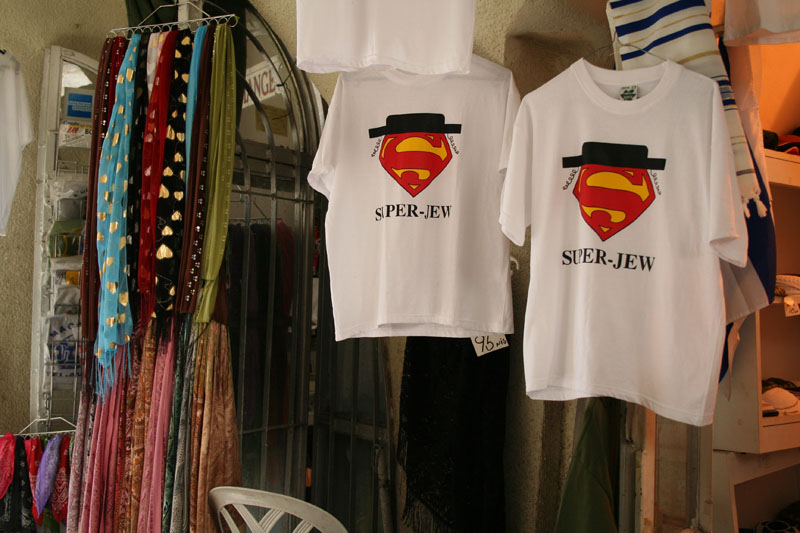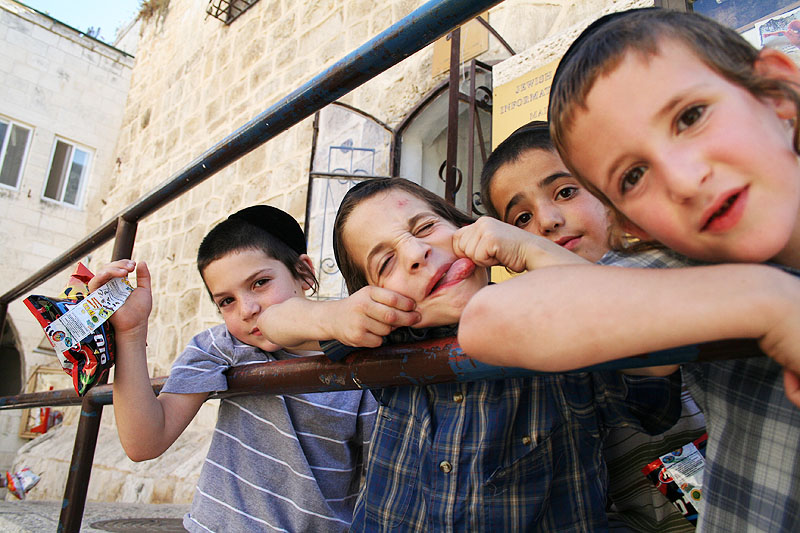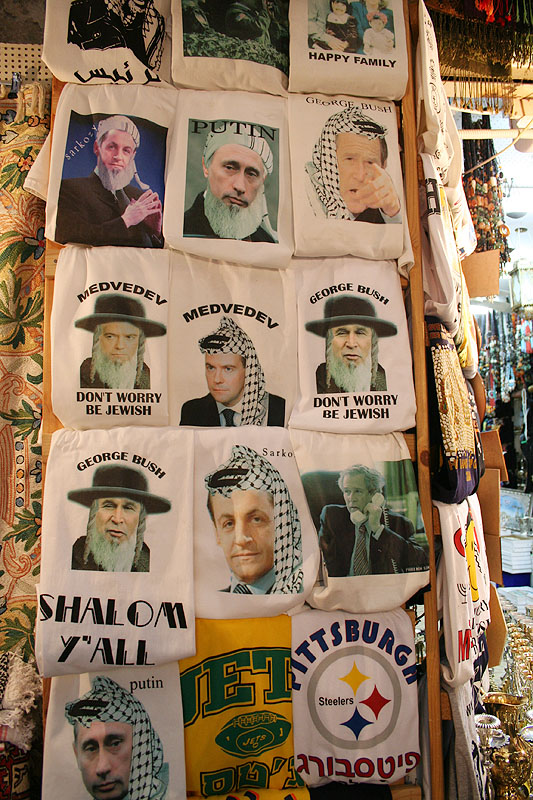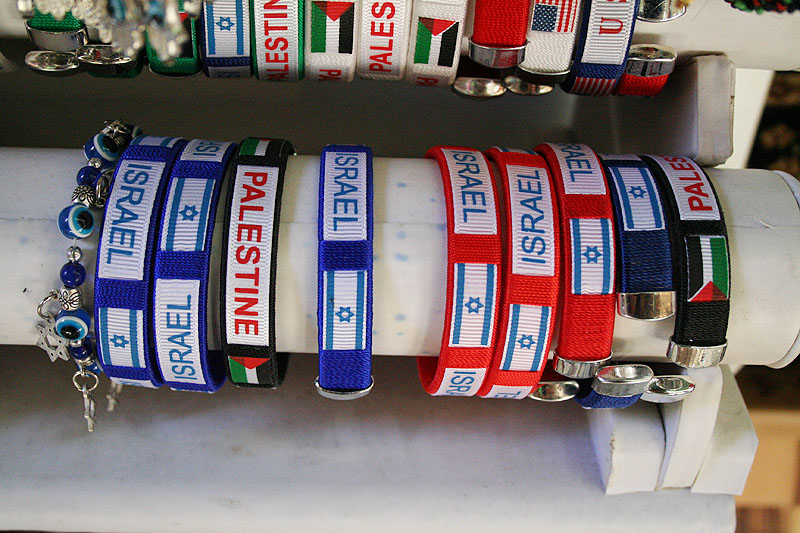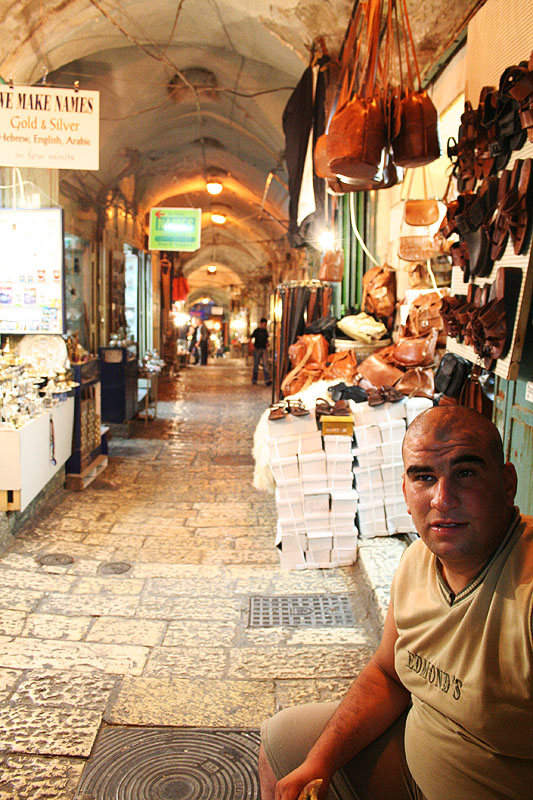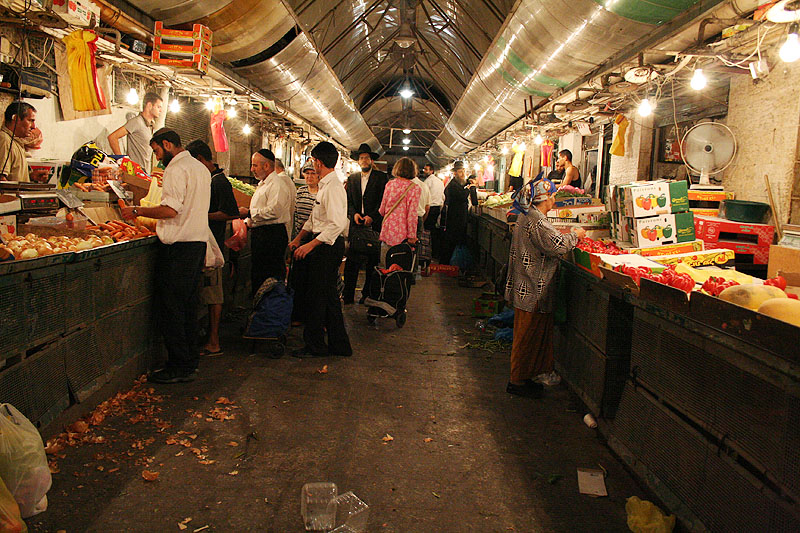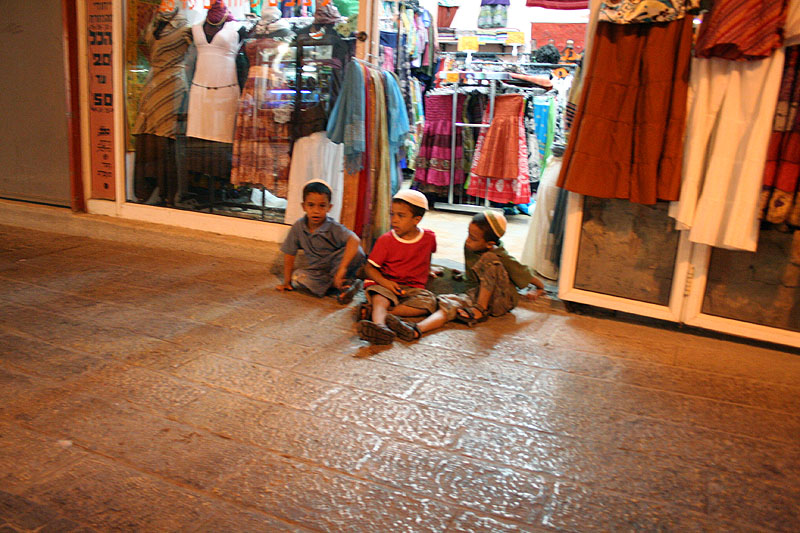 The Jerusalem Great Synagogue at night: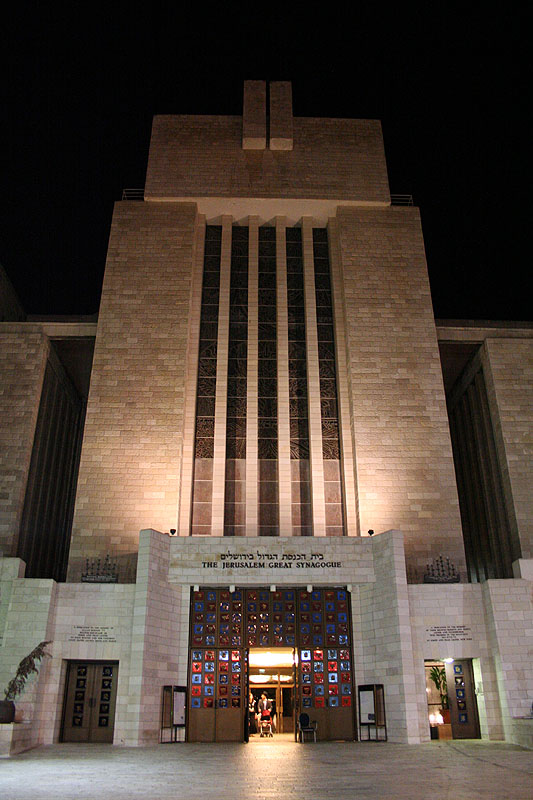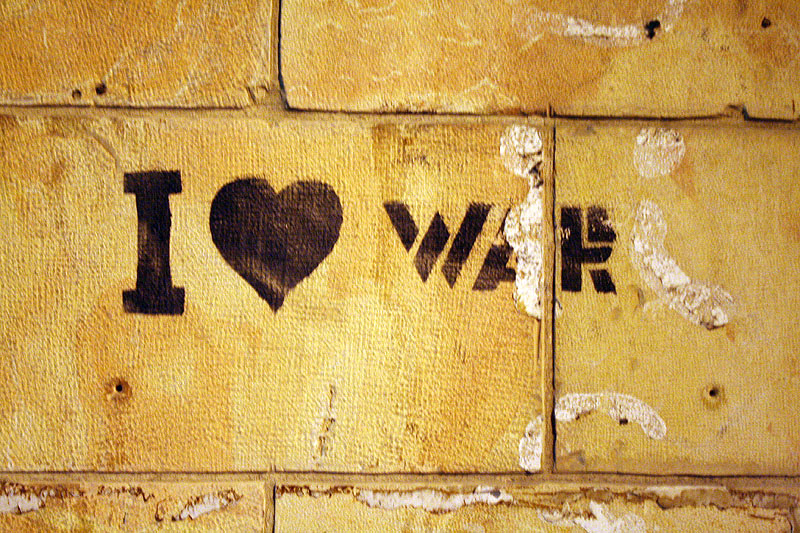 The next day we headed to the Dead Sea which isn't too far from Jerusalem. We passed some Bedouin communities on the roadside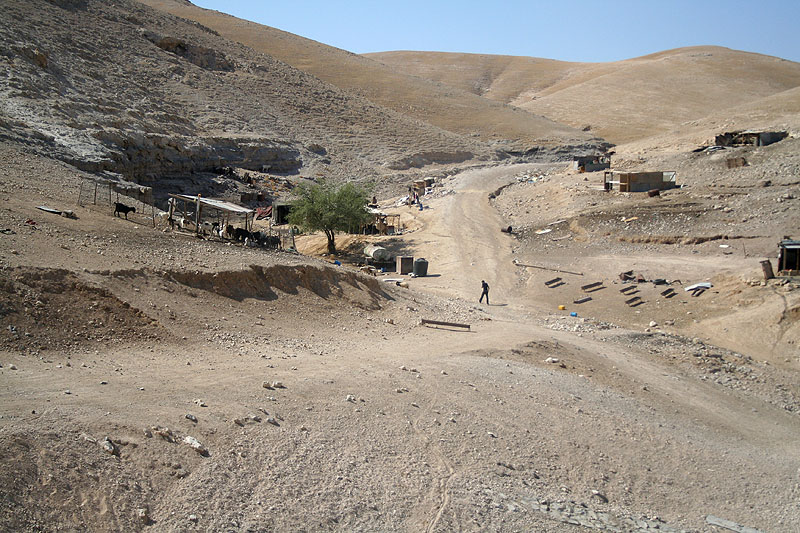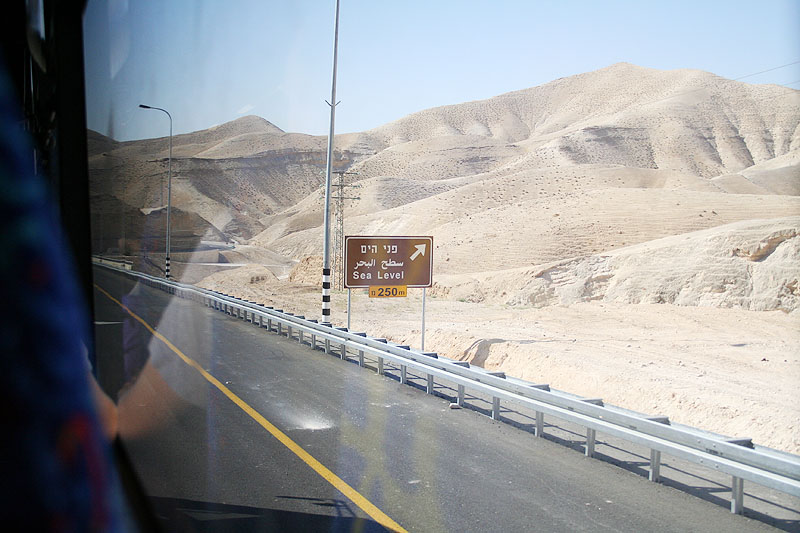 The Dead Sea is the lowest point on Earth at 420m below sea level. It's also 9 times saltier than the ocean, and trust me, getting this stuff in your eyes, nose or mouth is no laughing matter! It's an understatement to say it stings, especially in certain places..!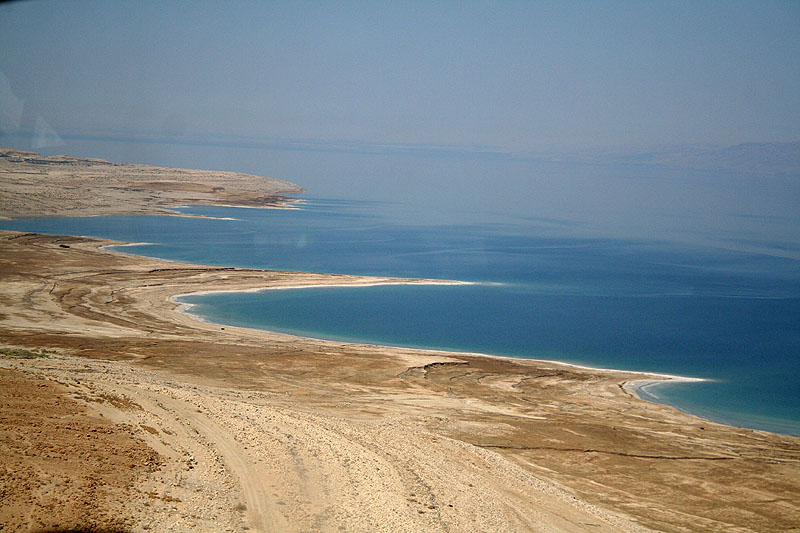 You can see Jordan on the other side here..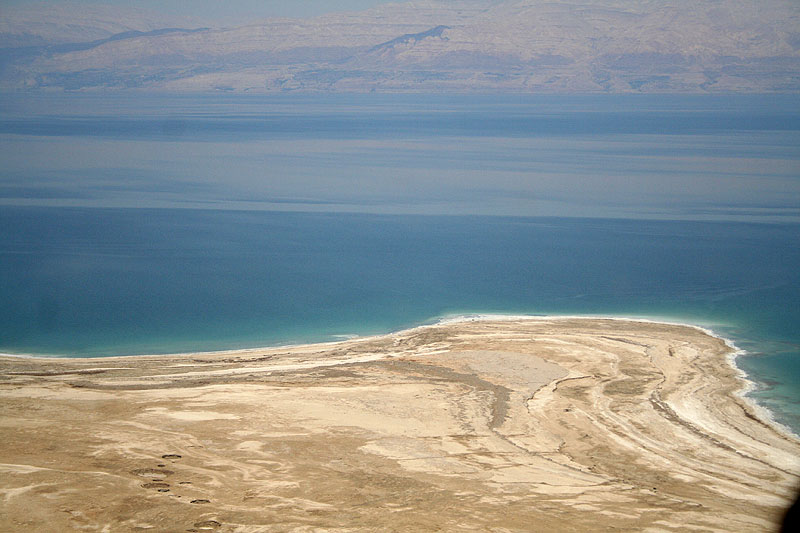 It had to be done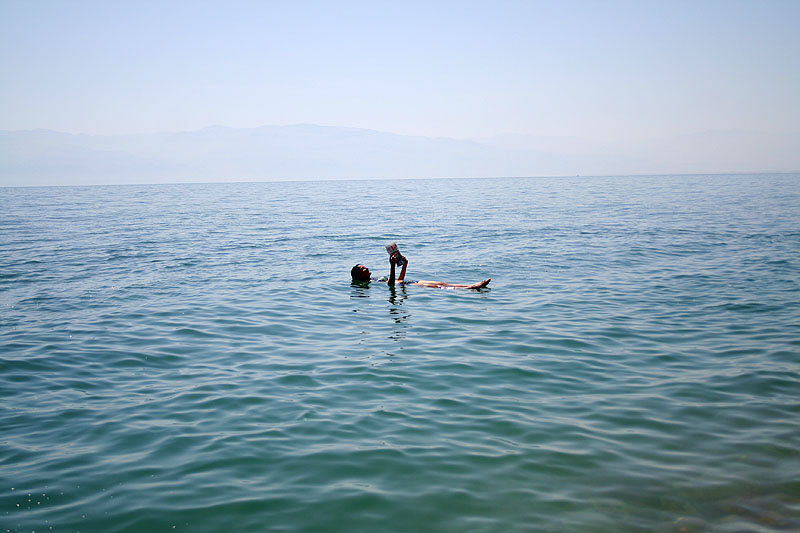 I can't describe just how salty this place is. The high saline levels ensure that you stay afloat, and naturally, there are no fishes or plants here. Even on the shore with a few cms of water, the high saline levels push you up, so that you can't even sit still in shallow water!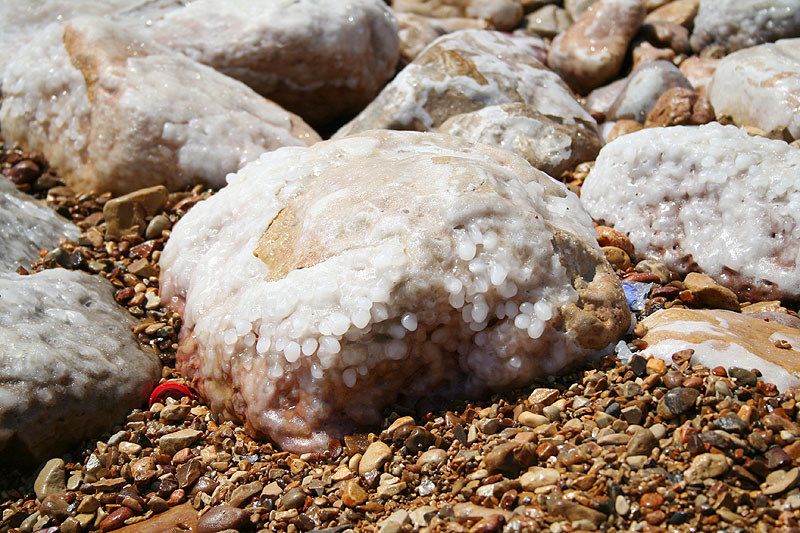 Weee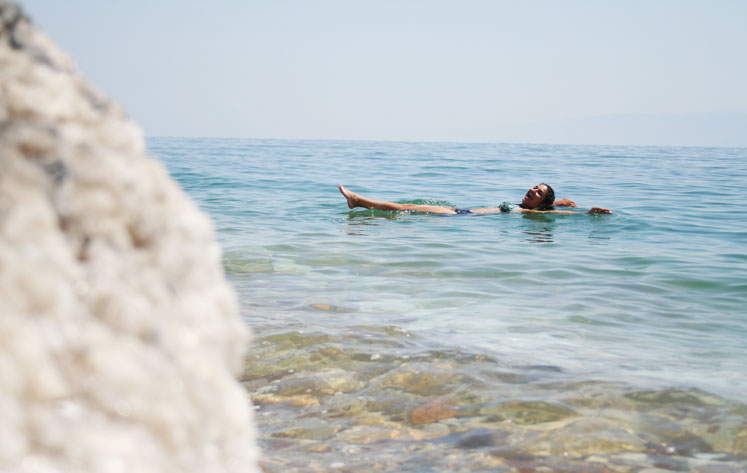 Although the climate here is 40C+, the heat is dry, and it's harder to get sunburnt due to weakened ultraviolet radiation as the atmosphere is so low. I wouldn't recommend staying in the water for too long – it can get quite painful, particularly if you have any cuts or mosquito bites like I had. We were at the En Gedi part of the Dead Sea where there were showers on the beach – a must! There weren't as many tourists here as I had expected, which was surprising. I mean, this place is beautiful!
We moved away from the shore and sat in some shade, where we got talking to this man about war and politics: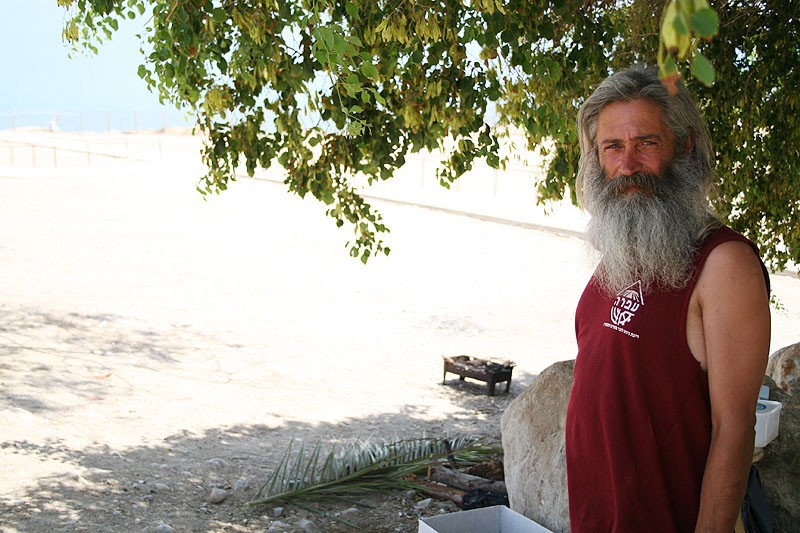 It turns out that he's Michael Netzer, a former DC and Marvel Comics illustrator. He's drawn Batman, Spider-man and Wonderwoman, among heaps of other comic book heroes. What an unlikely place to meet such a knowledgable and interesting man! He's originally from the States, and now living in En Gedi for the time being.
I asked him what his name was and he wrote it down for me, and then drew a sketch of Batman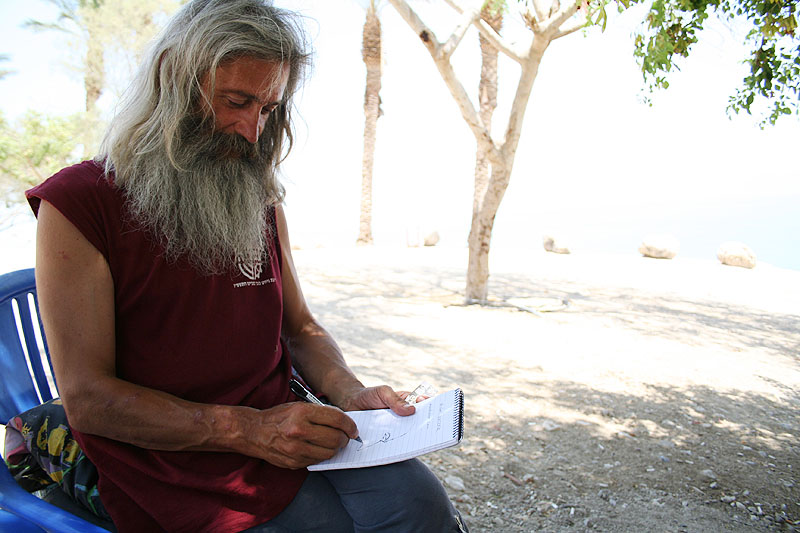 Back on the way to Jerusalem on the bus: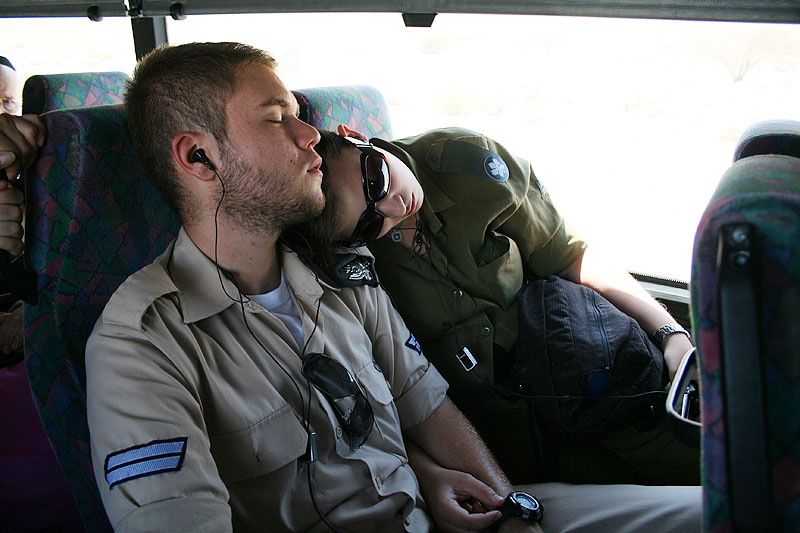 The bus was full of either soldiers or Hasidic Jews. I have to stress here that Hasidic Jews' beliefs on modesty are quite strong! On a number of occasions we got dirty looks from them even though we were fairly well covered up! We had to stand as there were no seats available, and one man even swapped seats with the woman next to him to get further away from us.
In the central bus station in Jerusalem: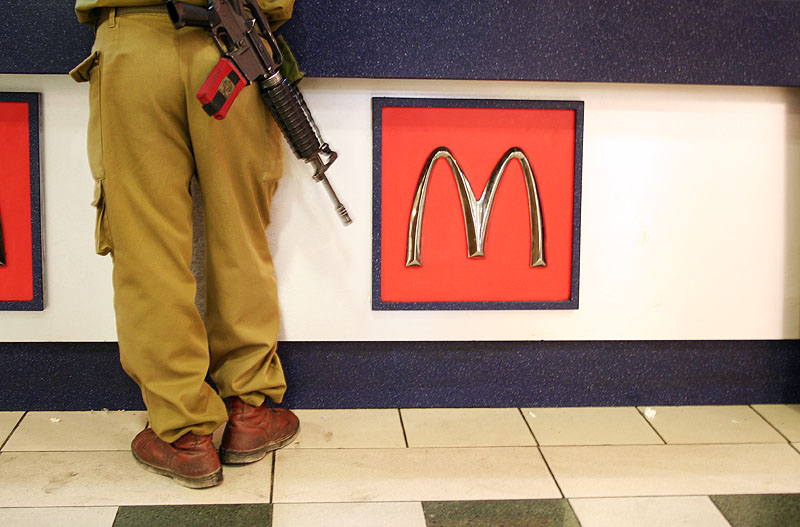 No, we didn't eat at McDonald's!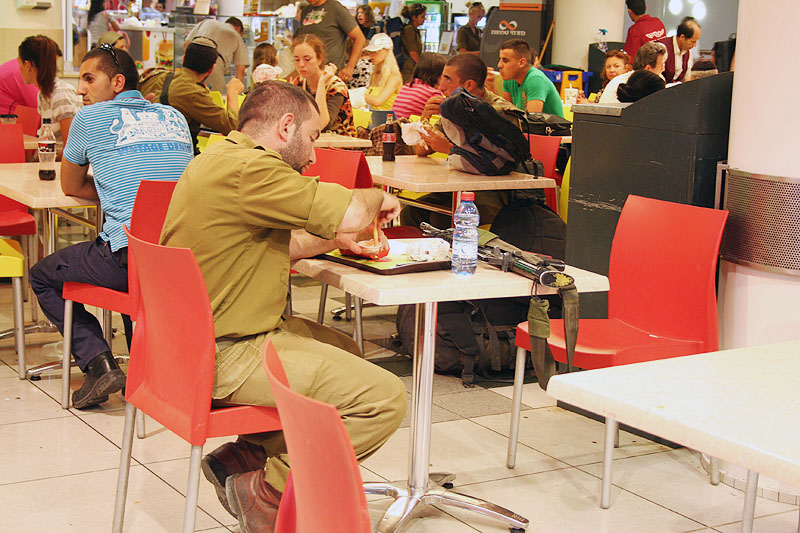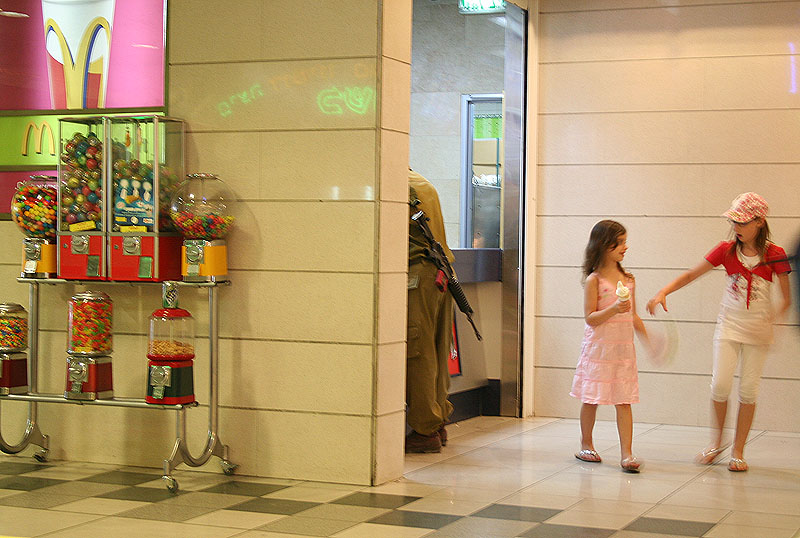 The next morning we headed to Damascus Gate in the Old City of Jerusalem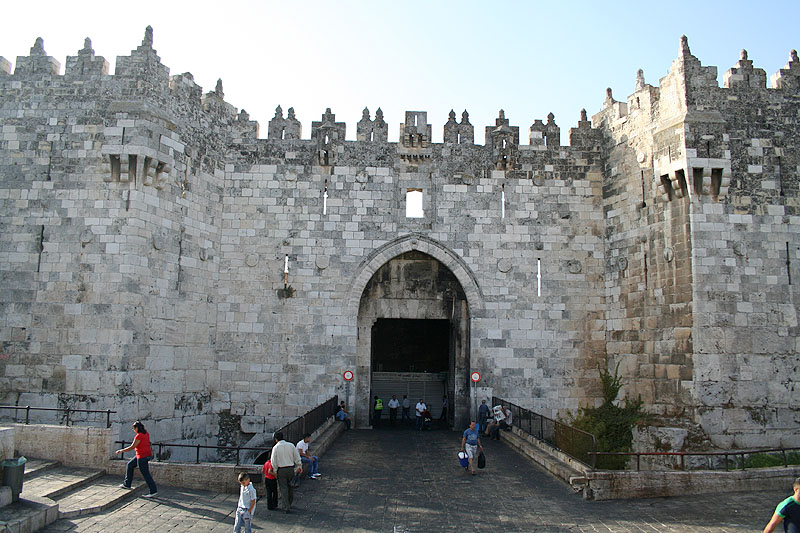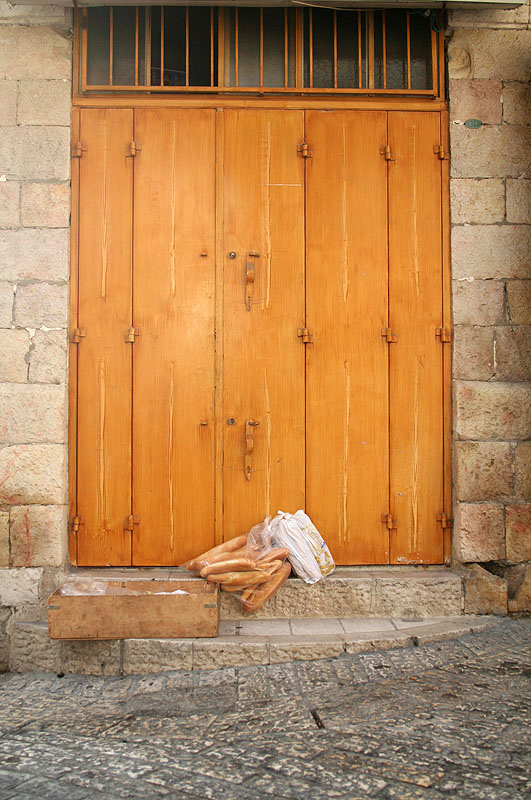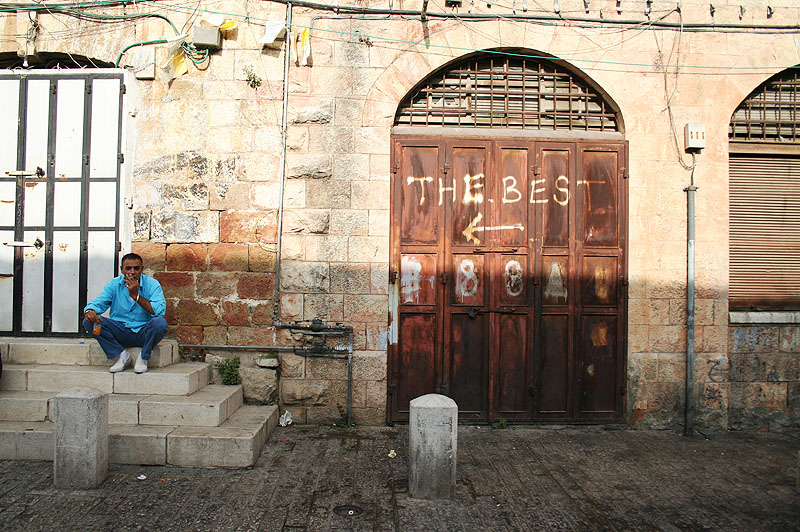 Near Damascus Gate we caught the number 21Arab Bus to go to Bethlehem. When I say "we", I mean me and two Irish tourists (hello Barry and Ado!) that me and Ricki met. Unfortunately, Ricki couldn't go to Bethlehem because it's located in the West Bank, which makes it unsafe for Jewish Israelis to visit. I found this odd as I'd always thought Jews were free to go wherever they wanted, even in the West Bank. We'd all heard mixed stories about the safety of going into this area, and I asked a policeman what he thought. He asked if I'm a Jew and I said no. He said I'd therefore be fine. I asked what would happen if I were Jewish. His reply – "you will get killed". I laughed at him and asked him to be serious. He laughed back at me and shook his head, and once again told me that Jews would get killed. He himself works as a border policeman and he told me that Israeli soldiers would not permit Jewish Israelis entry into Bethlehem.
The city has has been one of the most fought over holy places for centuries, and in 1995 Israeli troops pulled out, giving control to the Palestinian Authority.
Anyway, I set off on the Arab Bus (that's literally what it's called) and expected to be rigorously searched at the checkpoint. I'd read that going into Bethlehem could involve a lengthy queue with bag searches etc.
Contrary to what I'd heard, the "checkpoint" consisted of an Israeli soldier getting onto the bus and looking at IDs/passports. He simply saw my British passport and didn't check my picture or details. Bags weren't searched and within a few minutes the bus was on its way.
Once in Bethlehem, there were no Israeli soldiers. Instead, a Palestinian soldier asked where we were from but didn't ask to see our passports. The journey into the West Bank was quite straightforward really!
Unlike in Israel where street signs are in Hebrew and Arabic, here there was no Hebrew to be seen.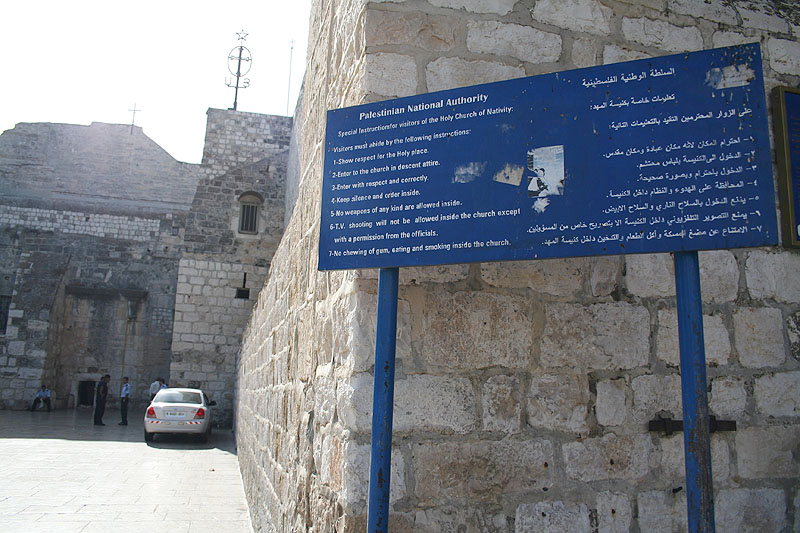 The Church of Nativity in Manger Square is the oldest church in the world, built on the site where Jesus was allegedly born, in the heart of Bethlehem. It is possibly Christianity's holiest site.
This is the small entrance to get inside, called the Door of Humility, built this way to stop mounted horsemen from entering the church and looting it during the Ottoman period.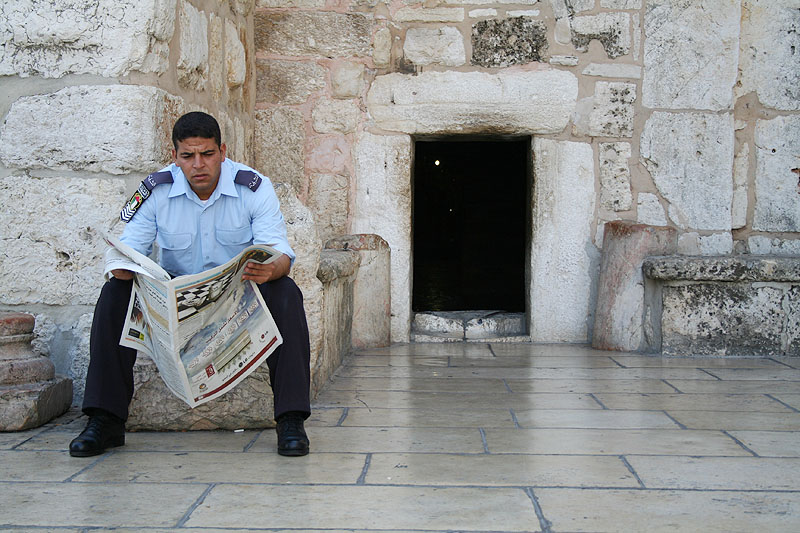 Once inside we were the only tourists.. the entire church was deserted apart from some priests.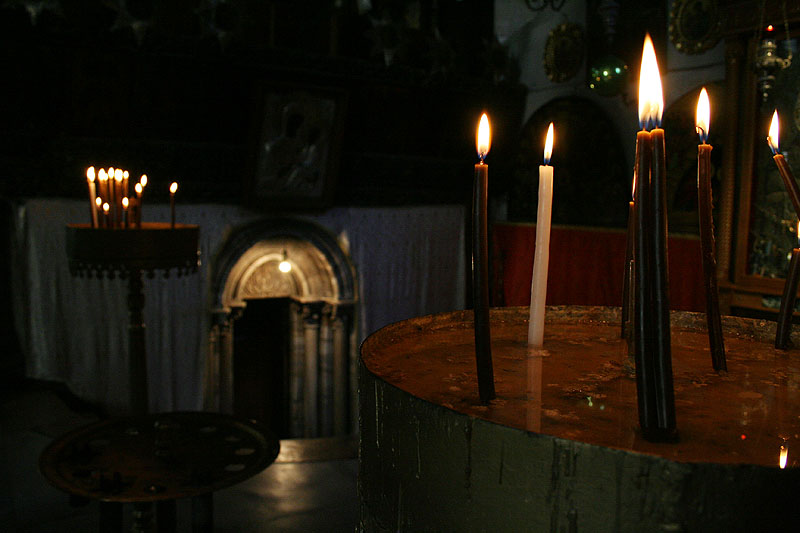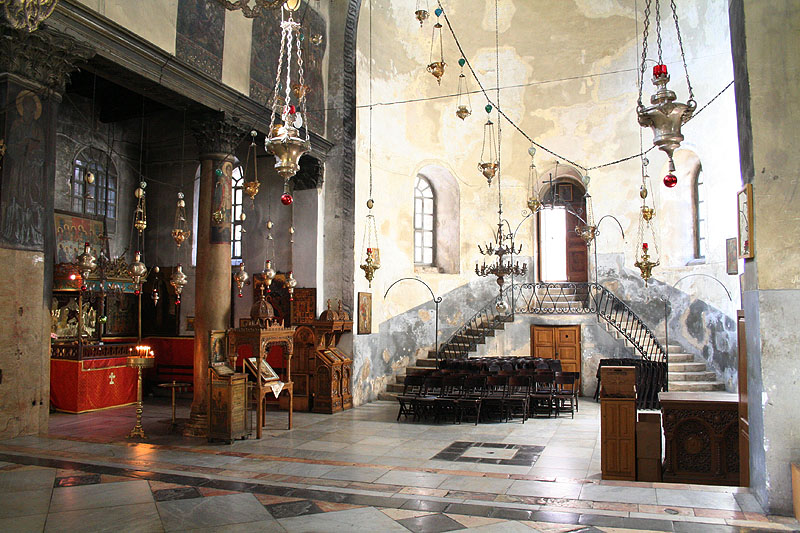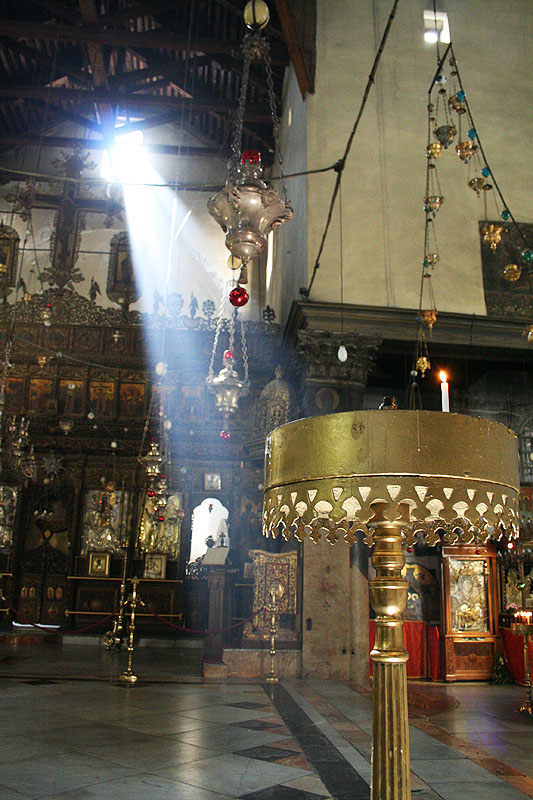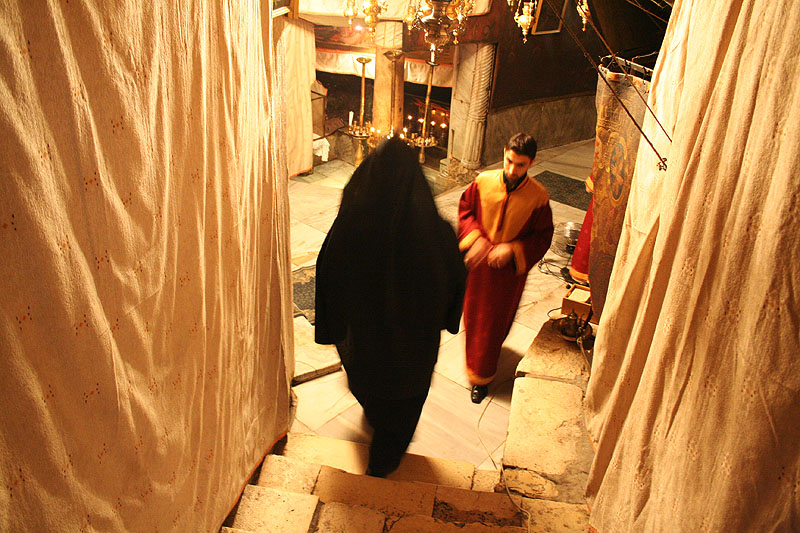 Underneath the church was the Grotto, and below is supposedly the spot where Jesus was born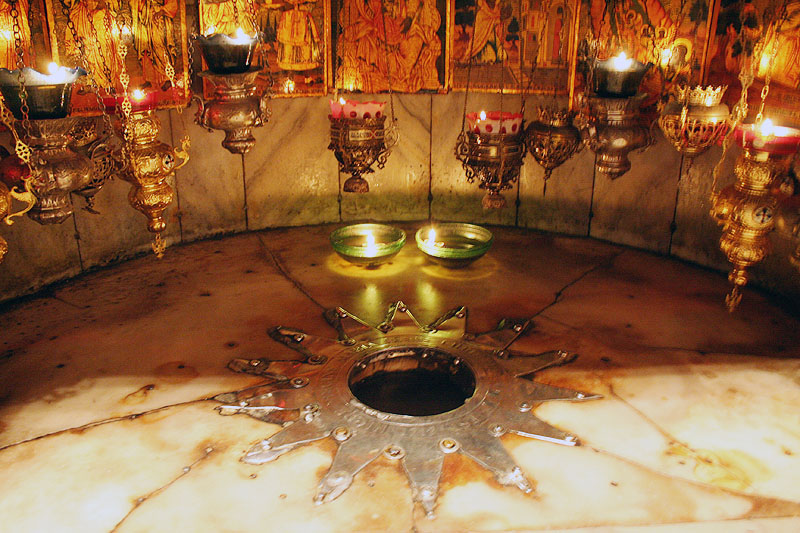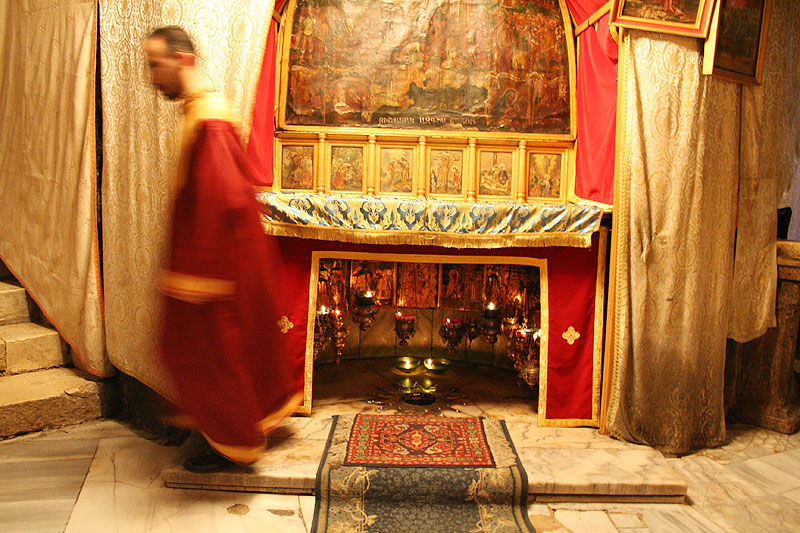 This policeman was happy for me to go down into the grotto while the priests were preparing for a mass.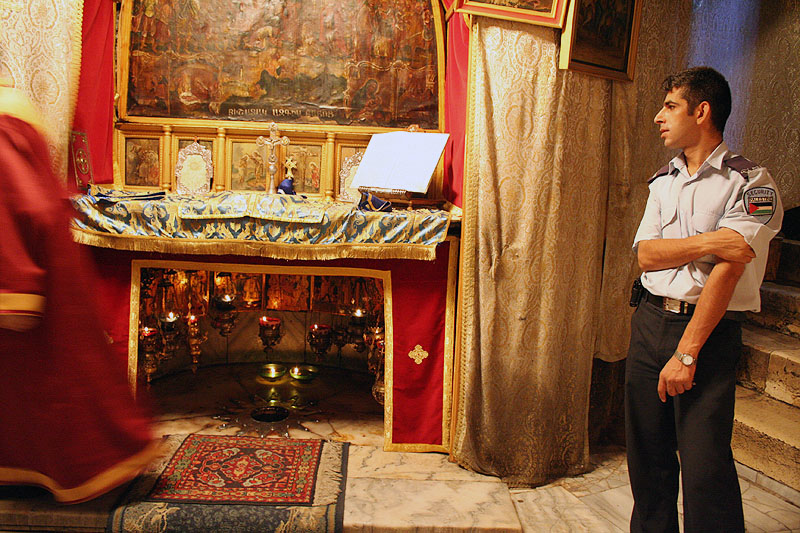 The church is controlled jointly by the Armenian Church, the Roman Catholic Church and the Greek Orthodox Church. I sneakily took a couple of videos: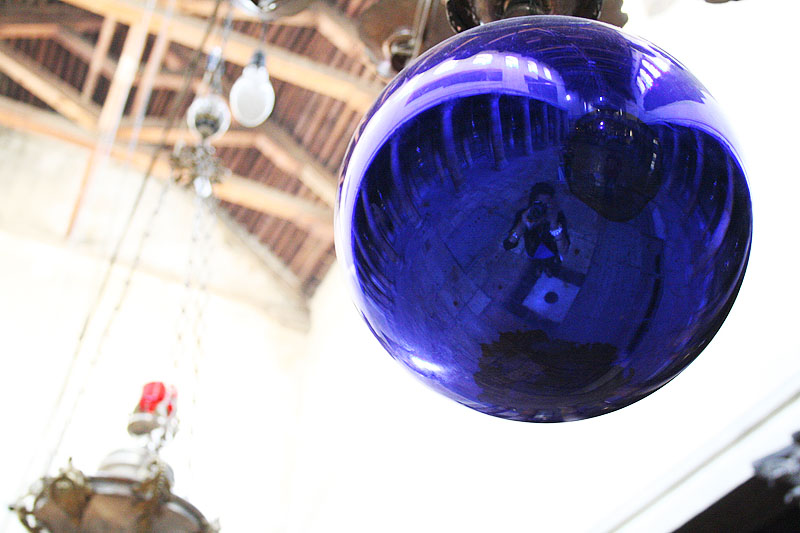 The adjoining Church of St Catherine: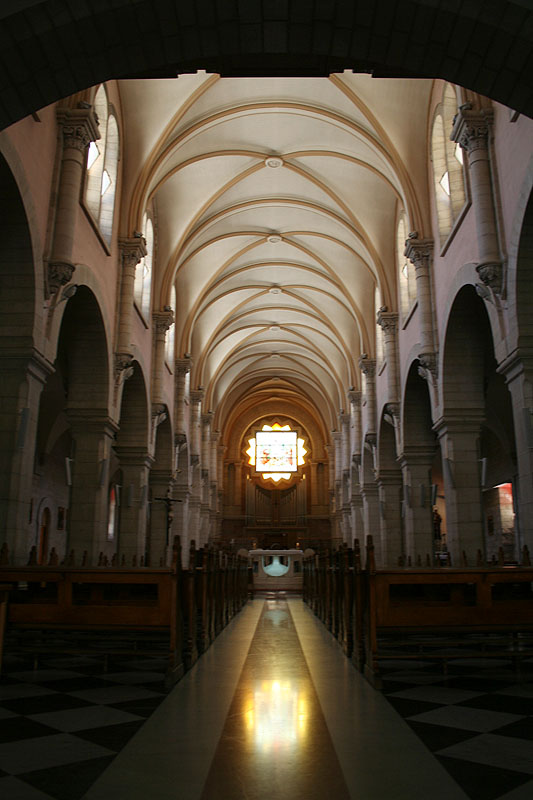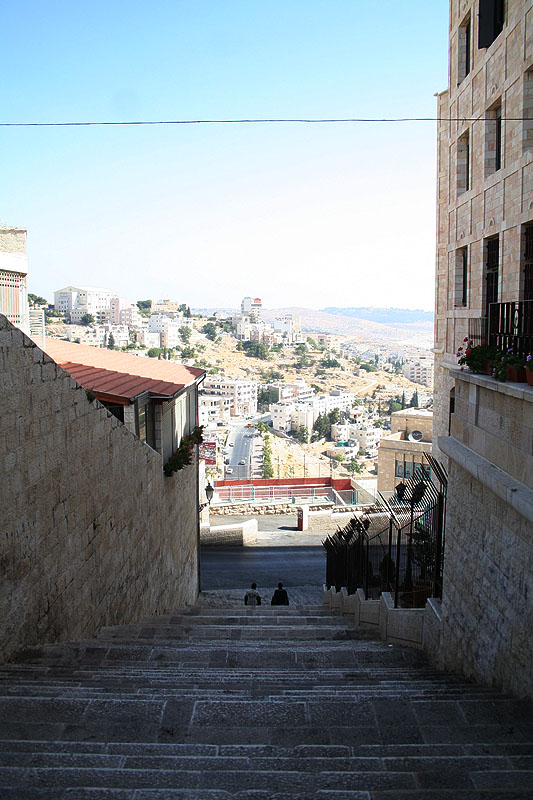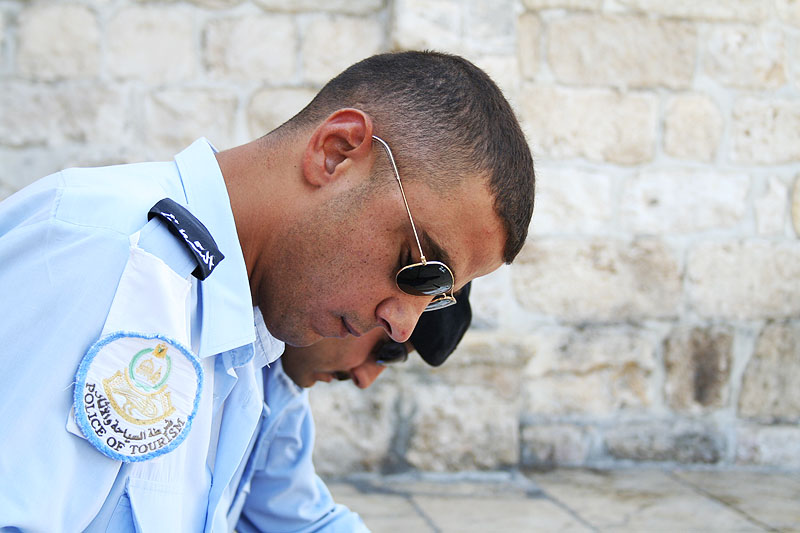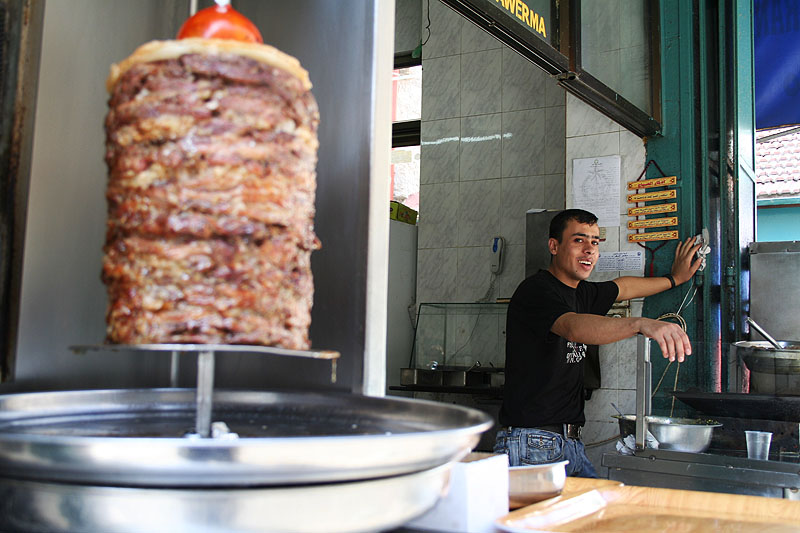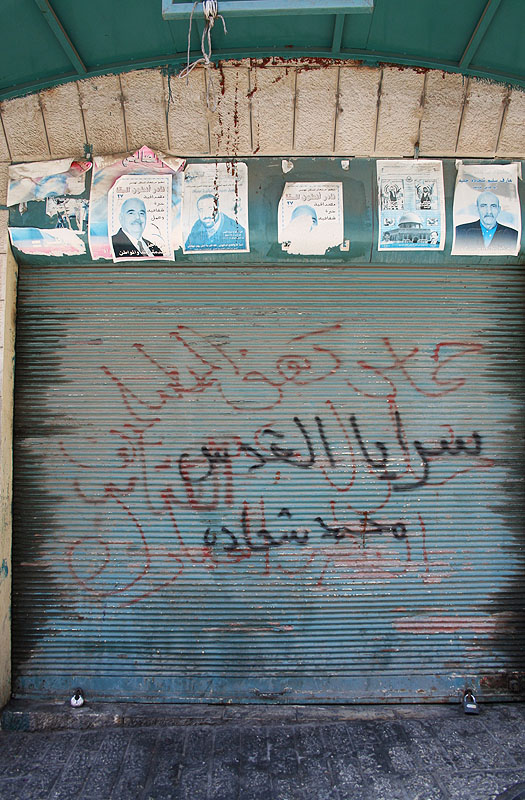 Notice the car's green registration plate here, which differentiates Palestinians from Israelis: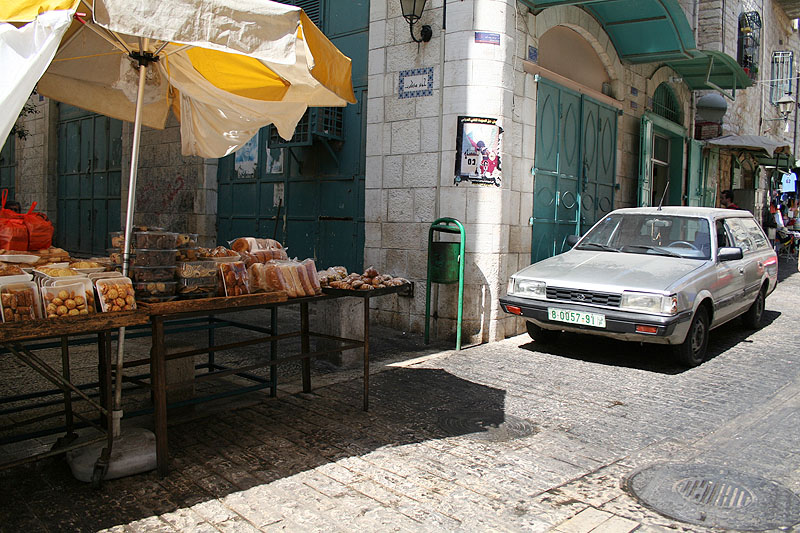 I bought some Bethlehem Arak from these boys..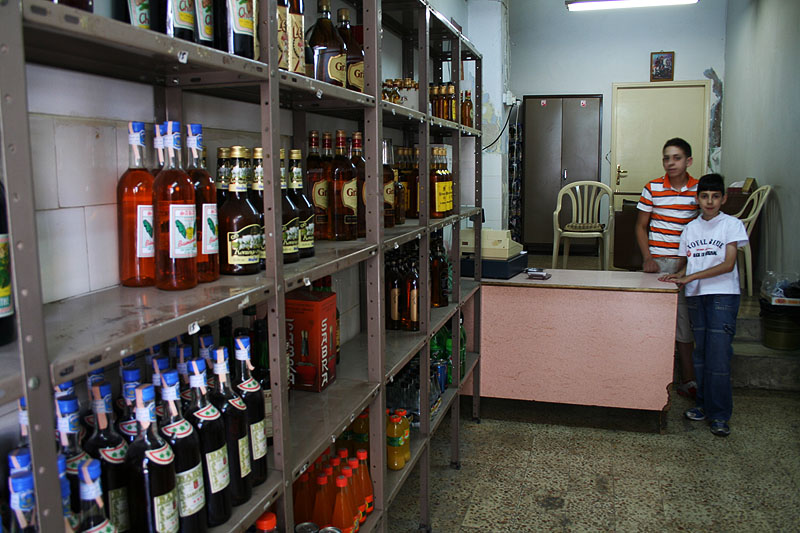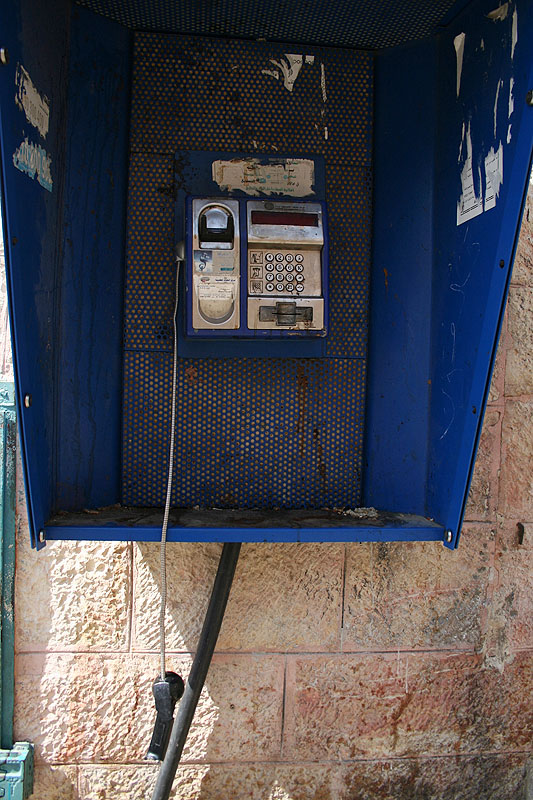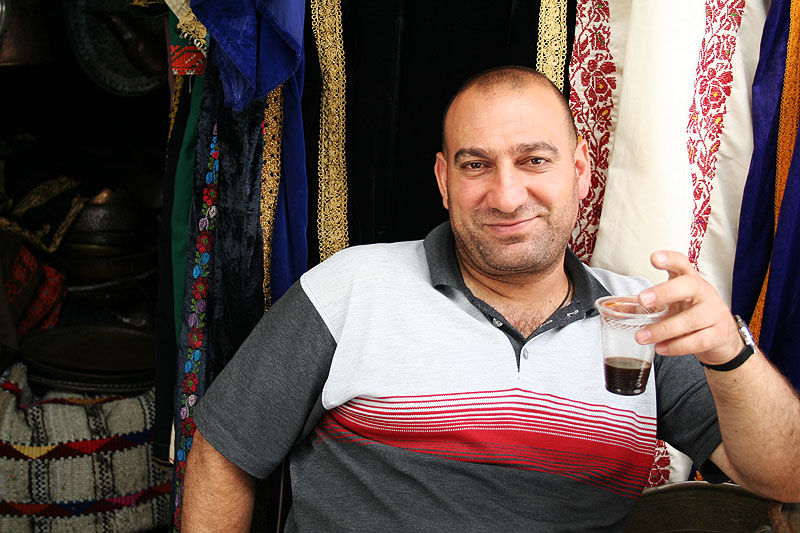 Posters of suicide bombers are strewn across the city, with this one on the front of an educational centre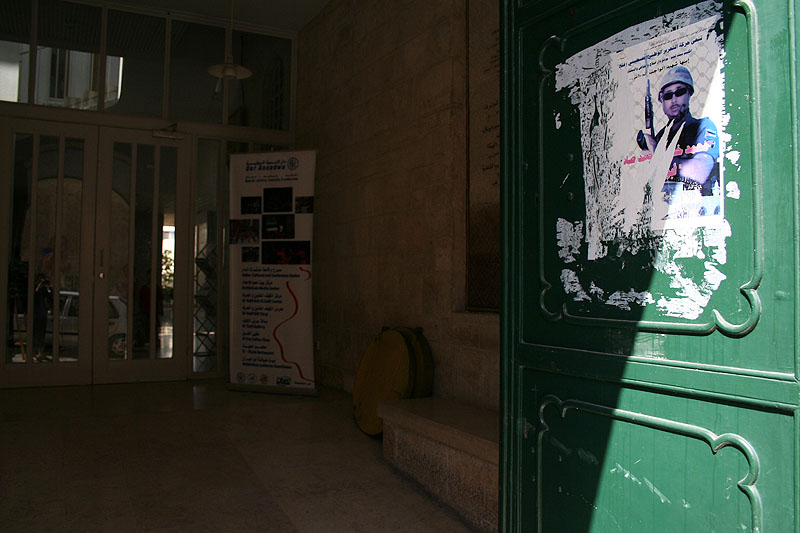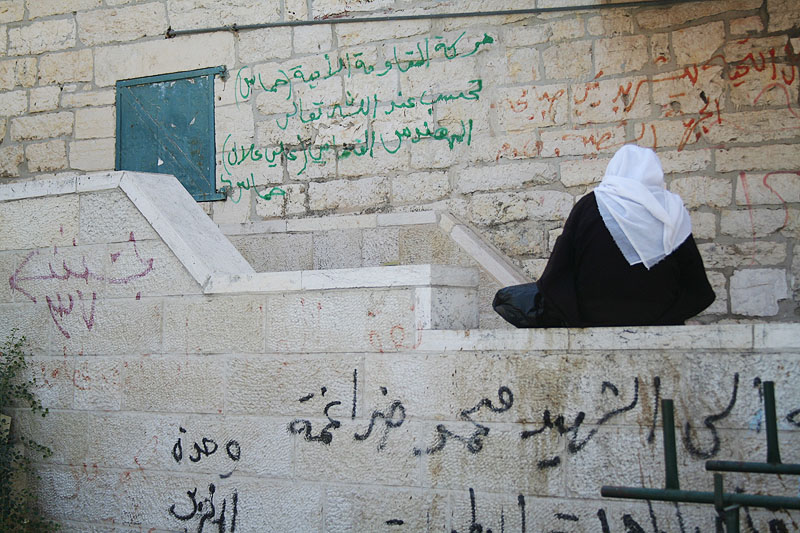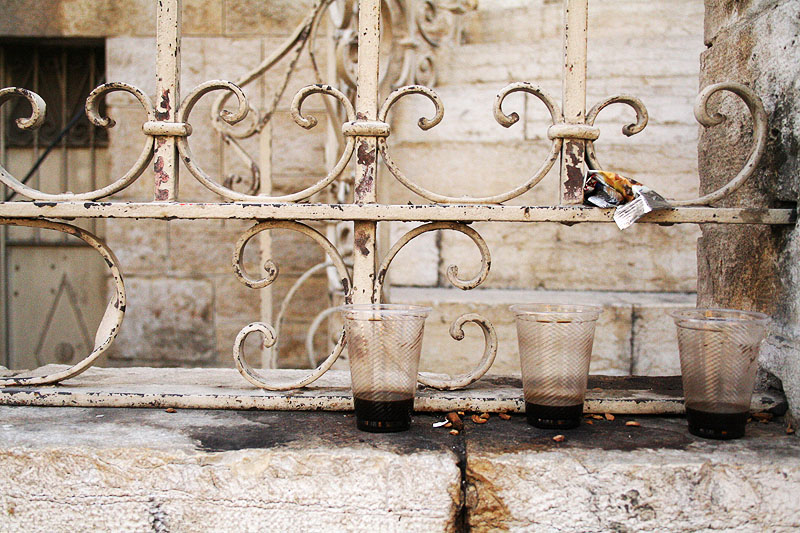 Surprisingly, on the way in to Bethlehem we drove alongside the controversial Israeli/West Bank wall separating the two areas, but we didn't even recognise it..!
You can see it in this picture, half constructed: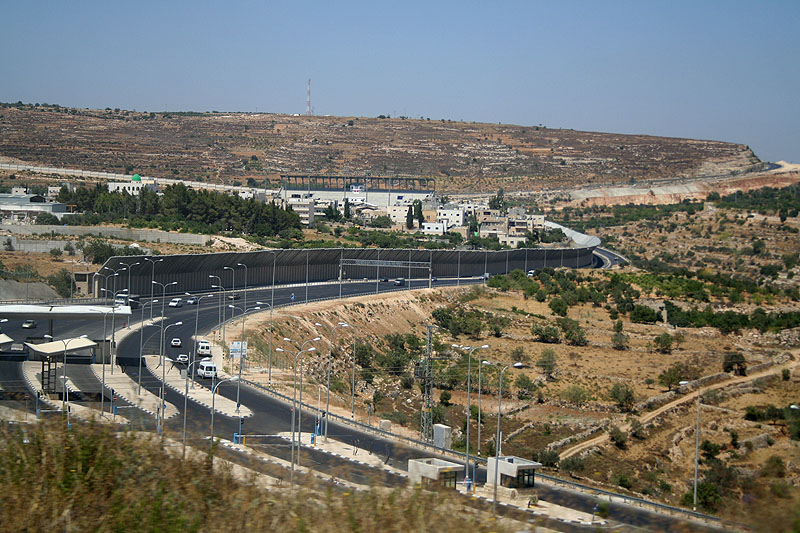 Banksy visited Bethlehem last year and made his mark around the city, something that was widely publicised in the UK, yet even though I asked locals including tourist police, no one knew what I was talking about. "Banksy? Who?", they said. When I asked how to get to the wall, I was given looks of surprise. I was also told there was nothing to see there, although one man told me to take a pen there and write on it. Apparently the main Israeli checkpoint into Bethlehem has some really interesting graffiti on the wall there, but this checkpoint is currently closed which is why we didn't come across the graffiti. It's interesting how Banksy has become a phenomenon in the UK and parts of the US, yet he managed to make a statement in Bethlehem in the West, but not in the city itself with locals.
Bethlehem was a lovely city. It was quieter than usual because it was Friday when the majority of shops are closed as it's the holy Muslim day.
We headed back into Jerusalem. This time the checkpoint was a lot busier and we had to get onto another bus and once again show our passports/ID to Israeli soldiers. We weren't searched though, although I noticed soldiers searching others.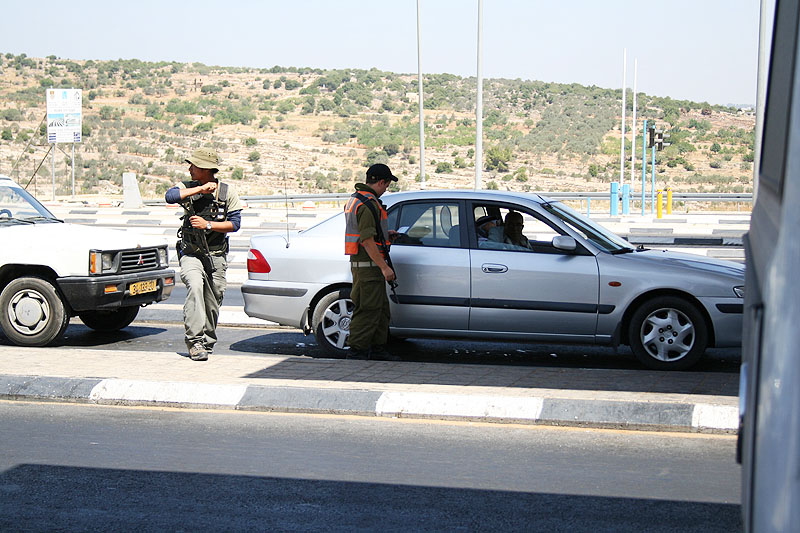 Back in Jerusalem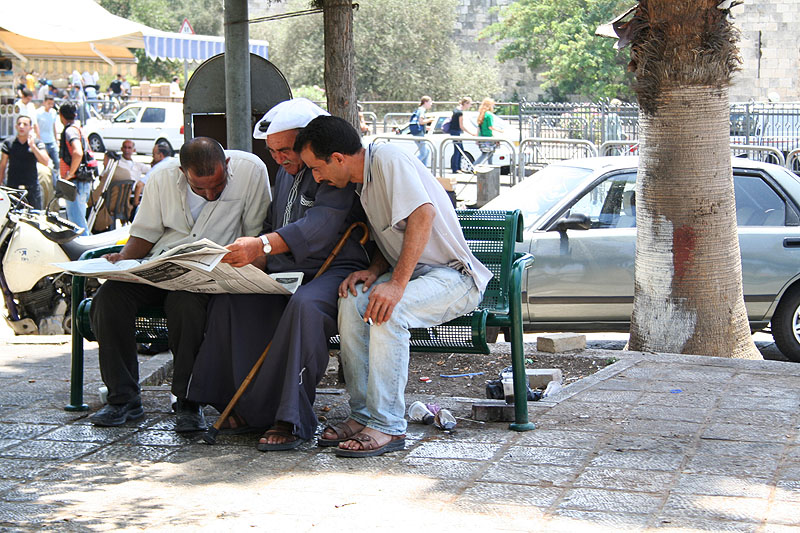 Locals seem to take a keen interest in the newspapers.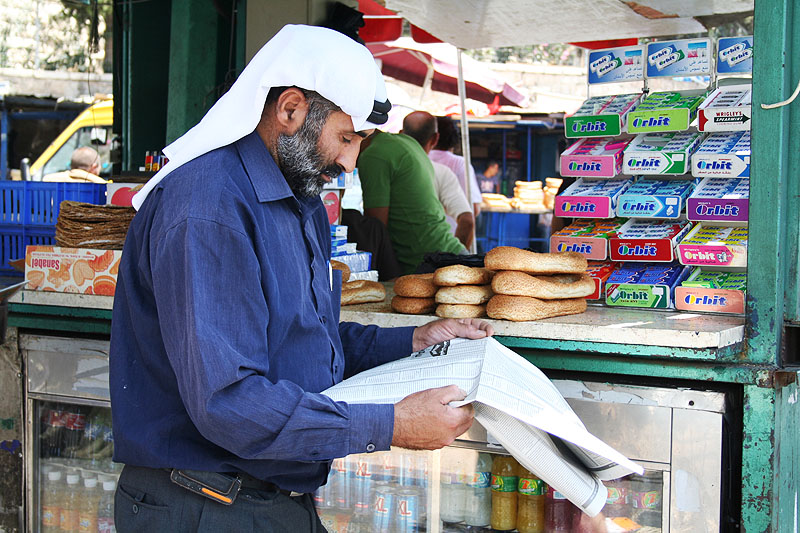 We headed to the Mount of Olives, where Jews have sought to be buried as they believe, according to the Bible, that the resurrection will begin here when the Messiah comes.
The view of Jerusalem from the mount: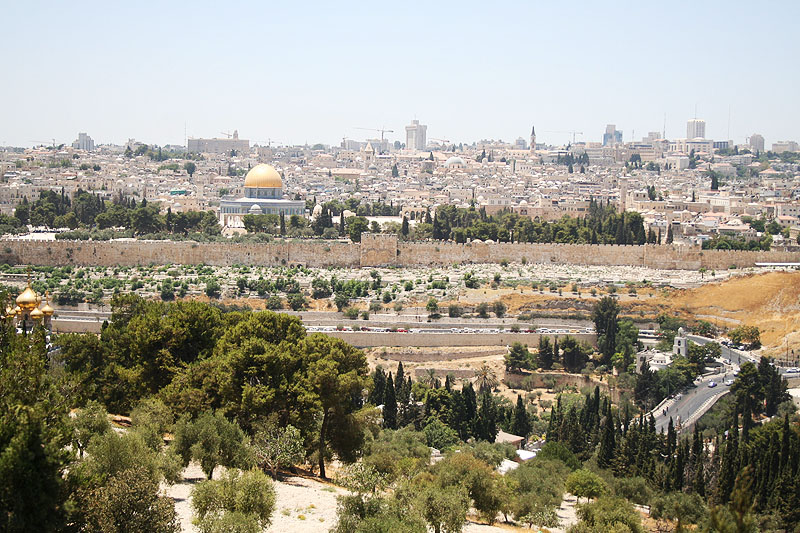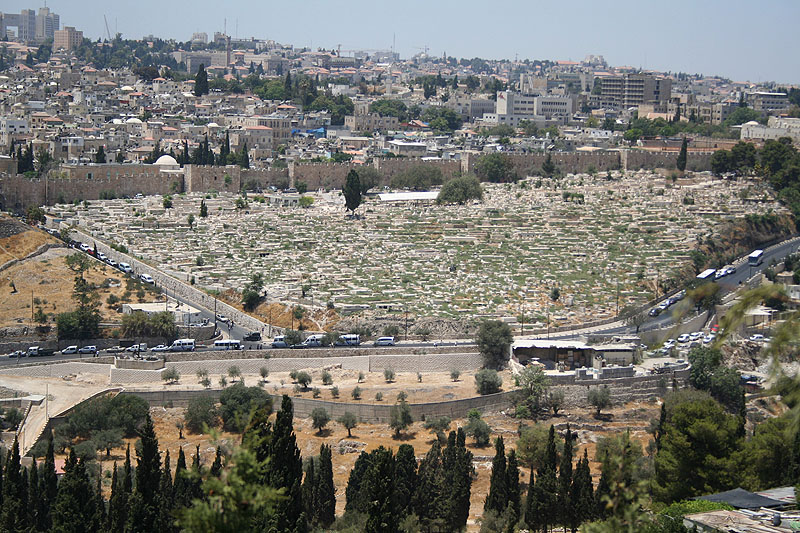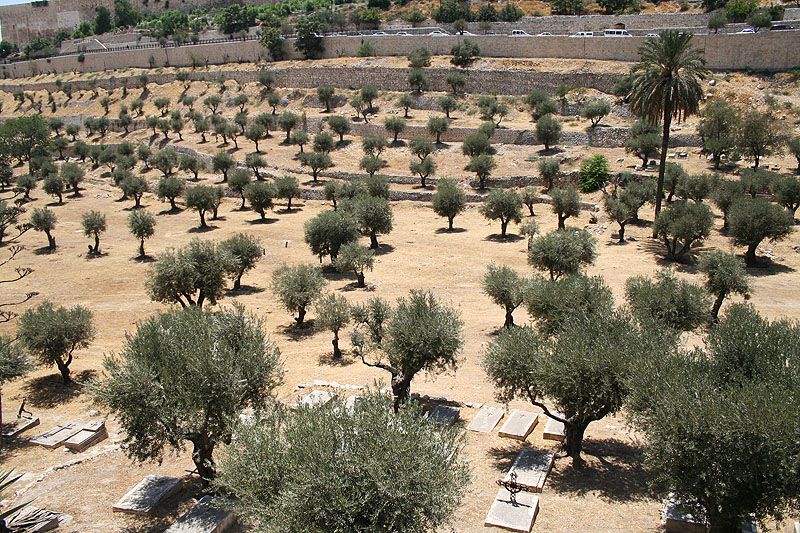 According to Barry's Lonely Planet guide book, tourists can get stoned here so have to be cautious! I noticed many policemen in the area and was told that it was a special Jewish day which meant there were many Jews visiting the area, so security was stepped up. A soldier said that on any other day it may have been problematic coming here, but today it was fine.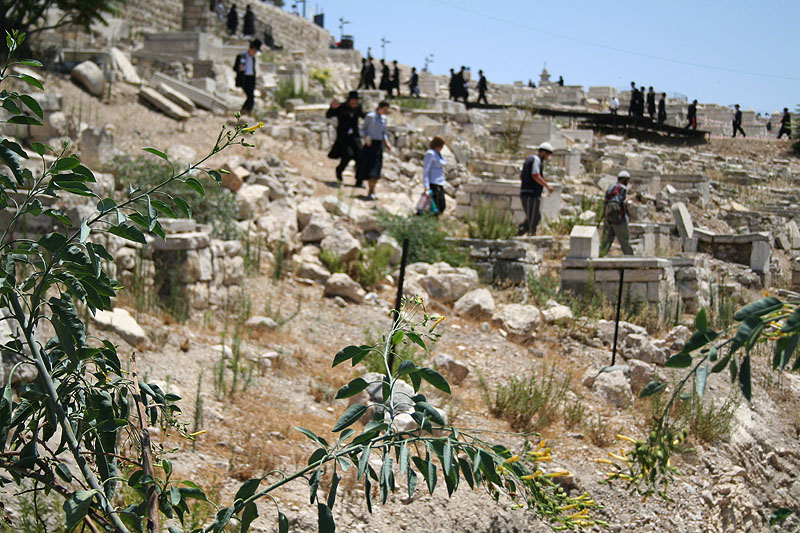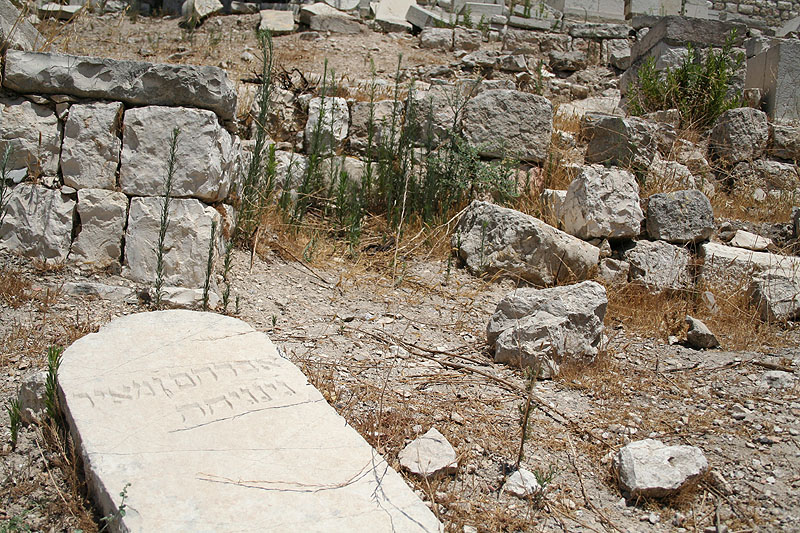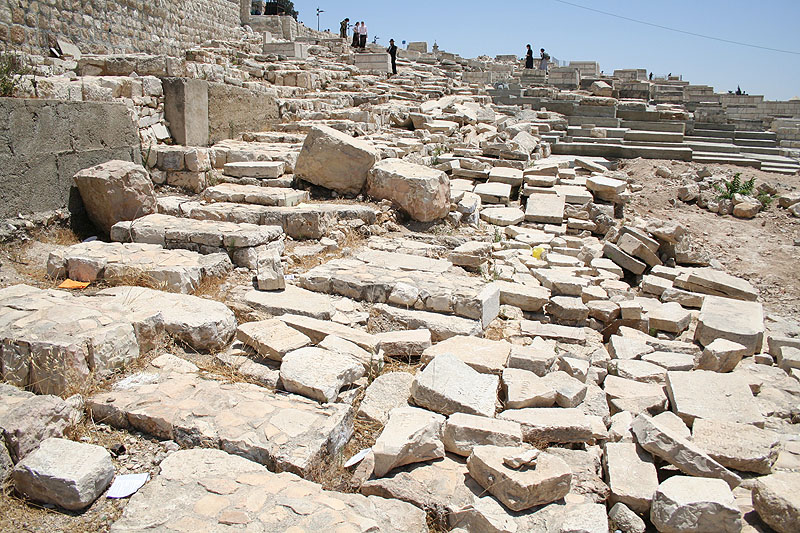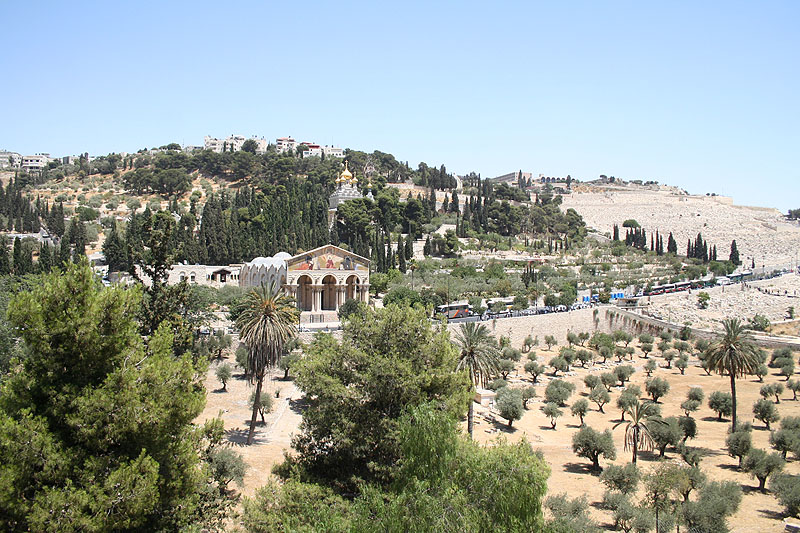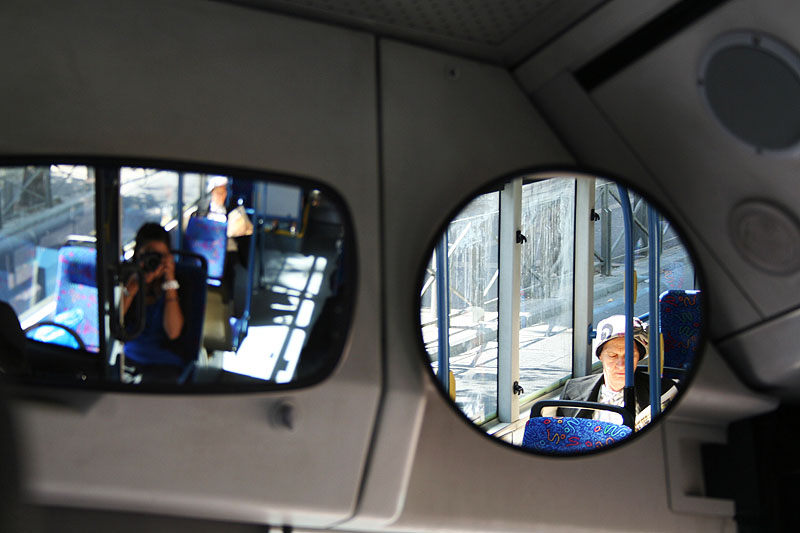 I rushed to get the last bus to Ricki's place near Netanya before the Sabbath began, where transport stops running!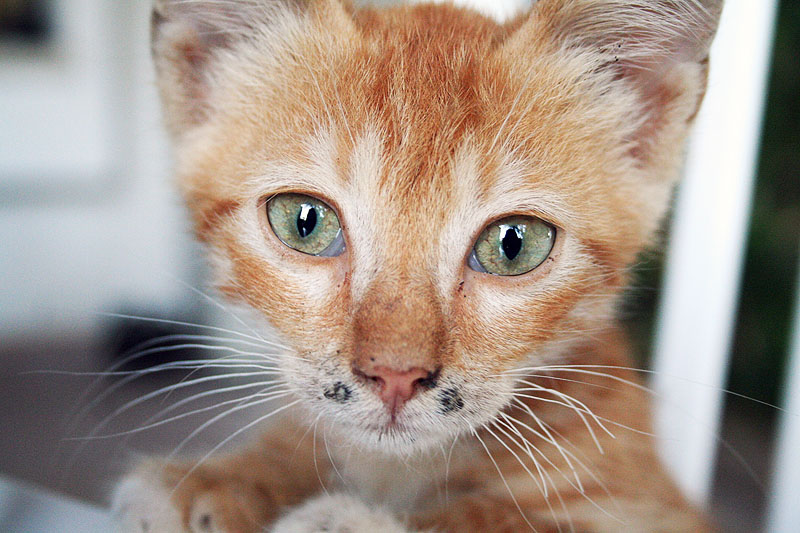 Hello Maayan!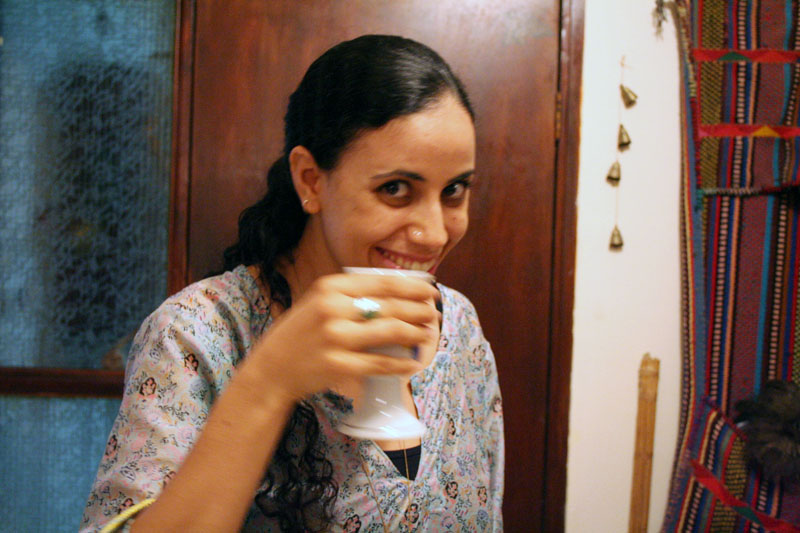 Ricki is one of the nicest people I know, and incredibly talented with music. Her family are also lovely and so, so friendly.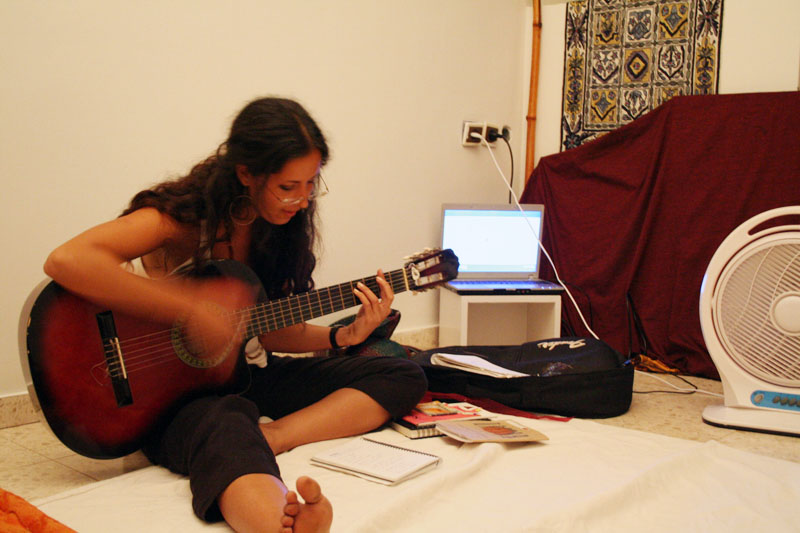 There are so many stories I could tell about my time here, but you're probably bored of reading if you've got this far :P
I will say that despite what people might think, there's so much to see and do in this small country and I hope I've managed to portray this. Sure, in places like Jerusalem there is a definite sense of tension in the air – with reason (the recent bulldozer attacks prove that). The Israeli Defense Forces are visibly present, which I actually found made me feel safer. It's compulsory to undergo army service here for two years which is why there are so many of them around.
In terms of entering the country, I didn't have any trouble at all, although when exiting the country my bags were checked thoroughly twice, and Ricki's parents who dropped me were asked more questions about me than I was.. questions like where I went, what I did, who I met..
I was told by a security officer that asking them questions would speed up the process for me, and it seemed to work. I saw other people being searched and questioned a lot more. The Irish guys told me they had problems getting into the country from Ireland, where they were pulled aside and questioned/searched for two hours, which was quite intimidating. I suppose everyone has a different experience, and I just happened to be "lucky".
Talking to locals, there is clearly a divide between people here, although they work together and study and live side by side as much as is possible. I think the issue is quite complex.. both sides are suffering and it's unfair and annoying when people pick a side without truly knowing much about the situation. From what I could see, it's not just about the Palestinians suffering. Jewish civilians are subject to violent attacks and live in fear. Sadly, I don't think there will ever be peace here, which might sound negative but what can the likes of Gordon Brown really do? Him and other leaders stand up and pledge to help and push forward the Middle East peace process but I really don't think they have a clue.
Putting aside the politics, this is a land like no other.
I won't be able to visit most Muslim/Arab countries now that I have Israel stamped in my passport, but as far as I'm concerned, that's a small price to pay

I must have brought the Israeli sunshine back to the UK with me – today was the hottest day of the year so far! : )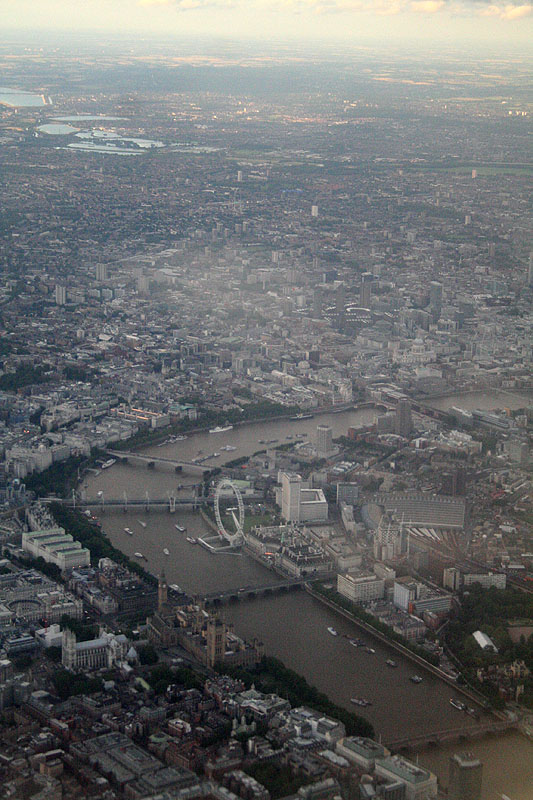 Thanks for reading.