15th March, 2008 – Protest against Scientology, London
To coincide with Scientology founder, L Ron Hubbard's birthday, internet-based group Anonymous took to the streets worldwide once again in protest against the so-called religion.
The last protest took place a month ago, in the same locations – outside Church of Scientology buildings.
On the way there: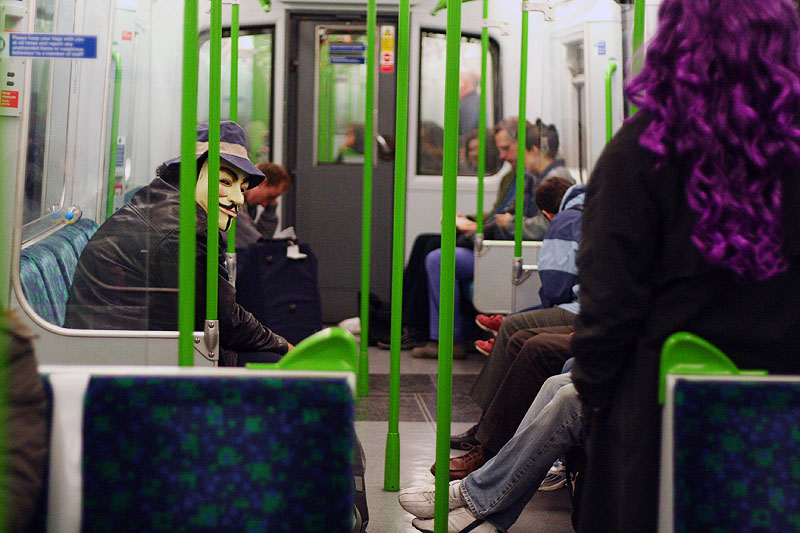 The first part of the protest took place outside the main Church of Scientology building in Blackfriars.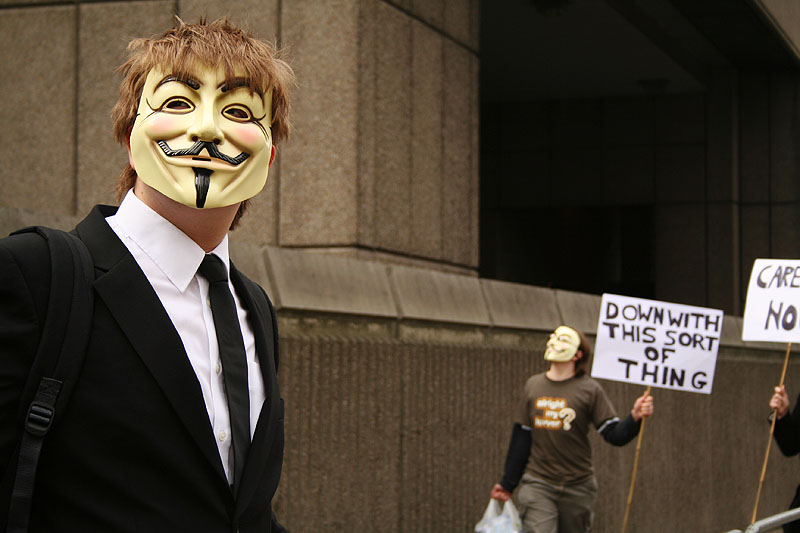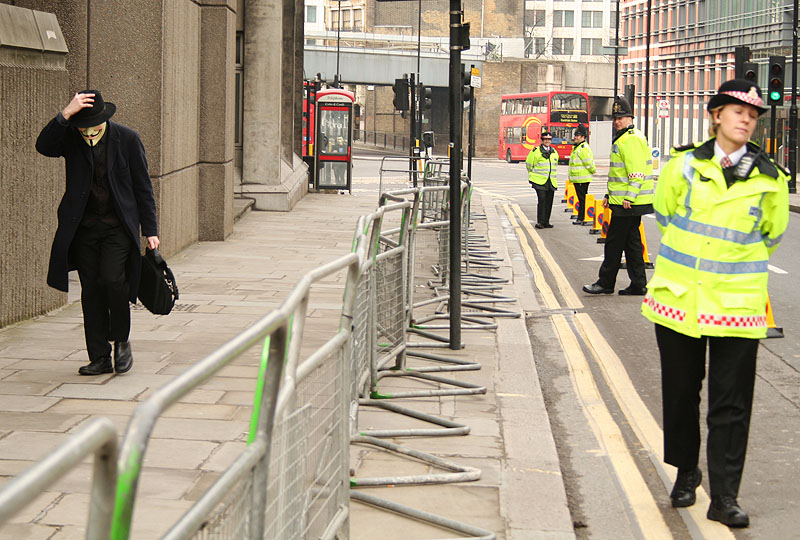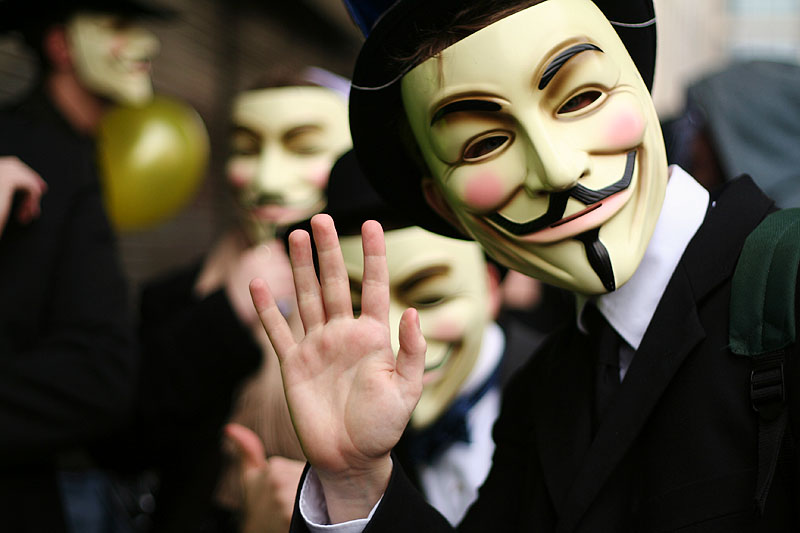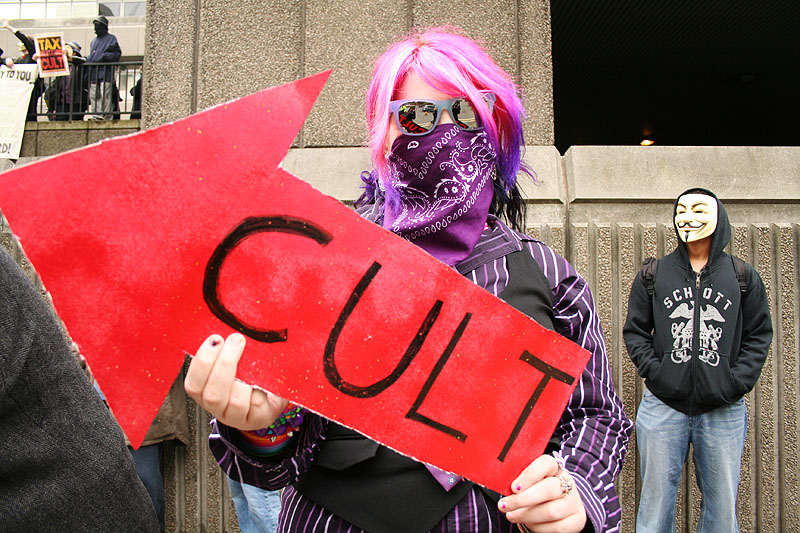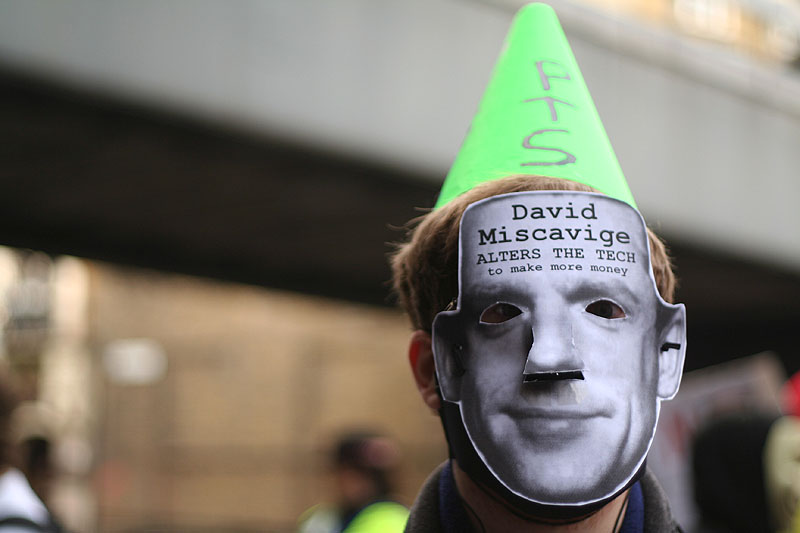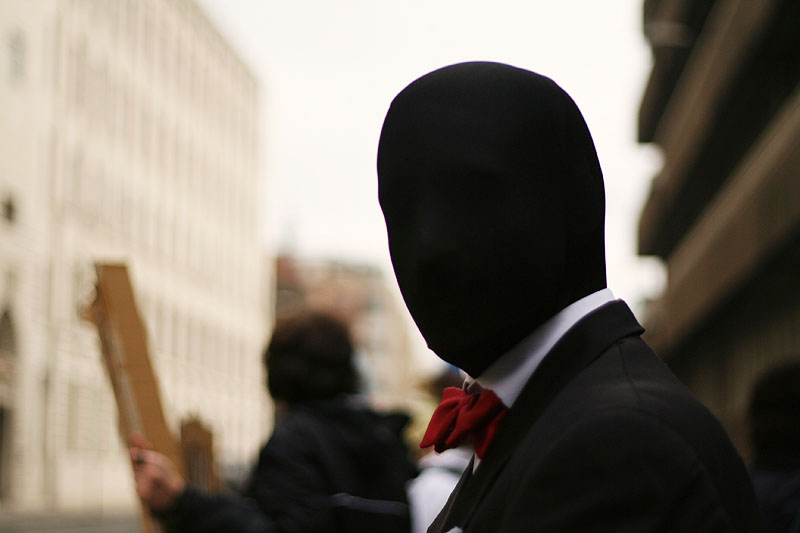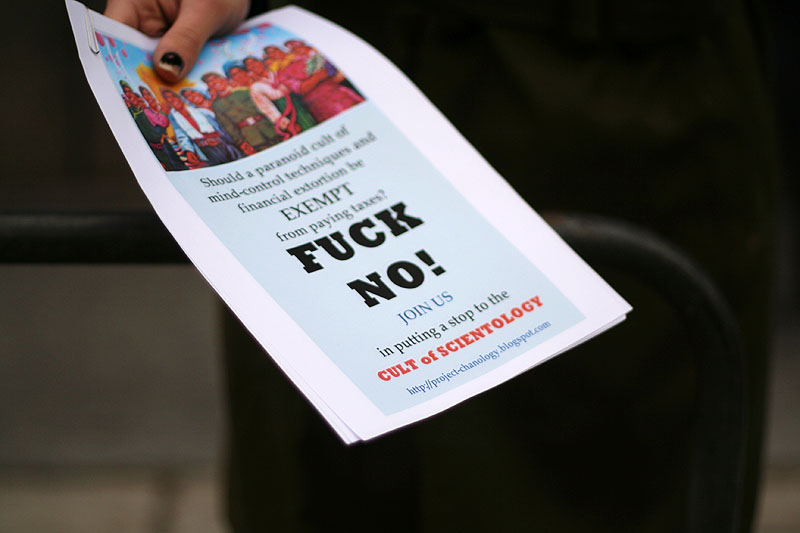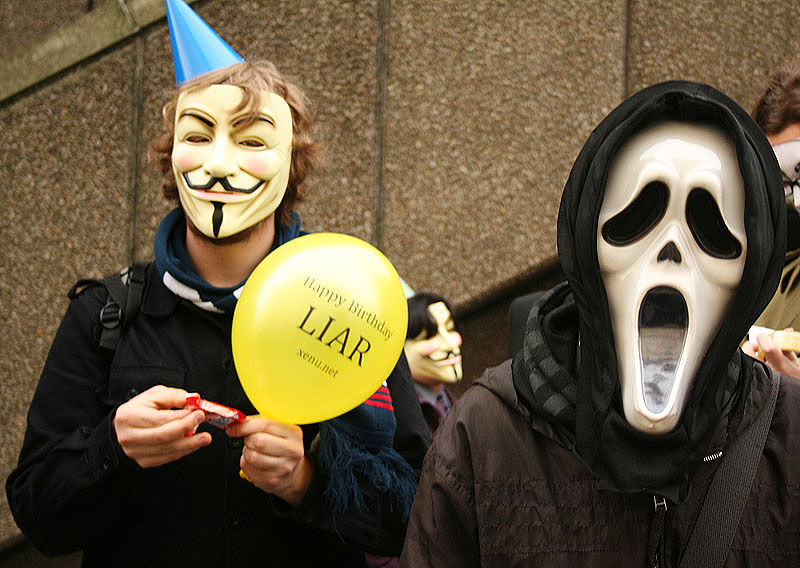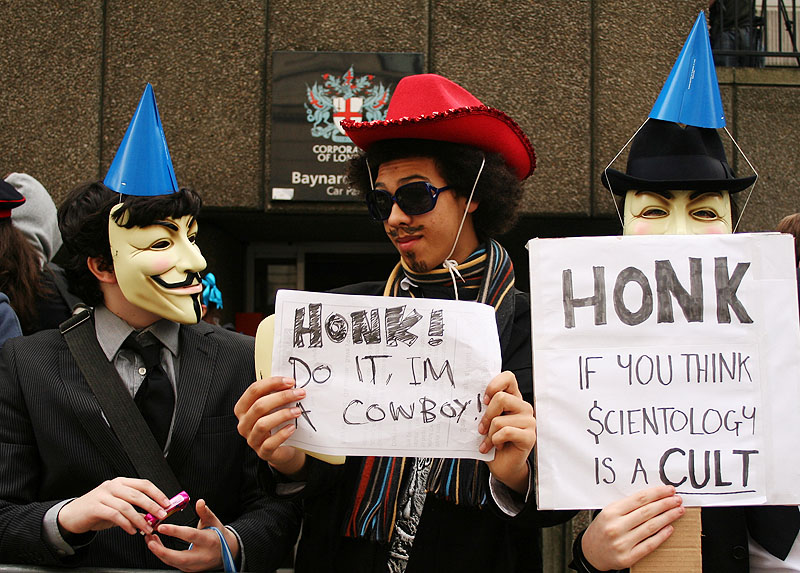 Quite a few vehicles honked!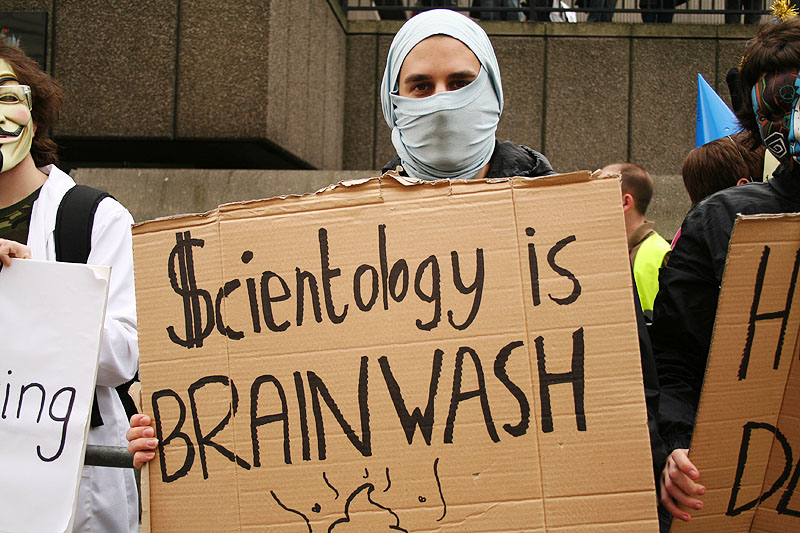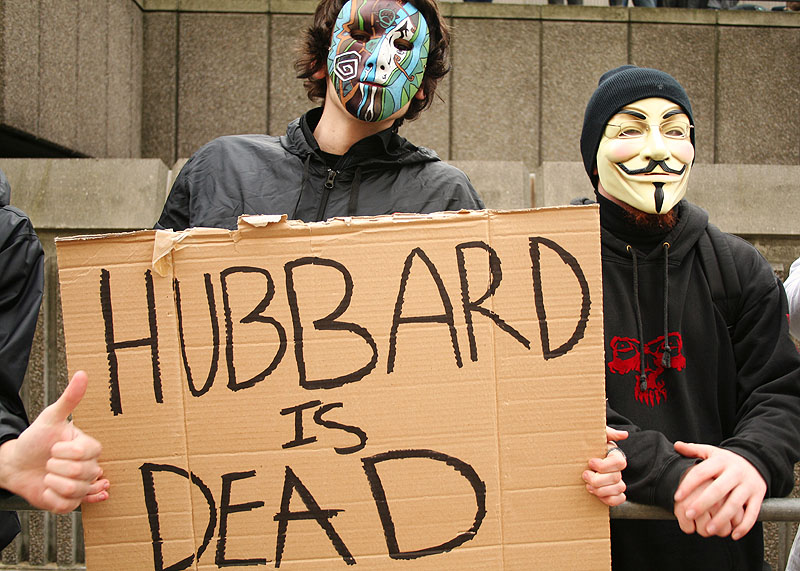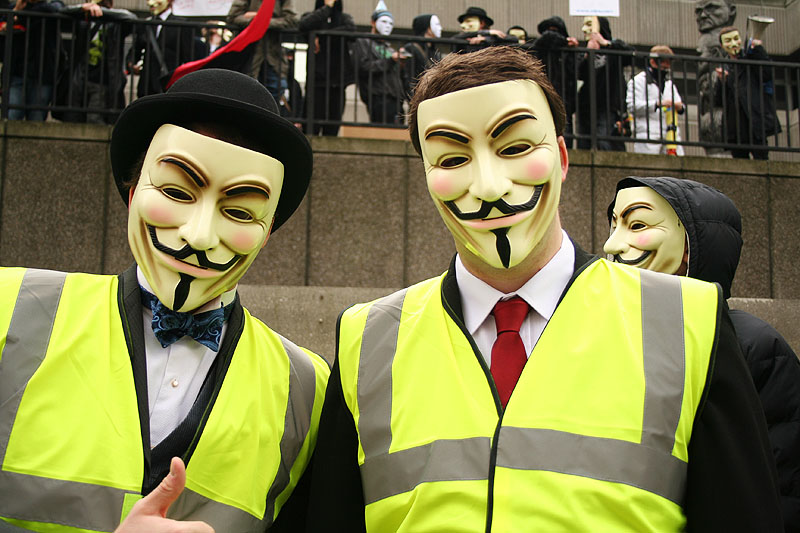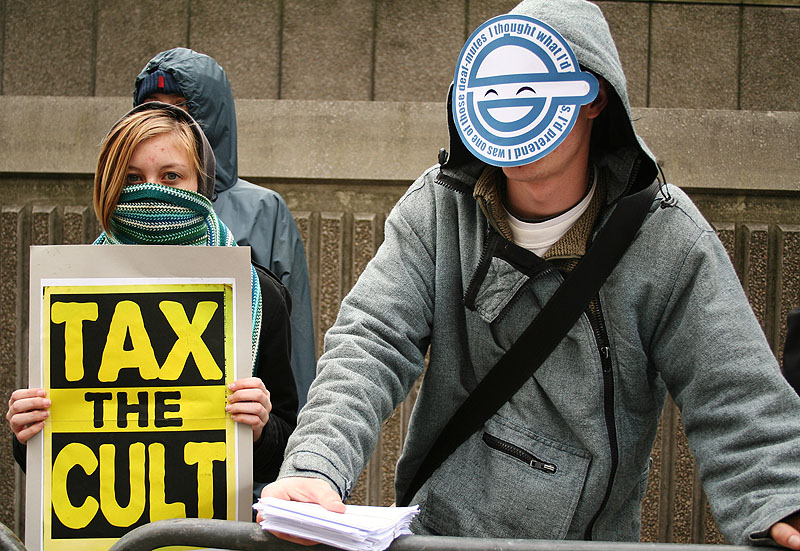 Hand-made/written signs make protests so much more interesting I find, unlike mass-printed ones, like these. That shot was actually taken at another protest today – the annual Stop The War demonstration. The turnout is always great, which I guess is the main thing, but originality is definitely lacking! From a photographer's point of view, it's really a case of looking around lots to find someone who stands out. Anyway, more on that in another blog.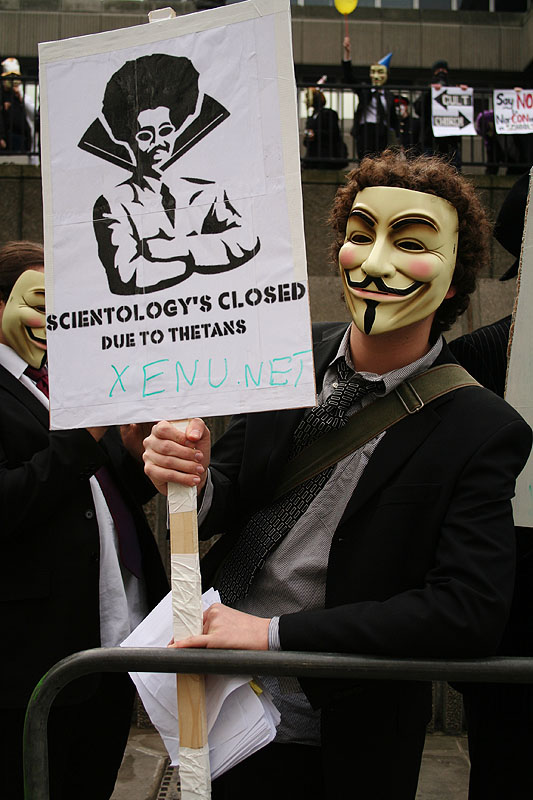 There was cake! Lots of cake actually..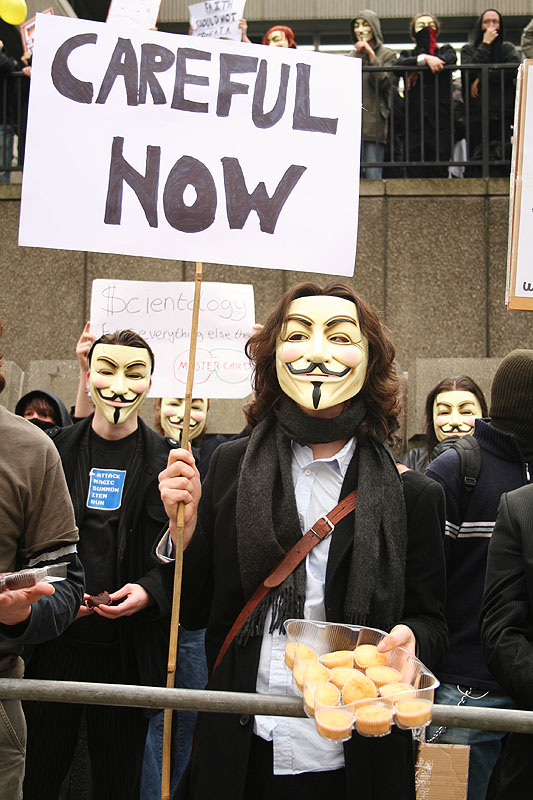 What a lovely bunch of protesters, I have to say. So many of them offered chocolates/cakes/biscuits. One of them told me they were celebrating a "very important birthday" and they then broke out into song, singing Happy Birthday to L. Ron. Hilarious stuff.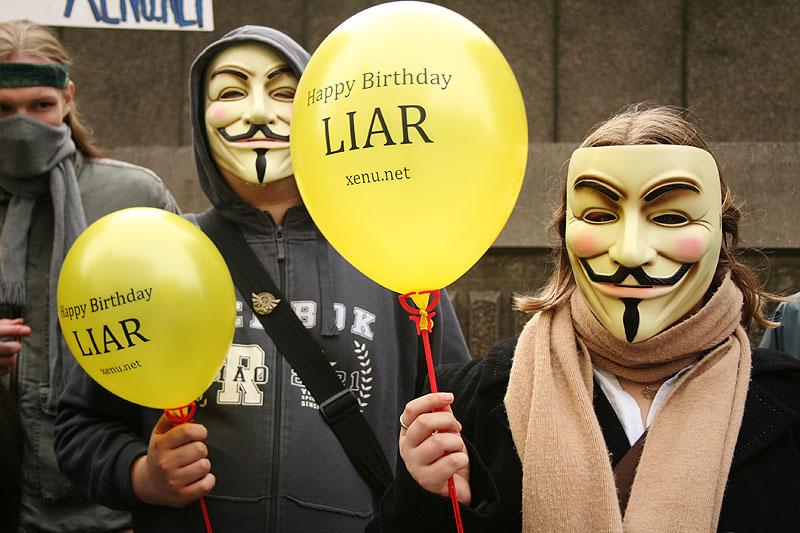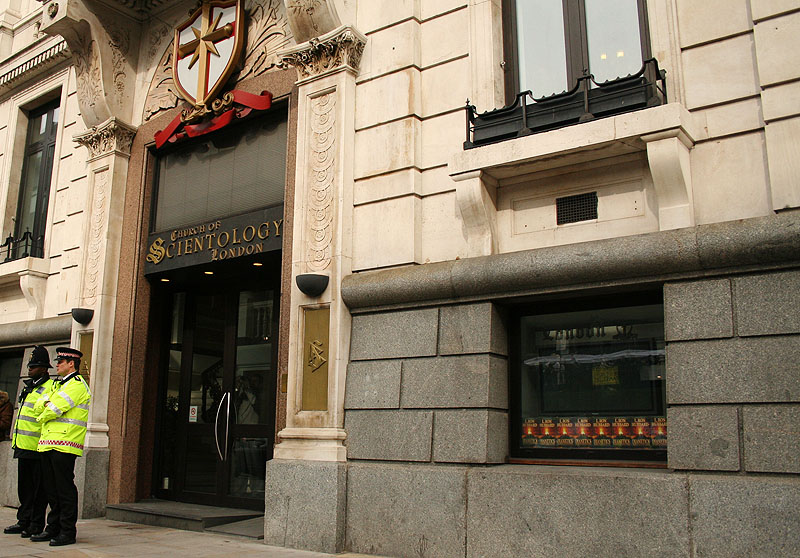 You can just about make out a person taking pictures from inside the doors. Interestingly enough, when I asked a volunteer from the Church of Scientology if I could go inside the building to have a look and get more information on them, I was told I couldn't because the Church had their "focuses elsewhere" today. Charming! However, I can understand they're probably wary of protesters walking into the building for security purposes.
The all-famous book displayed in the window, which I haven't read.. yet.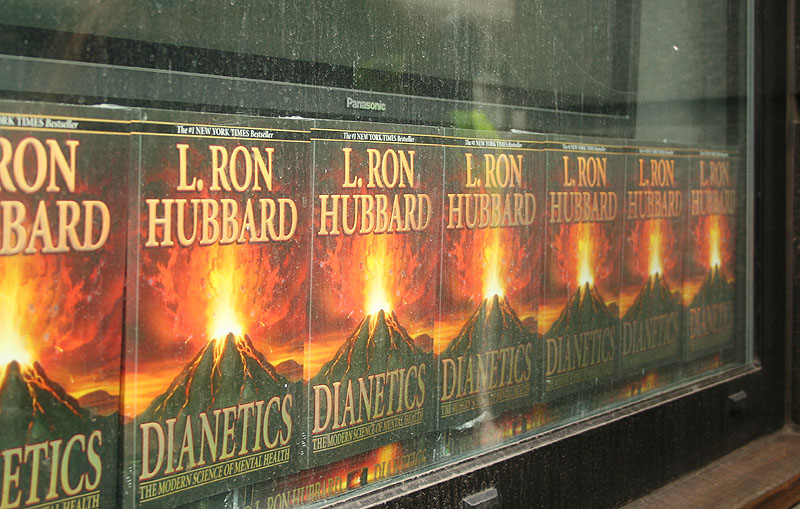 Before dismissing a "religion" completely, I try to read as much about it as possible. I've read a lot of the reasons why people are against this "cult" as they put it, which is quite persuasive, I must admit.
The turnout was even better than the previous time they protested.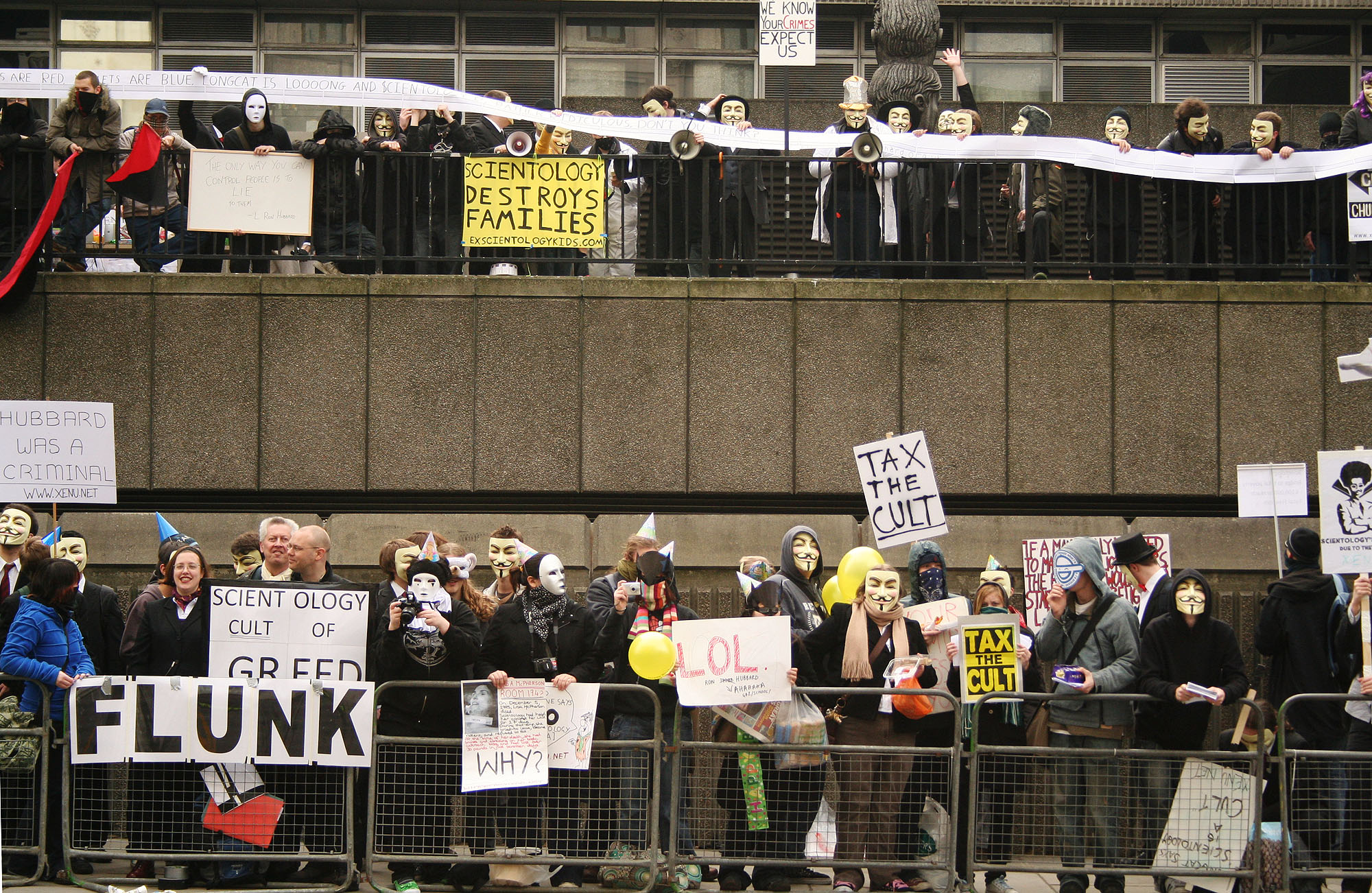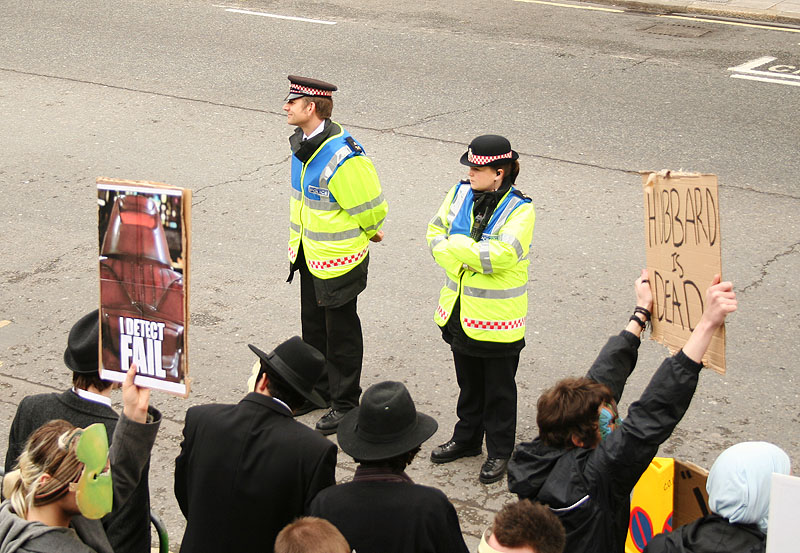 The policemen did a fab job – they were really amiable and talkative, especially the one above, on the left. I gave him my website, so if you're reading this Mr. Nice Policeman, hello!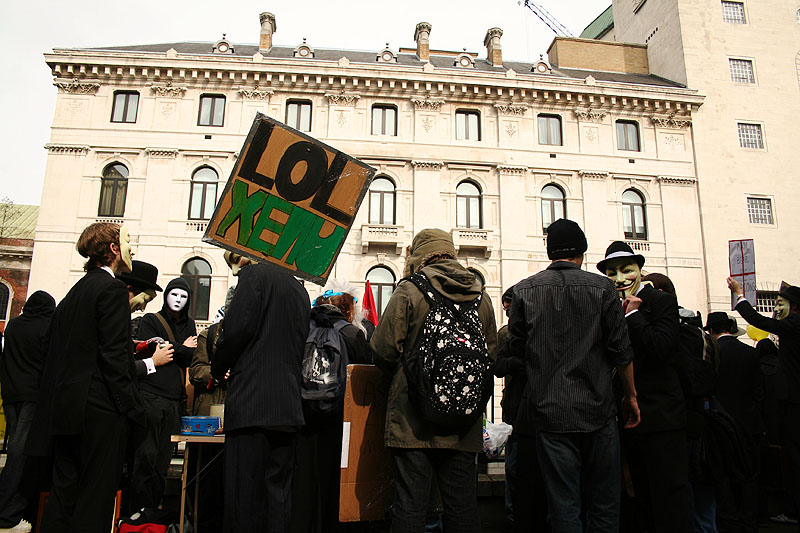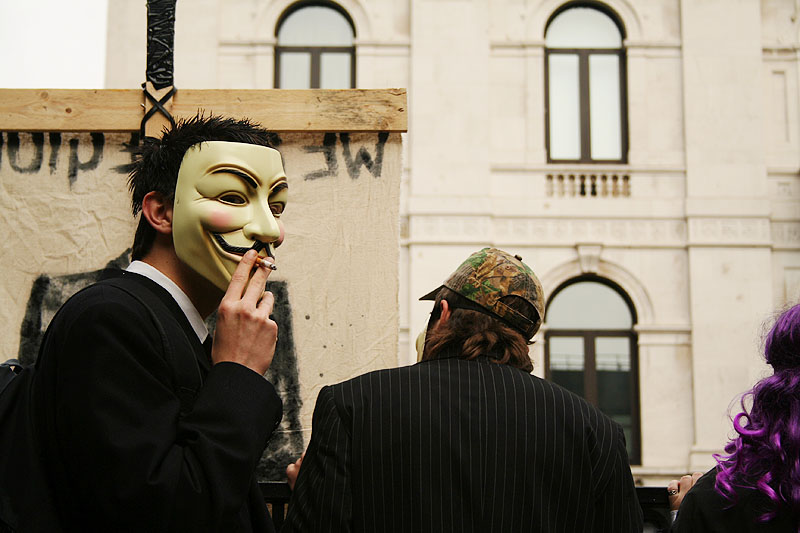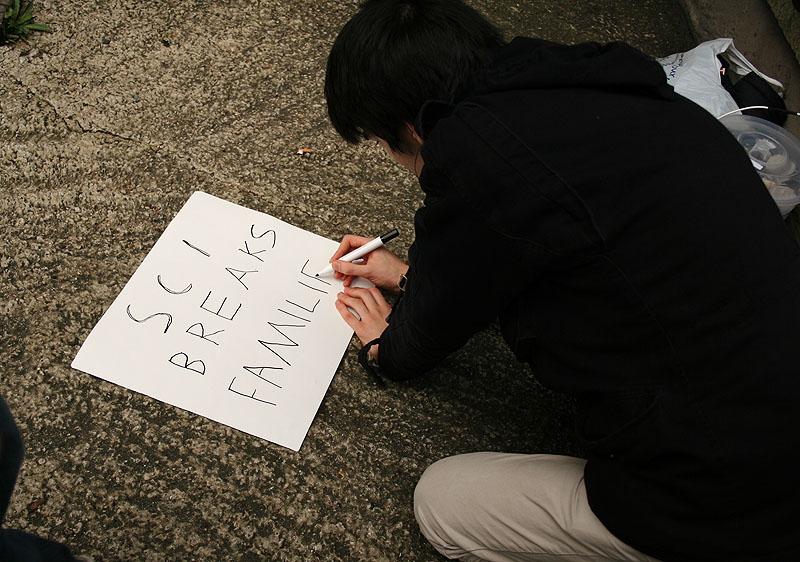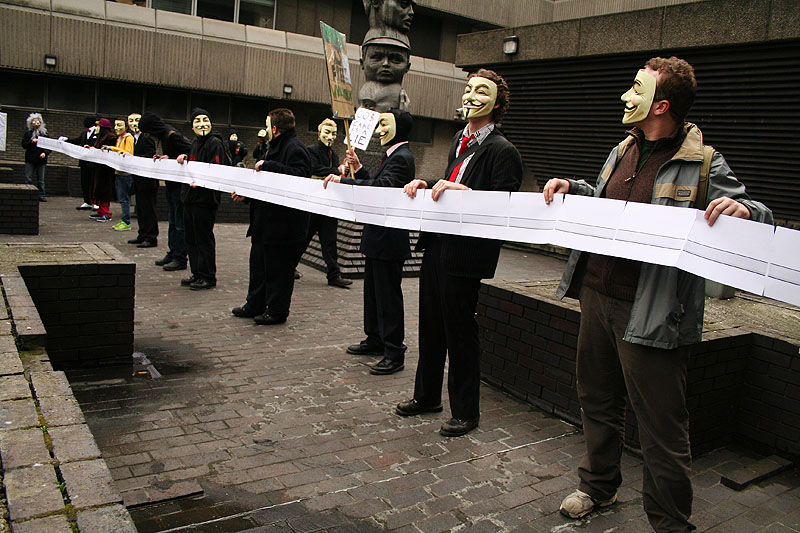 Longcat is loooooong.
People from inside the building obviously found the protest interesting: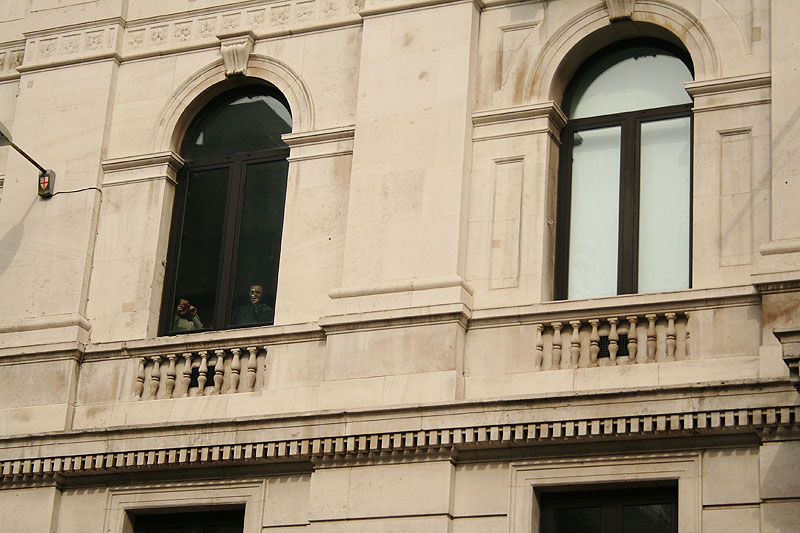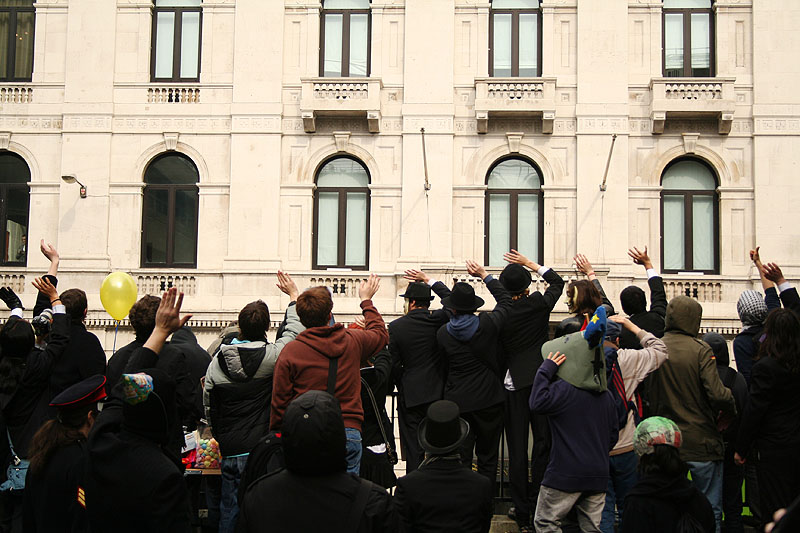 Not so anonymous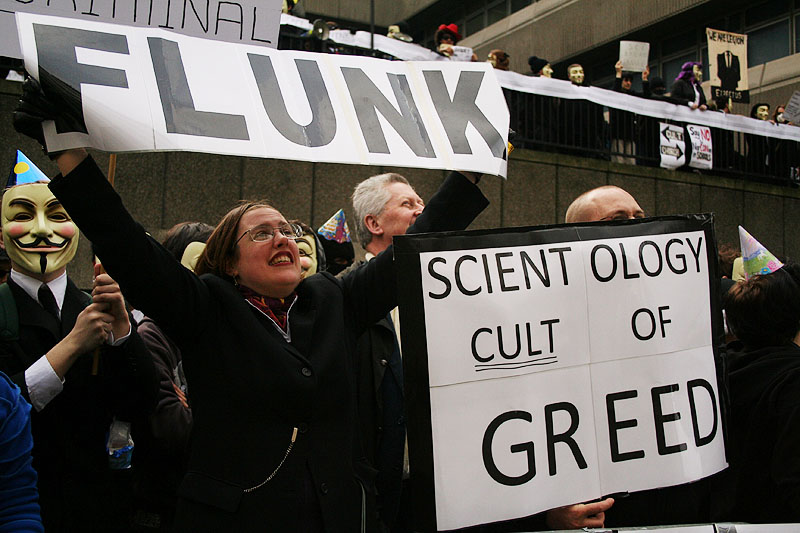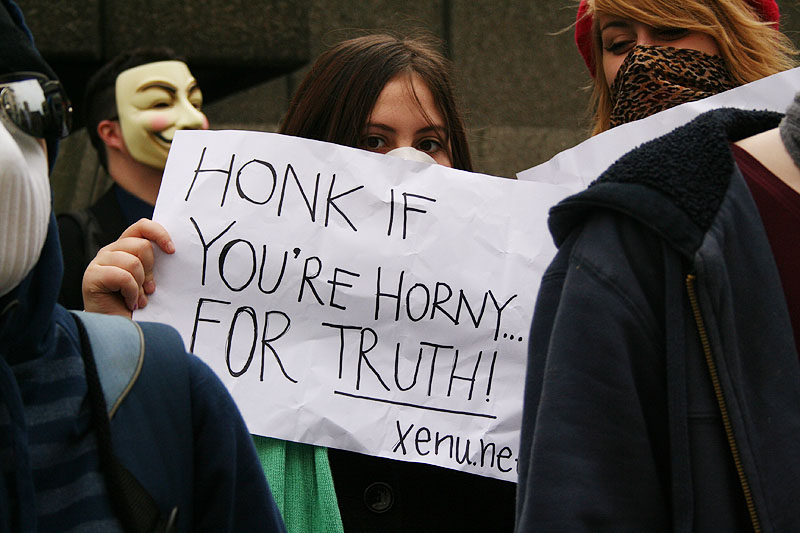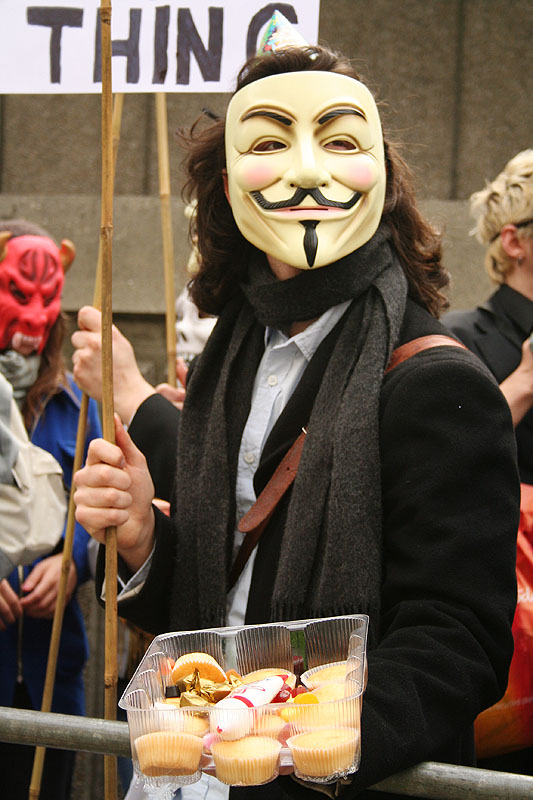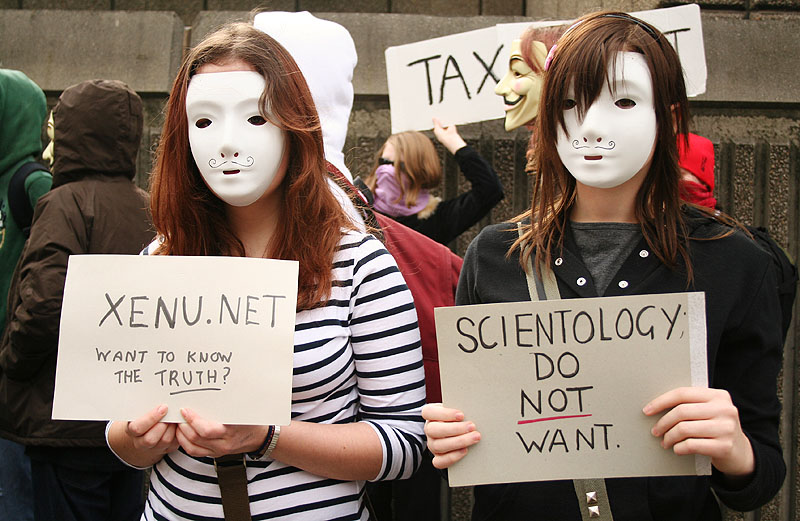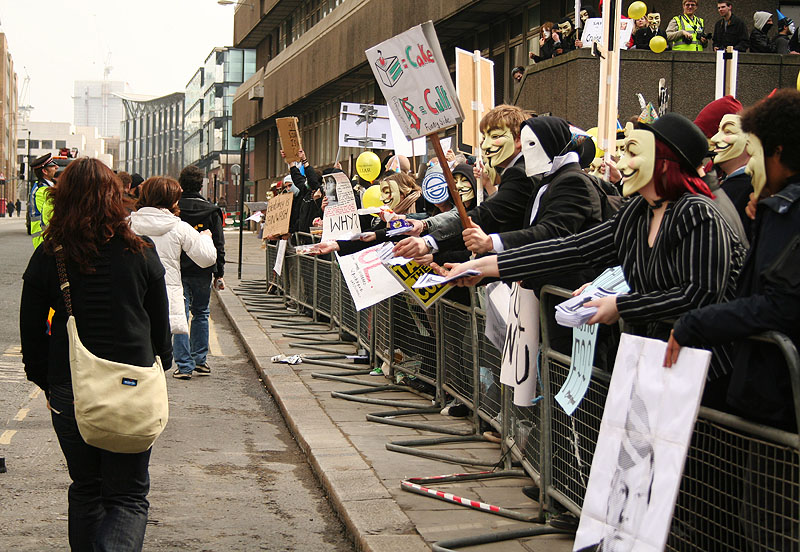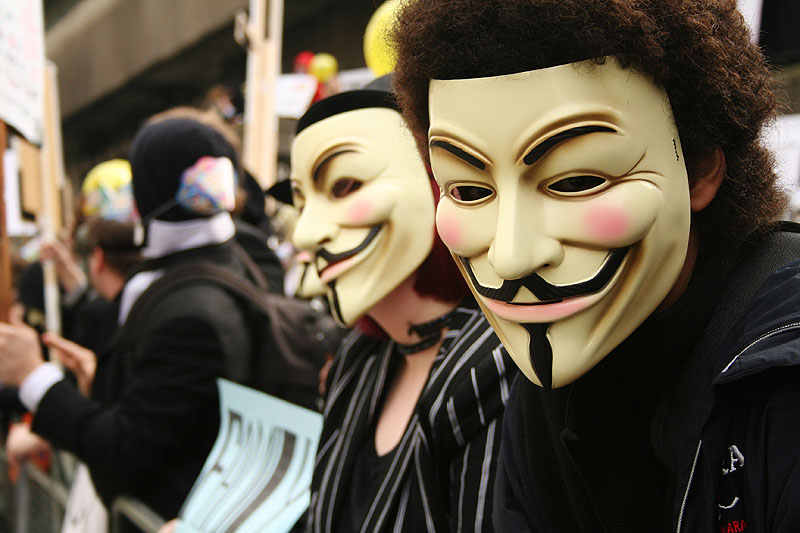 Full-view: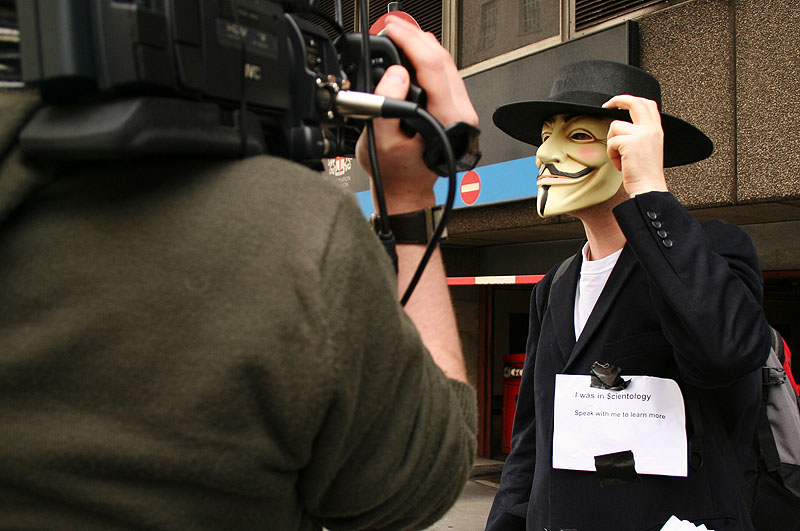 Unfortunately, I only listened in for a moment.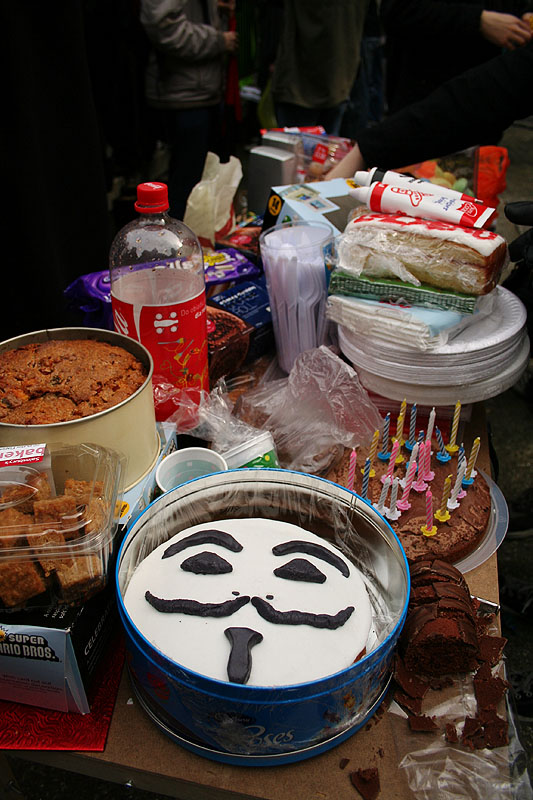 A policewoman turns down the appealing offer of a Penguin bar!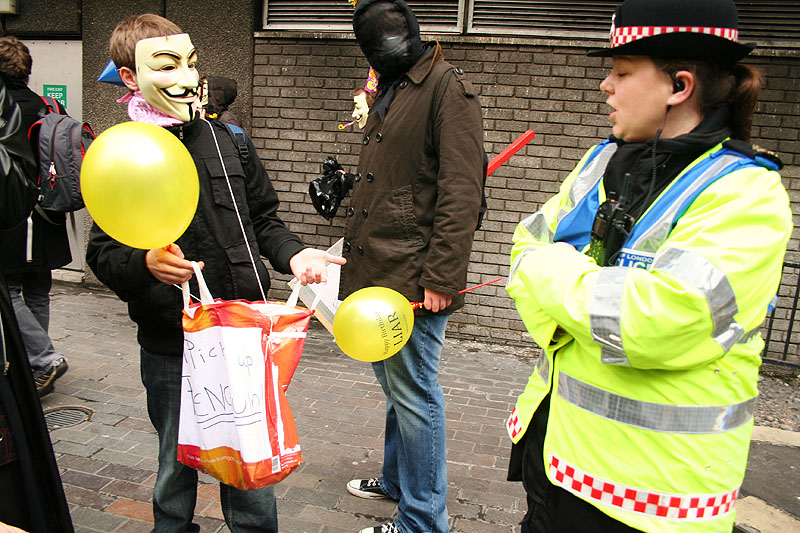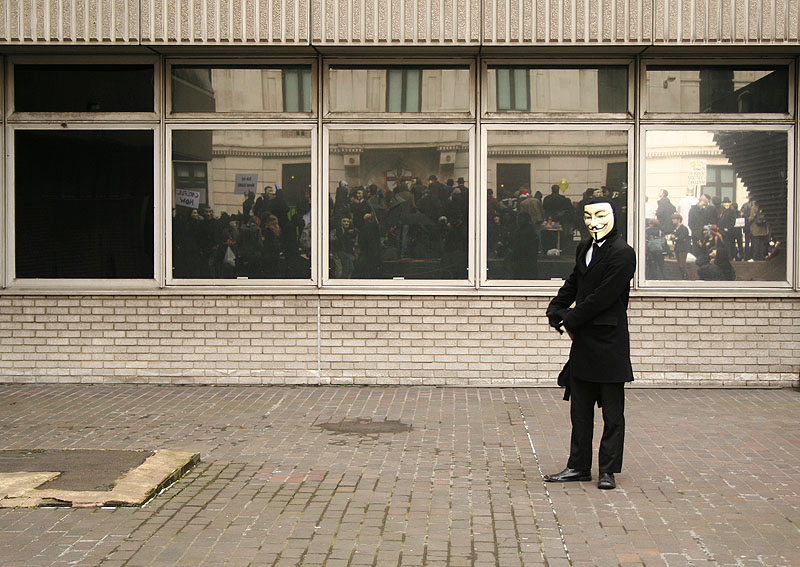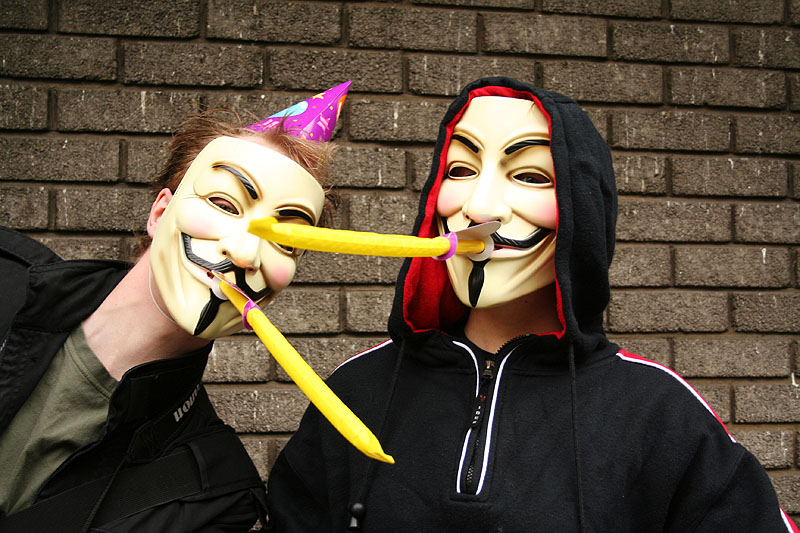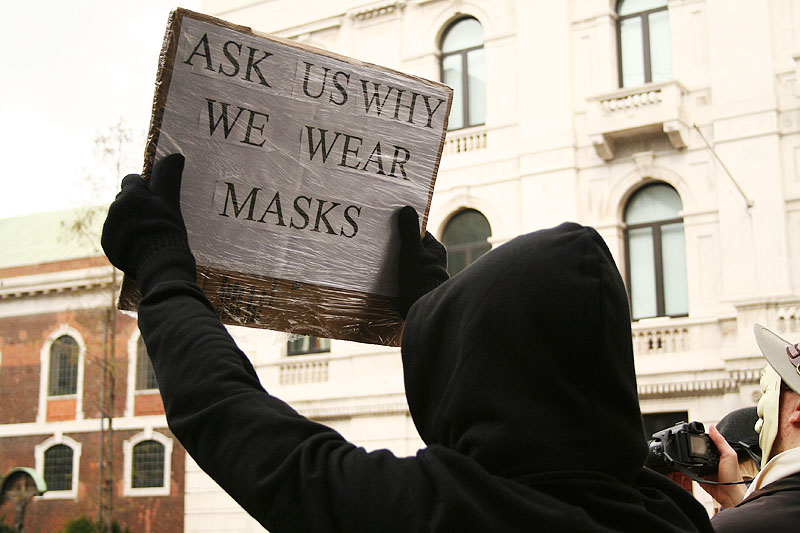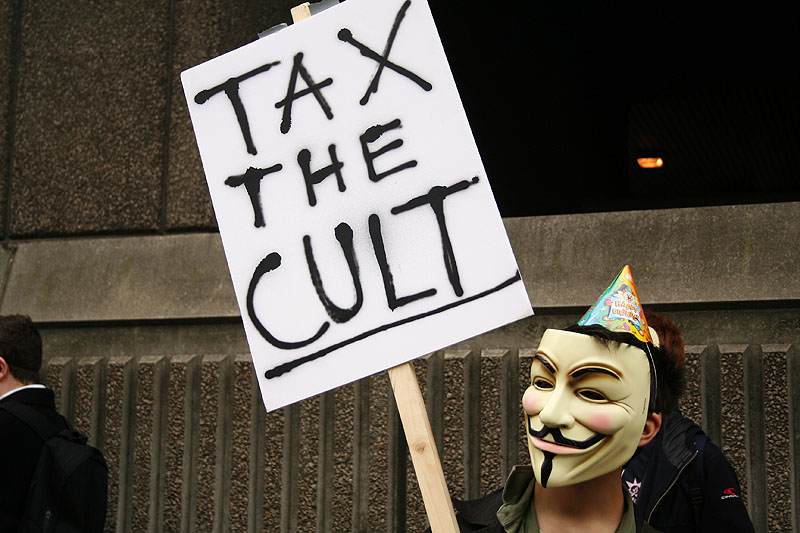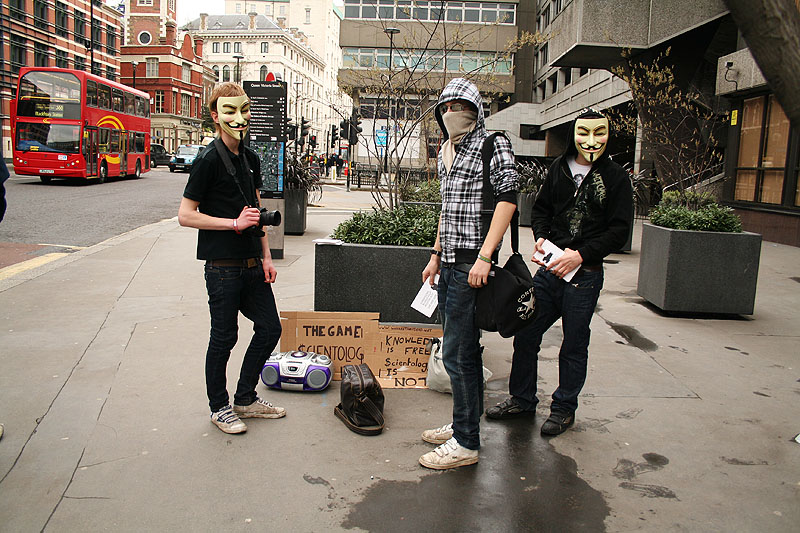 The protesters then went to Tottenham Court Road to demonstrate outside the Scientology Centre there.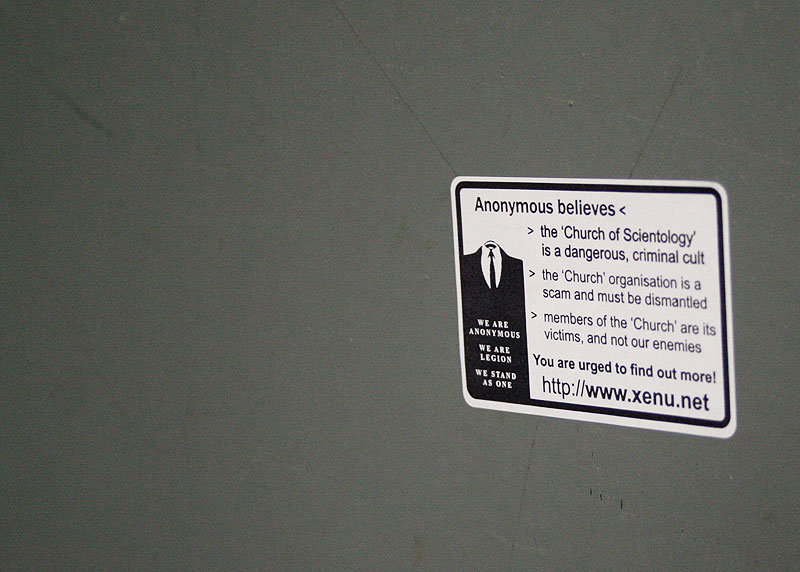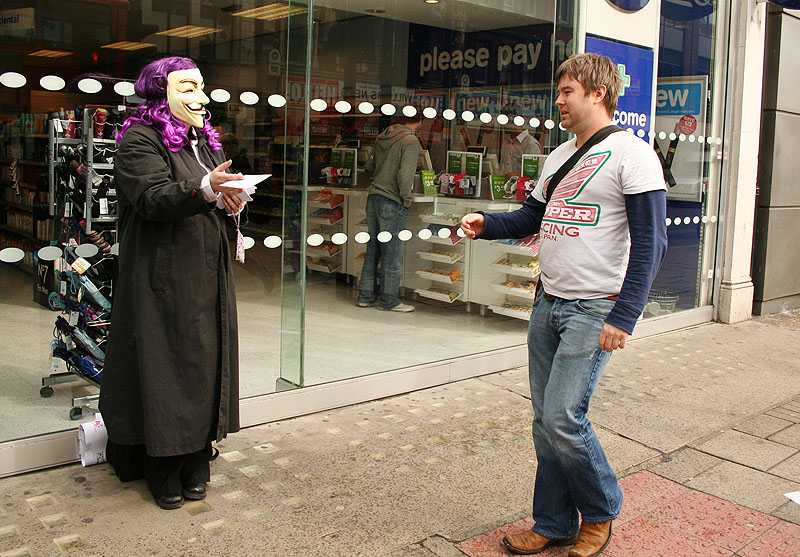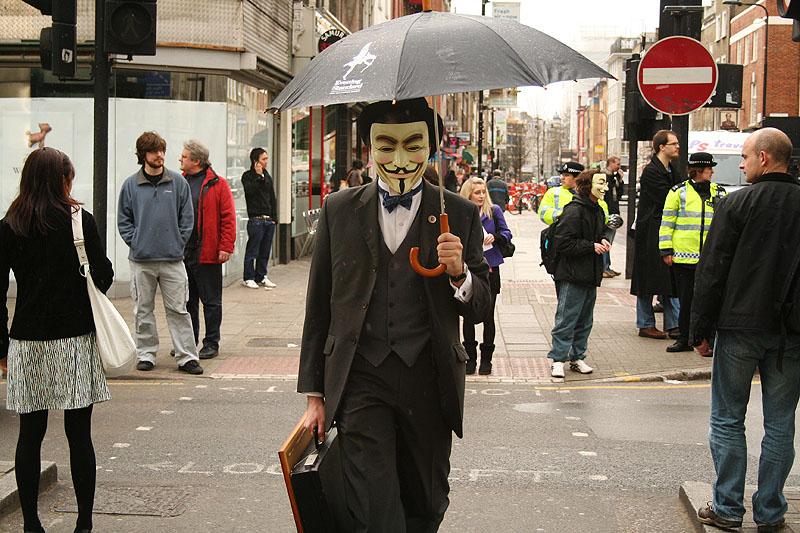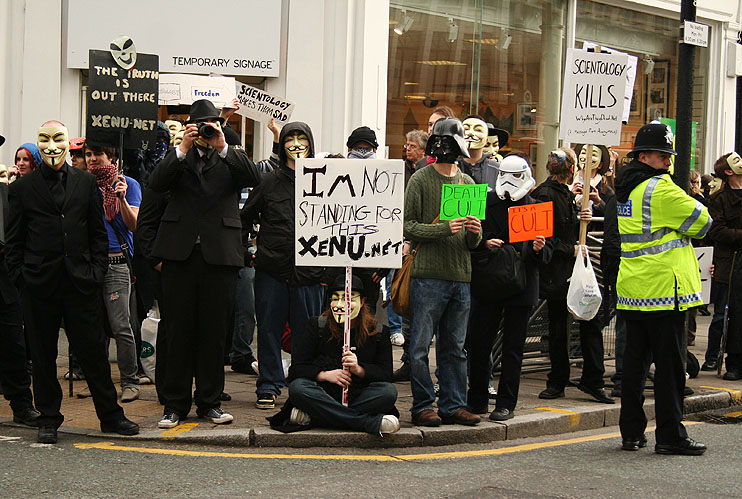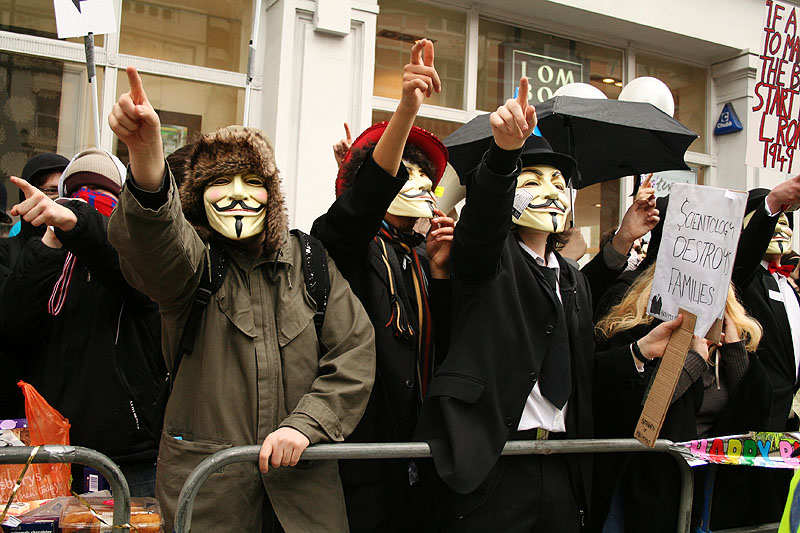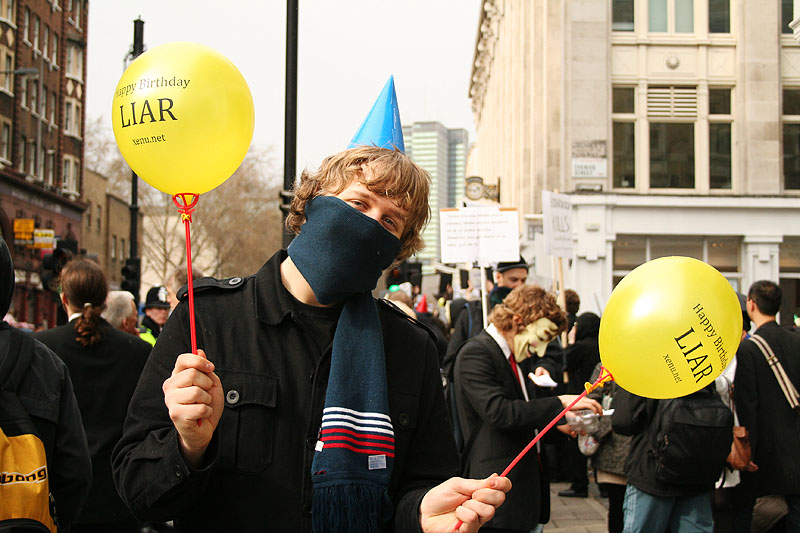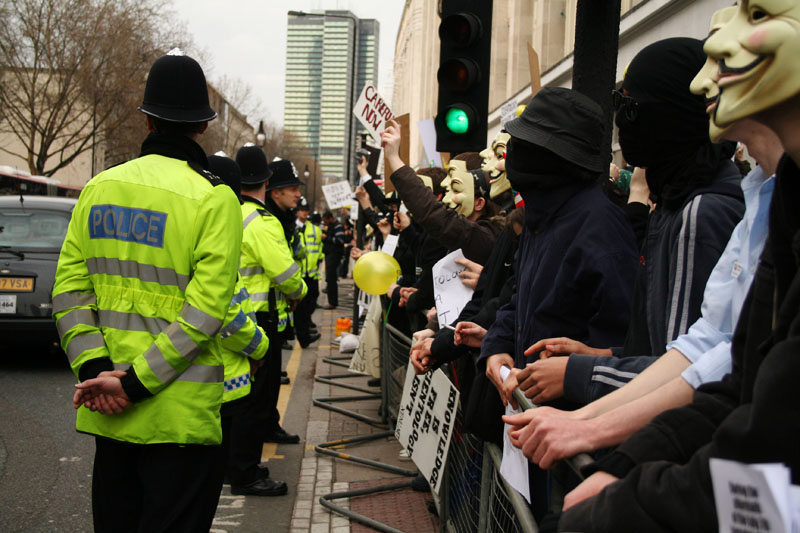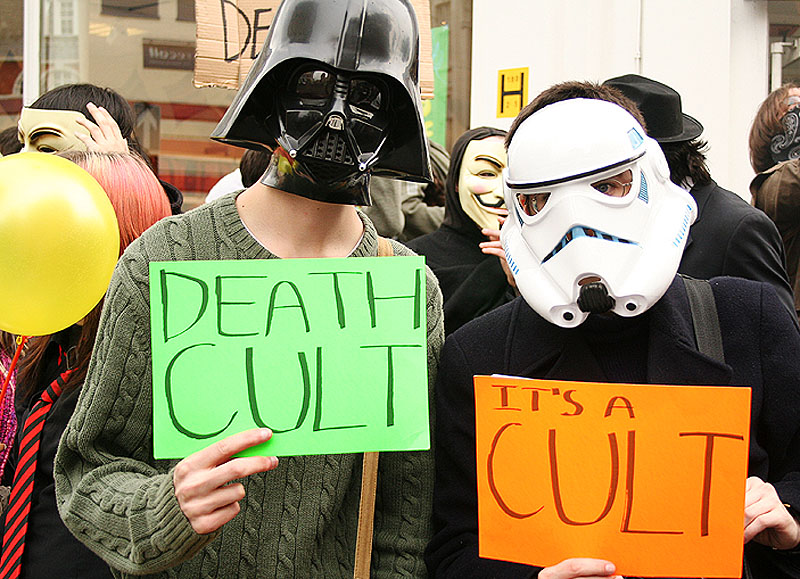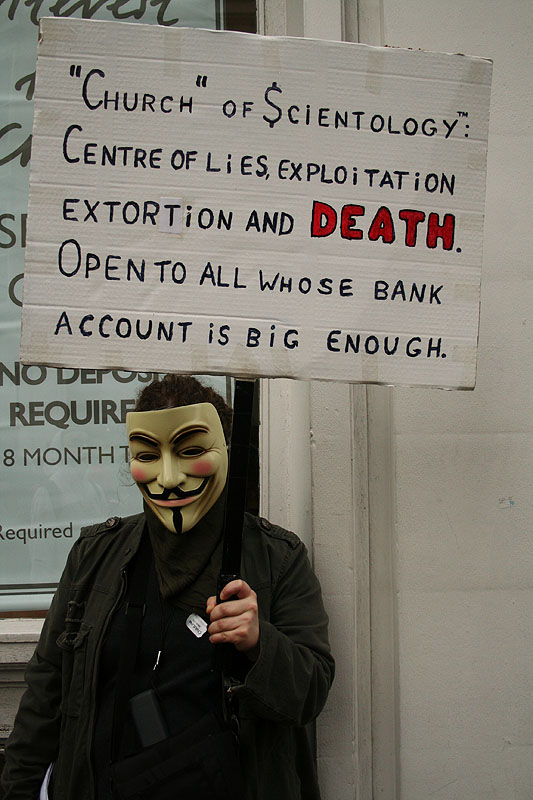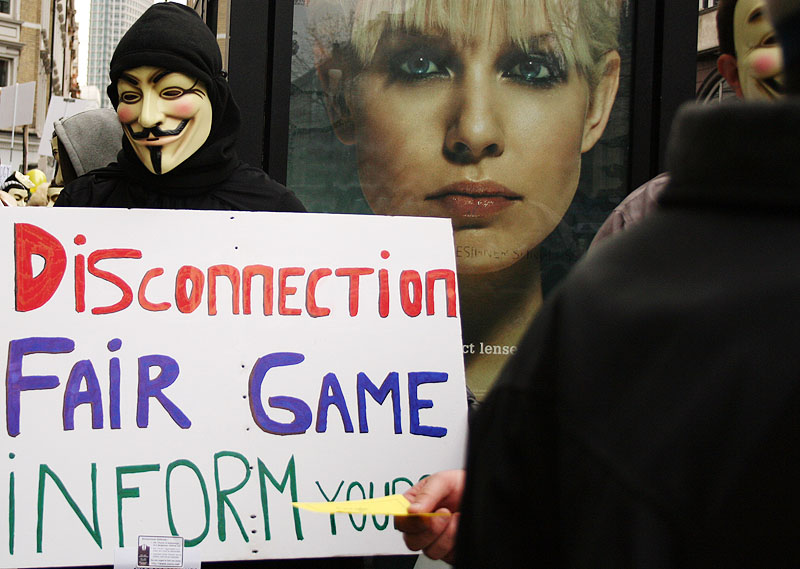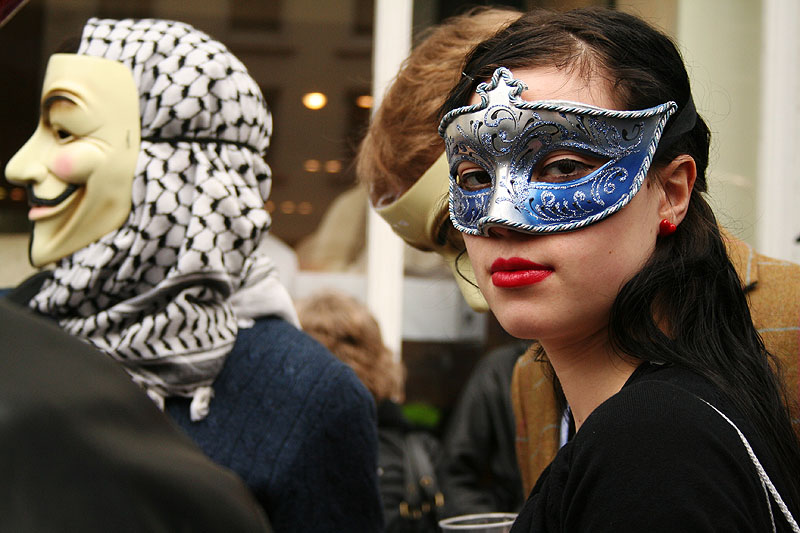 Full-view this next one to read the text on the jumper, which I didn't notice when I took the shot.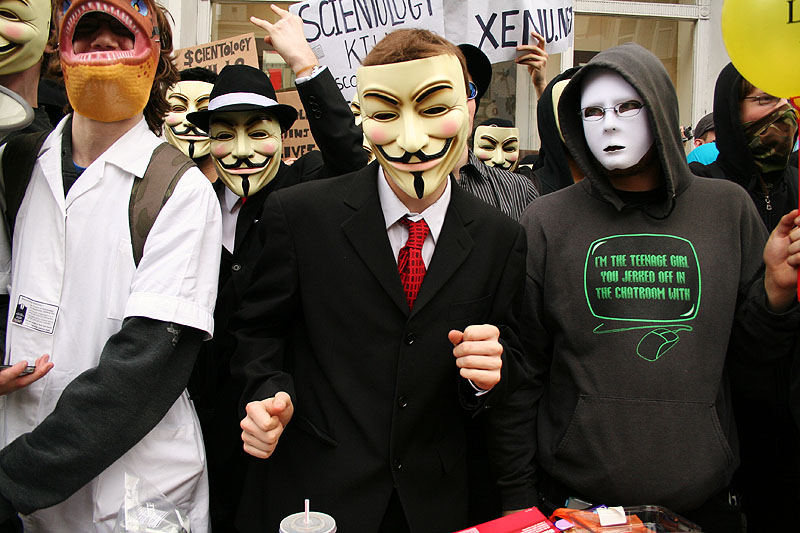 This woman was yelling something about Japan which I really didn't understand, and I didn't ask her to repeat it. I think I was scared, actually.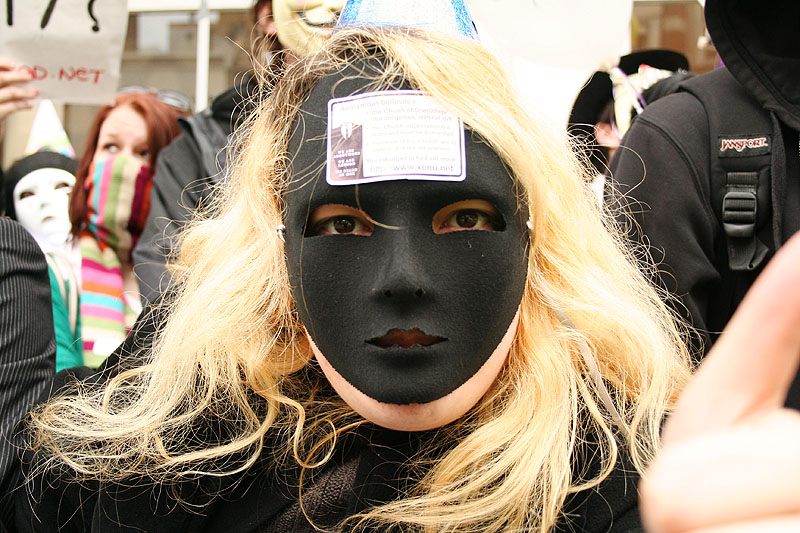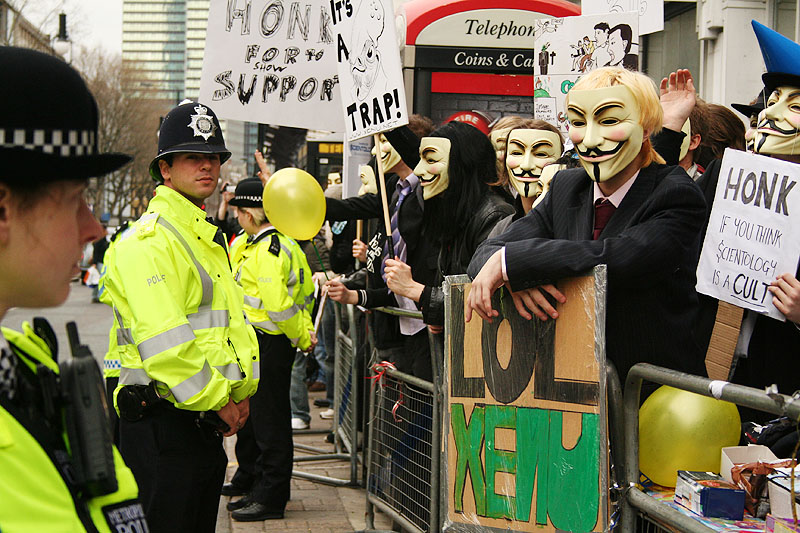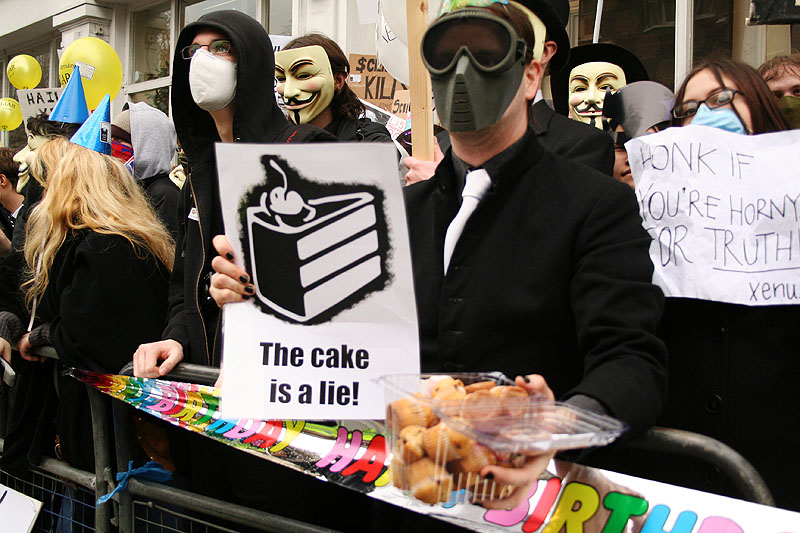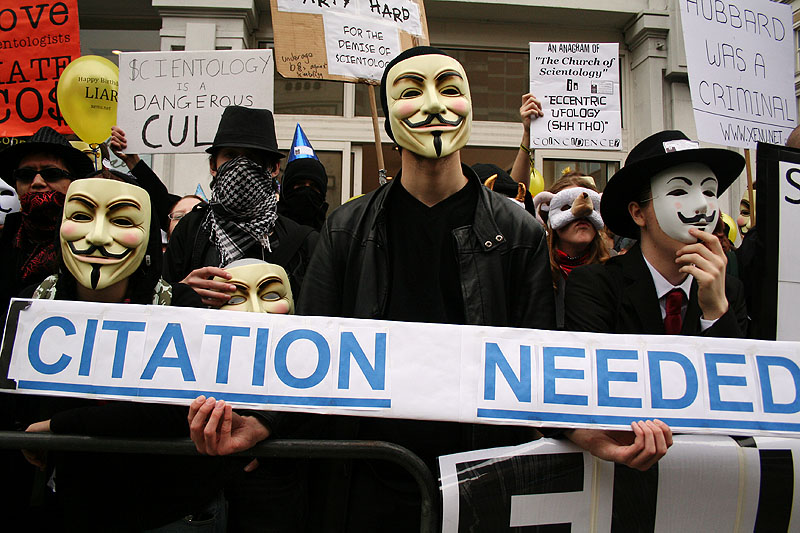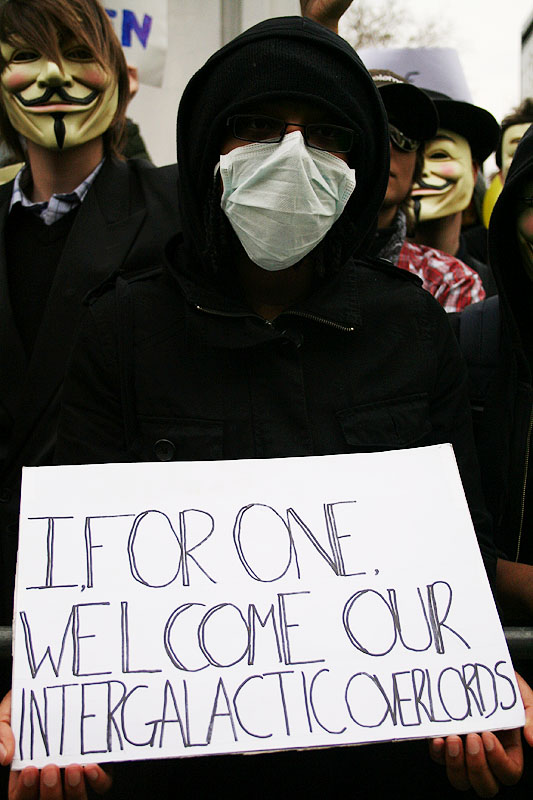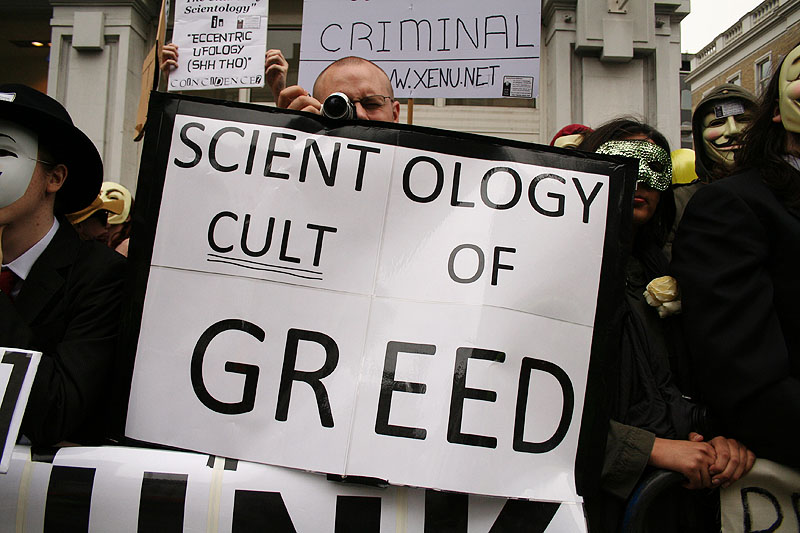 So, we've seen what Anonymous think of Scientology, but what does Scientology think of Anonymous?
Here's the answer: http://www.anonymous-exposed.org/
In terms of protests, this is definitely the most entertaining and fun one I've been to. There was music, dancing, cake (CAKE! I'm still not over this), singing, and a wide variety of masks/signage. In terms of objectives (publicity?), I noticed that in the last protest, no TV coverage was given to the protest. I didn't see any newspaper coverage given either (at least in the UK), not even in London's Metro paper, which occasionally brings us stories and pictures of obscure protests. I do wonder why this is. Maybe I'll write in and ask!
I'm curious to know how the media will pick up on this protest.